Good evening. Much as two tropical systems are swirling around in the Caribbean Sea this evening, forecasters are wallowing around in ignorance as we try to parse what will happen in the days to come as Tropical Depression 14, which is likely to soon be named Marco by the National Hurricane Center, and Tropical Storm Laura will do. (Update: The system was named Marco at 10pm CT). What does seem increasingly clear is that Laura may ultimately pose the bigger threat to interests along the Gulf of Mexico. Let's start with the nearer storm.
TD 14
This system seems to becoming better organized, and it would not surprise me to see Marco forming tonight or Saturday morning as it nears the Yucatan Peninsula. This system is now likely to only graze the Yucatan as it moves northwest—which would therefore not substantially disrupt its organization—and this may allow for it to intensify through about Sunday, possibly reaching hurricane status over the Central Gulf of Mexico.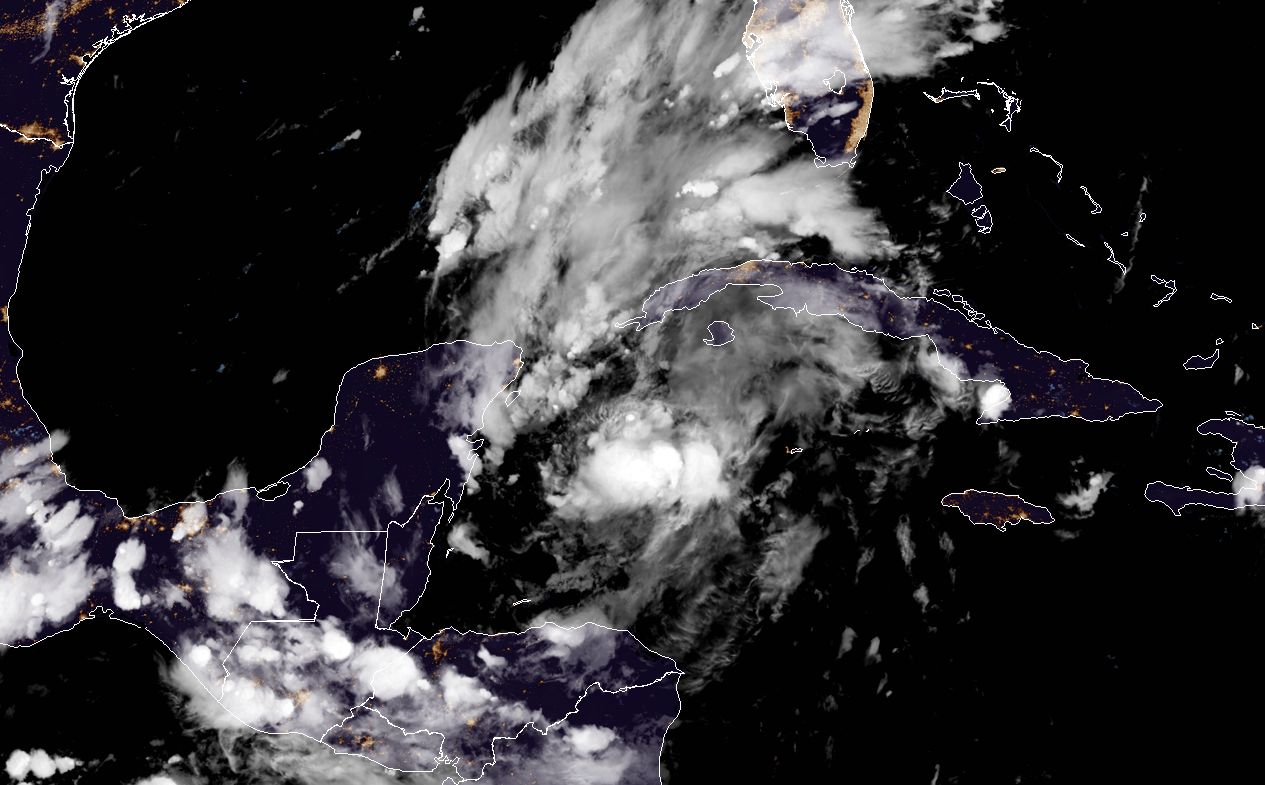 A stronger storm would likely to continue to push north or northwest, but it now seems that wind shear and other factors will work to weaken the storm. This probably will allow the system to be driven westward, into the central Texas coast. (We are still not particularly confident in a track, so stay tuned). So far the models are not overly excited about the rainfall potential of this depression as it moves westward, but obviously that is something we'll have to keep tabs on.
Tropical Storm Laura
We have lots of questions about Laura, but we can be pretty confident that this system will enter the Gulf of Mexico late Sunday or Monday morning, having come near, or across Cuba. As it crosses the central Gulf of Mexico, Laura may find more favorable conditions to intensify. Several models now show it fairly quickly becoming a hurricane by Monday night or Tuesday over the Gulf's warm waters.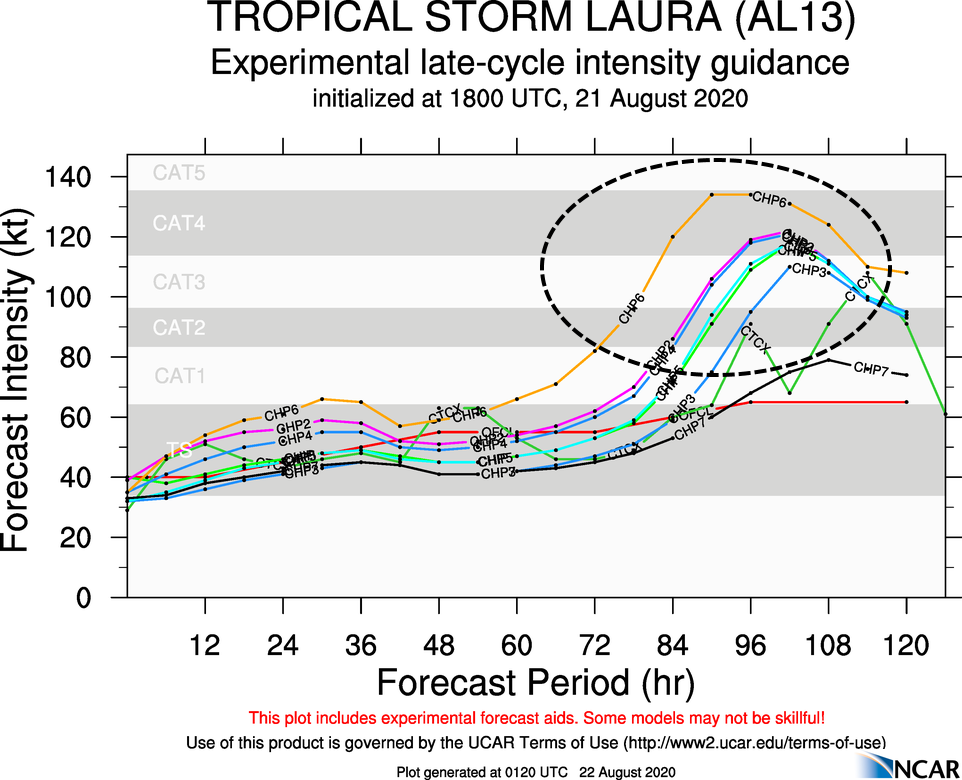 Then, there is the question of track. Laura's path will depend upon the extent of a ridge of high pressure building over the Southeastern United States. Some guidance depicts this ridge weak enough by Tuesday or Wednesday to allow Laura to bend northward toward Louisiana. However, the latest (18z) run of the European model finds nearly all of its ensemble members driving Laura westward, toward Texas, with some kind of land-falling system on Thursday. We will have to see whether this trend holds in subsequent runs, and whether other models follow the European on a more western track. We may know more tomorrow.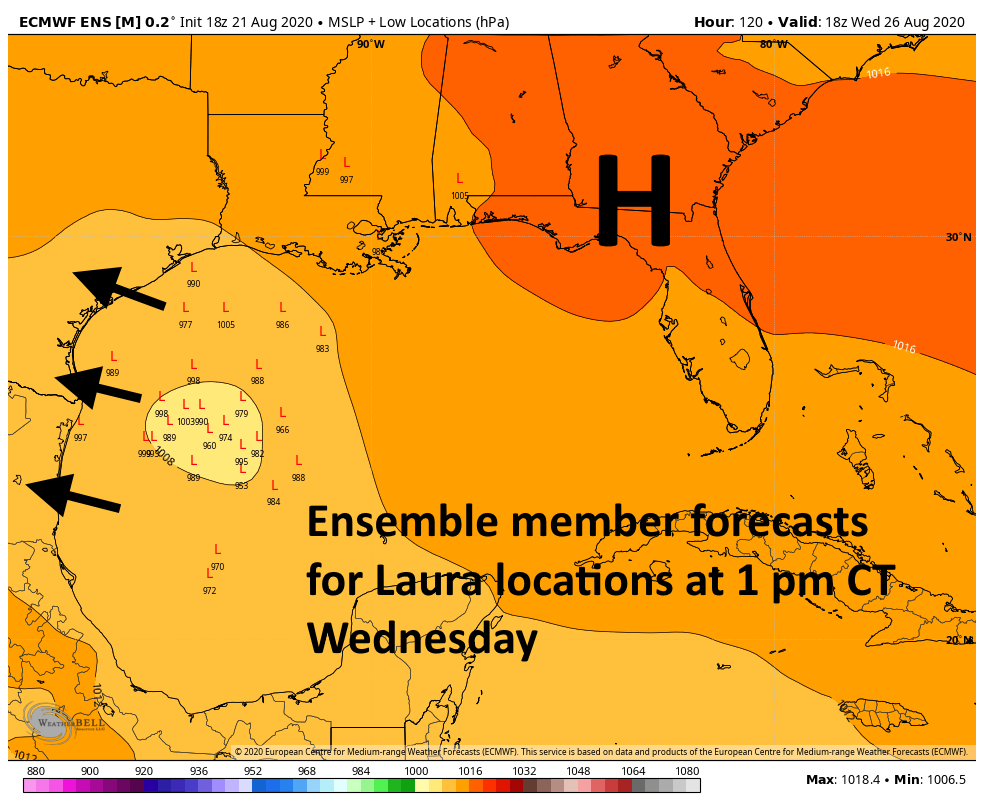 So where does this leave us on a Friday night? Besides at home and in need of a glass of wine, that is? We're still left with the need to watch two tropical systems. For now, it appears that TD 14/Marco may be somewhat benign as it moves toward Texas early next week, but that is far from guaranteed. Interests in Texas and Louisiana should also keep more than a wary eye on Laura, which appears to have better potential to develop into a hurricane, and possibly a powerful one, next week.
Our next update will come on Saturday morning before 9 am CT.