Simply put, all heck is breaking loose across the city as a slow-moving band of heavy rainfall slogs through Houston today. Unfortunately, while we knew heavy rainfall was likely in parts of the city today, we did not anticipate an event as significant in scope as this for Thursday. So far we have seen rainfall rates of 4 and 5 inches per hour in parts of the metro area, and it has caused widespread problems for much of Houston. Here's three separate systems as of noon CT that bear watching.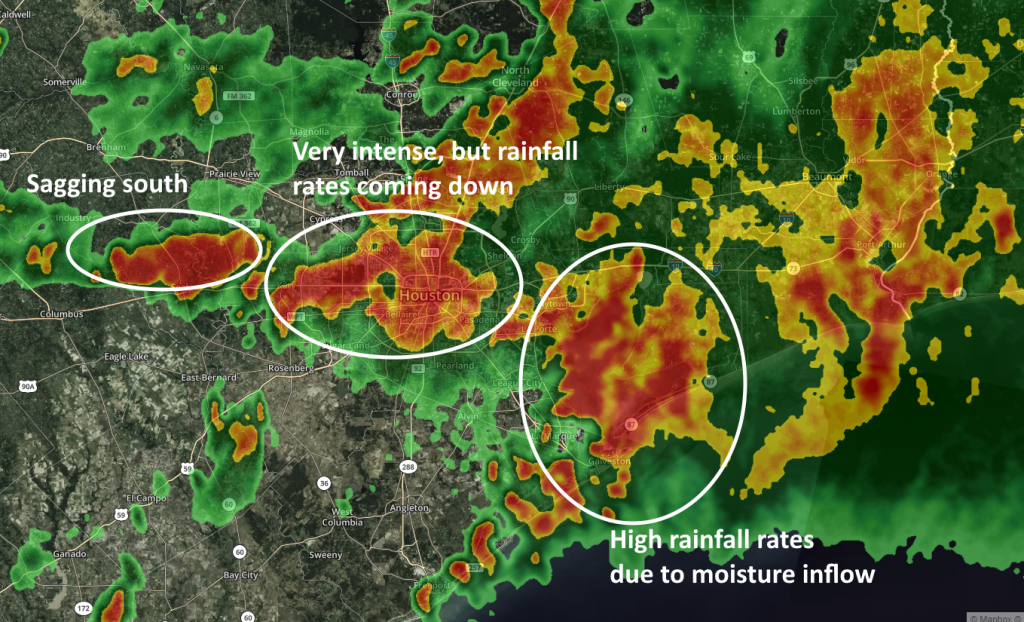 It is hard to have too much confidence moving forward, but very generally we can expect these storms to sag slowly to the south during the rest of the afternoon. We think rainfall rates have probably peaked as cloud tops associated with the system have started to warm a little bit, indicating less potential to produce the very heaviest rainfall rate. But in a slow-moving storm, 3 inches per hour can flood is more than enough to very quickly cause flooding.
The key message right now is that if you are in a dry location and it is raining heavily at your outside, you should not leave. If you have to drive through heavy rains, or heavily hit areas to get to your destination, stay where you are. Above all, do not drive into high water. A lot of people die that way. This storm will pass. We still have a general expectation that the overall system will weaken during the afternoon hours, and begin to dissipate after sunset.