Good afternoon. Hurricane Laura has rolled on into Arkansas this afternoon and weakened to a tropical storm. However it has left a trail of destruction in its wake. This post will be very image heavy, with a number of pictures of damage that caught my eye through the day in Louisiana that I'd like to share. A quick forecast update will follow.
Let's start with the Doppler Radar. The Lake Charles Doppler, sited at the airport south of the city (which reported over a 130 mph wind gust) saw its radome blown to pieces.
LCH radar is going to be down a minute…. #Laura – pic.twitter.com/7F1JAvm3y3

— Brett Adair (@AlaStormTracker) August 27, 2020
This looks a lot like the Doppler in Puerto Rico after Hurricane Maria in 2017.
The scenes in Lake Charles really do look like a giant tornado just ripped through the city. The one large skyscraper in downtown Lake Charles, Capital One Tower sustained severe damage. This building also took a severe hit during Hurricane Rita in 2005.
First light allows us to see the scope of the damage in Lake Charles this morning. Needless to say, its not good. pic.twitter.com/cJVI3y9Y3n

— Matt Reagan (@MattReaganWX) August 27, 2020
The KPLC-TV tower crumpled and fell onto or adjacent to parts of the TV station building. This one had apparently survived Audrey, Rita, and Ike, but finally succumbed to Laura.
KPLC Tower @hurricanetrack pic.twitter.com/wa6UM4sUd8

— GregNordstrom (@GregNordstrom) August 27, 2020
There had been some speculation that the I-10 bridge in Lake Charles (which, if you've ever driven, you just know, trust me) might sustain difficulties under a record storm surge. Well, it's still standing, although it has a casino boat stuck underneath today.
The Isle of Capris Casino boat is WEDGED underneath the I-10 Bridge 🥴🥴 #HurricaneLaura pic.twitter.com/06Kfm0LmXs

— Drunk Uncle 🥴 (@iduffelshuffle) August 27, 2020
Lake Charles did not receive the expected record surge thanks to a landfall basically right at Calcasieu Pass (had it hit land even just five miles west, the story today would be much different), but they did receive a pretty serious surge in that area.
That surge was notable, however, it can be seen from space.
The effects of #Laura's storm surge in SW Louisiana is visible on satellite. The top image is Tuesday and the bottom image is now. Note the temporary regression of the coastline. This water will gradually retreat into the Gulf, but this shows how big of an impact surge can have. pic.twitter.com/OVShOy2KcD

— Hank Dolce (@hankd_wx) August 27, 2020
You can see especially east of Calcasieu Lake (the 2nd larger inland lake from the left) how much land mass ended up underwater. There is a reason that part of coastal Louisiana is not heavily populated.
Back in the Lake Charles area, in addition to everything, a large fire broke out (not at oil refineries as the tweet says) at the KIK Custom Products Biolab in Westlake, just off to the west of the city. The fire prompted a shelter in place order for the area.
Large fire near oil refineries – Lake Charles @hurricanetrack pic.twitter.com/yk6QkpUjqf

— GregNordstrom (@GregNordstrom) August 27, 2020
The wind damage in Lake Charles is just incredible. Though they escaped the worst of the water, they paid for it with the worst of the wind.
This is just a small sample of the damage around Lake Charles. Every street in every neighborhood has scenes like this. #HurricaneLaura #lawx pic.twitter.com/fZBERRwWIg

— Brian Emfinger (@brianemfinger) August 27, 2020
I'm assuming winds were strong enough to derail these train cars and this isn't surge damage.
Train cars derailed south of Lake Charles #hurricanelaura pic.twitter.com/mey16UvE9A

— Ryan Darr (@_Radarr) August 27, 2020
South of Lake Charles in Hackberry, the same scenes of devastation present themselves. Houses damaged or destroyed by wind and/or water.
Terrible devastation in Hackberry, LA mainly wind damage but also evidence of strong storm surge. Weaker structures obliterated. @RadarOmega_WX #HurricaneLaura pic.twitter.com/4m7HaNLnzx

— Reed Timmer (@ReedTimmerAccu) August 27, 2020
Moving even farther south to the coast, Holly Beach is a mess, though it does not look as bad as feared. They came in just west of the eye and avoided the absolute worst of Laura.
Major destruction at Holly Beach, La.#abc13 pic.twitter.com/cGJreAHuJB

— Jeff Ehling (@JeffEhlingABC13) August 27, 2020
However, for a sobering view, here's helicopter footage from Cameron, where Laura came ashore. Note the occasional slabs where structures used to stand.
Anyway, the purpose of showing you these photos and videos, aside from informational value is to understand that Lake Charles is about 30 miles from the coastline. If a northwest moving storm of Laura's size and intensity came ashore at, say, San Luis Pass (an Alicia track but with a larger & stronger storm), the result would be a very large chunk of the Houston area resembling what we see in Lake Charles. It would be devastating. And if you think it couldn't happen here, think again. It could easily happen, and I'm fairly confident we are not even remotely prepared for what that would look like. Instead of viewing Laura as another Houston near-miss, it would be wise for all of us to view this as an informational session on what could happen here and think about what we will do in the days before it does.
Houston weather
I just want to make a quick note about the weather here in Houston tomorrow. We've seen signs on the models that sort of a trailing band of moisture feeding Laura's remnants will set up over southeast Texas and Louisiana. At this point, we'd just expect scattered thunderstorms across the area on Friday. However, it's feasible that a slower moving band of heavier rain sets up somewhere near or east of Houston tomorrow and dumps some heavy rainfall.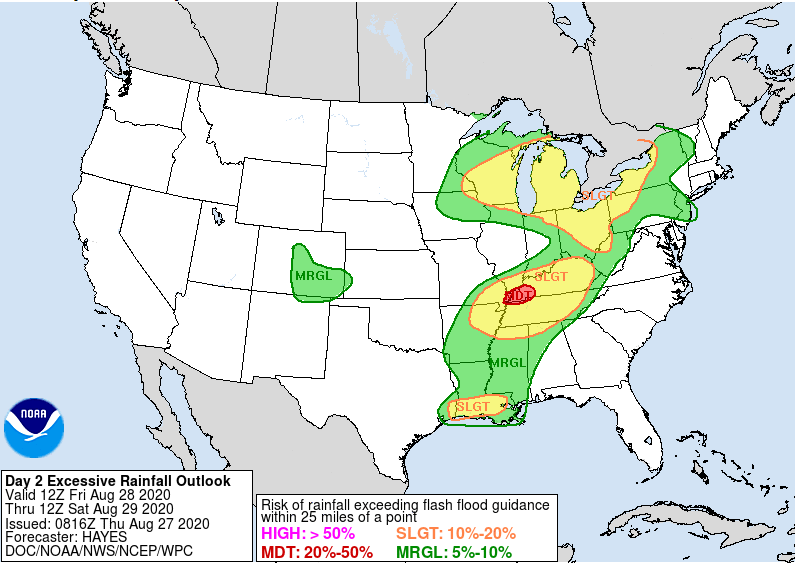 The Weather Prediction Center of NOAA has the eastern fringe of the metro area not far from a "slight" risk (Level 2/4) of excessive rainfall Friday. While this is more likely to be directed into Louisiana, it's entirely possible this sets up closer to Houston. So, we just want you to be aware of the risk of some locally heavy rainfall tomorrow. Thankfully, we didn't see much of anything during Laura's passage, so we have a good amount of room to absorb any rains.
As of right now, Eric and I are intending to take tomorrow off as a necessary recovery day. However, if it appears the rain risk will become more significant, we'll chime in with an update. In the meantime, have yourselves a good evening.