Good morning. Houston will remain warm this week, with high temperatures near record levels—as was the case for much of the winter. A chance of storms moves into the forecast by Friday.
Tuesday through Thursday
Expect mostly sunny days, with highs around 80 degrees near the coast and mid-80s for inland areas. Why is it so warm? Look no further than the Gulf of Mexico, where for the first time on record, the daily average surface temperature never fell below 73 degrees Fahrenheit this winter. Here's a map showing the present-day temperature anomaly: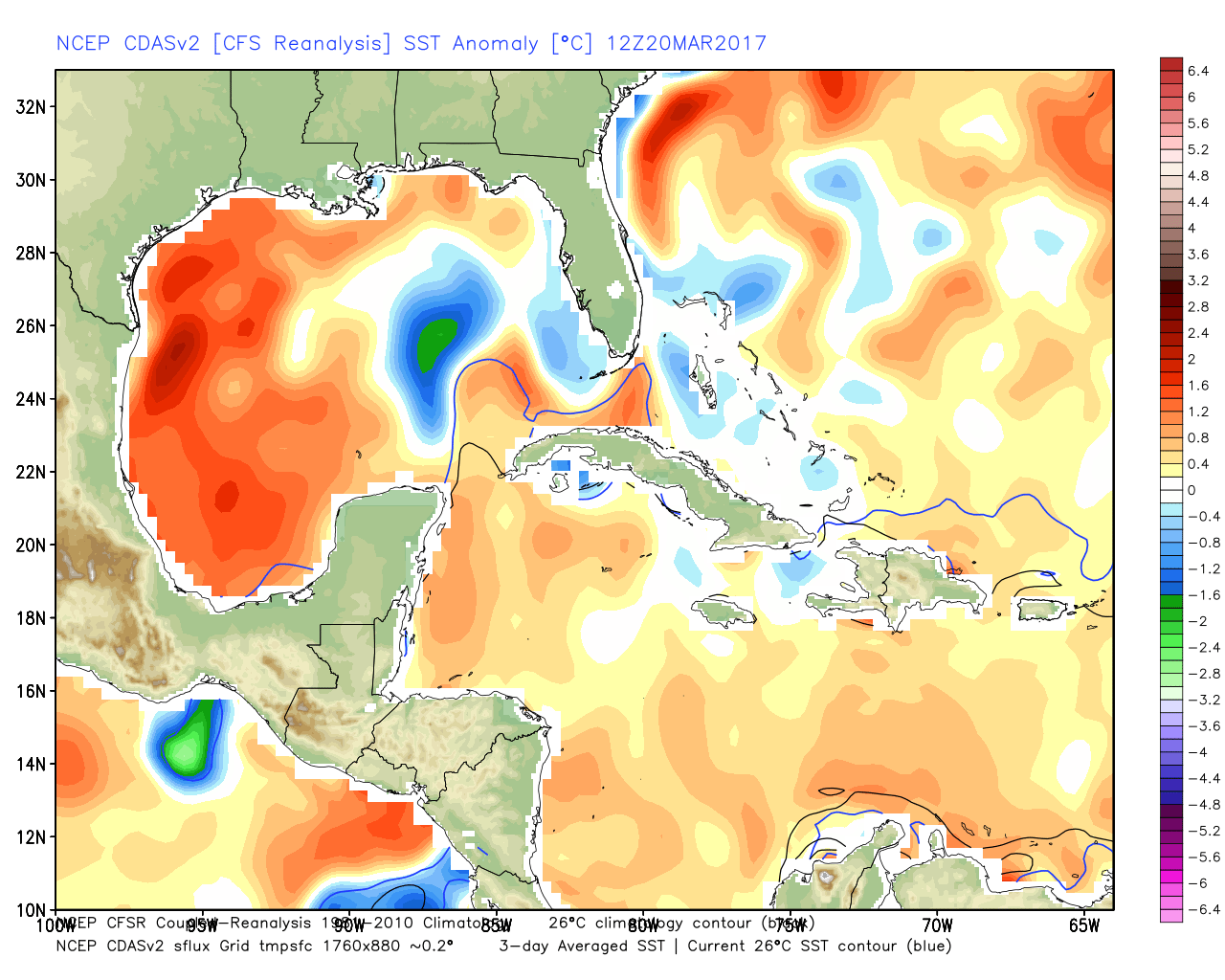 A steamy Gulf has meant that any time winds blow out of the south, we're not going to cool down that much over night, and daytime temperatures can warm pretty quickly.
(An anonymous donor has sponsored Space City Weather this month)
Friday
Late during the work week an organized line of thunderstorms should develop across the central and then southern United States, but there's some question as to how far its southern boundary will reach into Texas. I think there's a chance of severe thunderstorms on Friday afternoon and evening, especially for northern parts of the region, but I'm far from confident that most people will see storms because our atmosphere will probably be capped. Rain accumulations on Friday and Friday night should be about 0.5 inch, plus or minus, for most areas of Houston.
Saturday and Sunday
There's also some uncertainty about the amount of cooler air that will work its way into Houston this weekend, behind the rain and front. Will this front stall just northwest of Houston, or push all the way through the metro area? It's not entirely clear to me, and therefore the weekend forecast remains somewhat uncertain. It could be really nice, or we could be right back into the mid-80s. I'll be hoping for a stronger frontal push, but given what we've seen so far this winter I won't be betting on it.
Posted at 6:50am CT on Tuesday by Eric