I hope everyone had a fantastic weekend celebrating Christmas and the other holidays that make this such a special time of year. I'm sorry the weather was not particularly festive.
Overall, the forecast is pretty simple. The last week of 2021 is going to be blazing hot for December—we are going to obliterate this month's temperature record—and then our weather will turn much more winter-like at the start of next year. Read on for full details.
Monday
Light southerly winds have kept the fog mostly at bay this morning, and these winds will at times gust to 15 or 20 mph this afternoon. This is part of an overall southwesterly flow in the atmosphere that will help to keep conditions very warm this week. Highs on Monday will reach the low 80s for most locations despite partly to mostly cloudy skies. Rain chances are near zero and lows Monday night will only fall to around 70 degrees in Houston.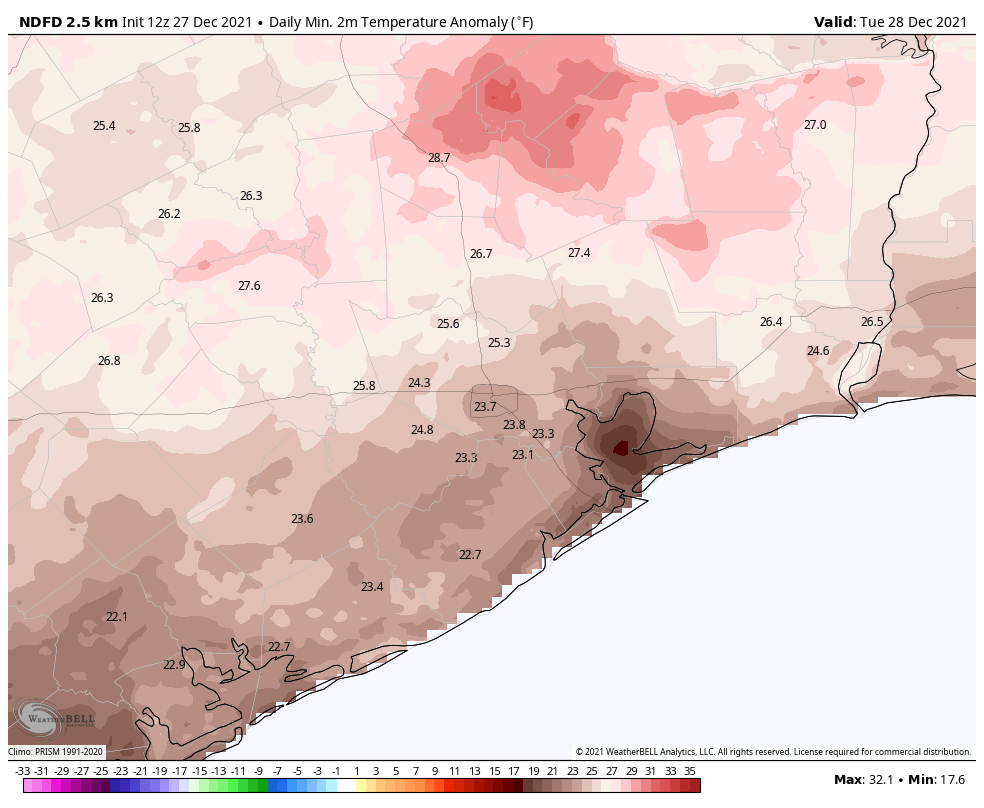 Tuesday
A weak atmospheric disturbance may bring some very light showers to the region on Tuesday, although accumulations should be less than a tenth of an inch. Otherwise, expect partly sunny skies with highs in the low 80s. Winds will again be a bit gusty out of the south.
Wednesday, Thursday, and Friday
These will be three more warm and partly sunny days, with highs likely reaching the low 80s. A weak front will approach the area on Wednesday from the northwest, and this may briefly drop lows on Thursday morning into the mid-60s with some drier air for locations inland of Highway 59/Interstate 69. But this front will likely be gone before you know it.
If you're planning to be out and about on New Year's Eve, expect temperatures in the low 70s as the clock counts down to midnight. I'd be concerned about fog, but I think there will be enough wind from the south to preclude that. Rain chances on New Year's Eve look to be near zero.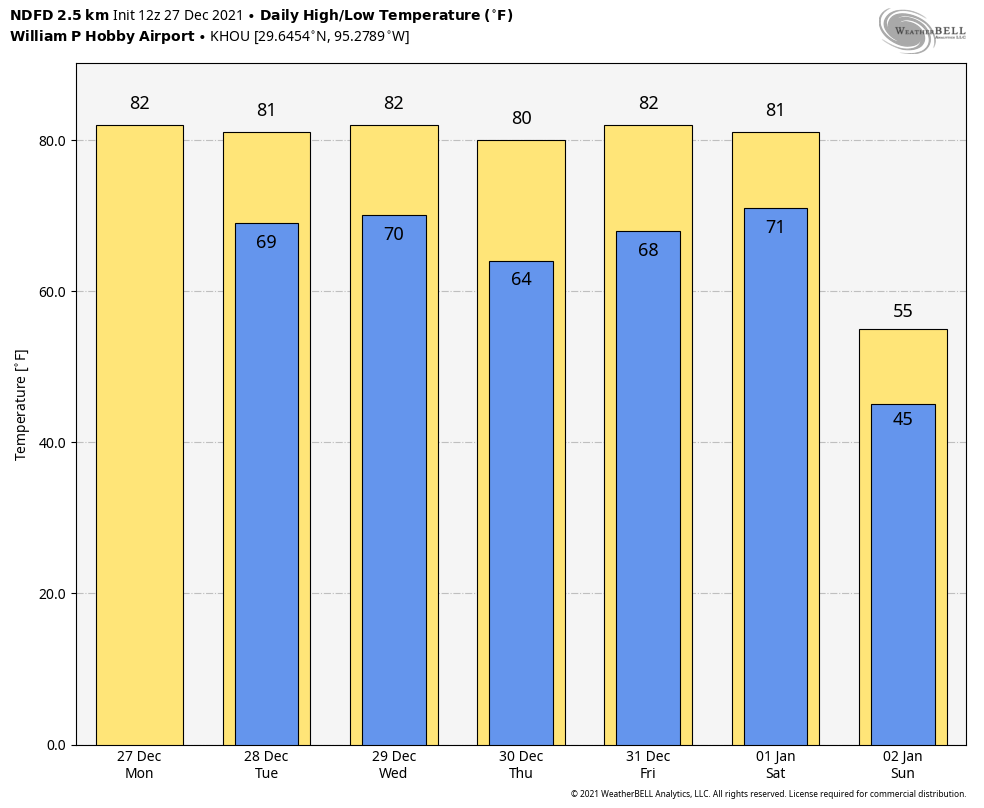 First week of 2022
New Year's Day should see more of the same warm weather, but sometime during the afternoon, evening, or overnight hours a strong front should arrive. Details remain sketchy, but I think at least a little bit of rain is likely with the front, if not some showers and thunderstorms. We'll see.
What we can be more confident of is that significantly colder and drier air will follow. We're looking at daytime temperatures in the 50s and lows in the 30s and 40s for a time. Conditions will be windy and cold. It even seems possible that inland areas may see the season's first freeze by around the morning of Monday, January 3, but again it's way too early to put any precision to such temperature forecasts.