For mid-May, Houston just experienced a wonderful weekend, with cool nights, warm sunny days, and relatively low humidity. Unfortunately, the party's over. Looking ahead we'll see rather humid weather. On the other hand, it does appear as though we'll get a healthy chance at some much-needed rain by the end of this week, or early next.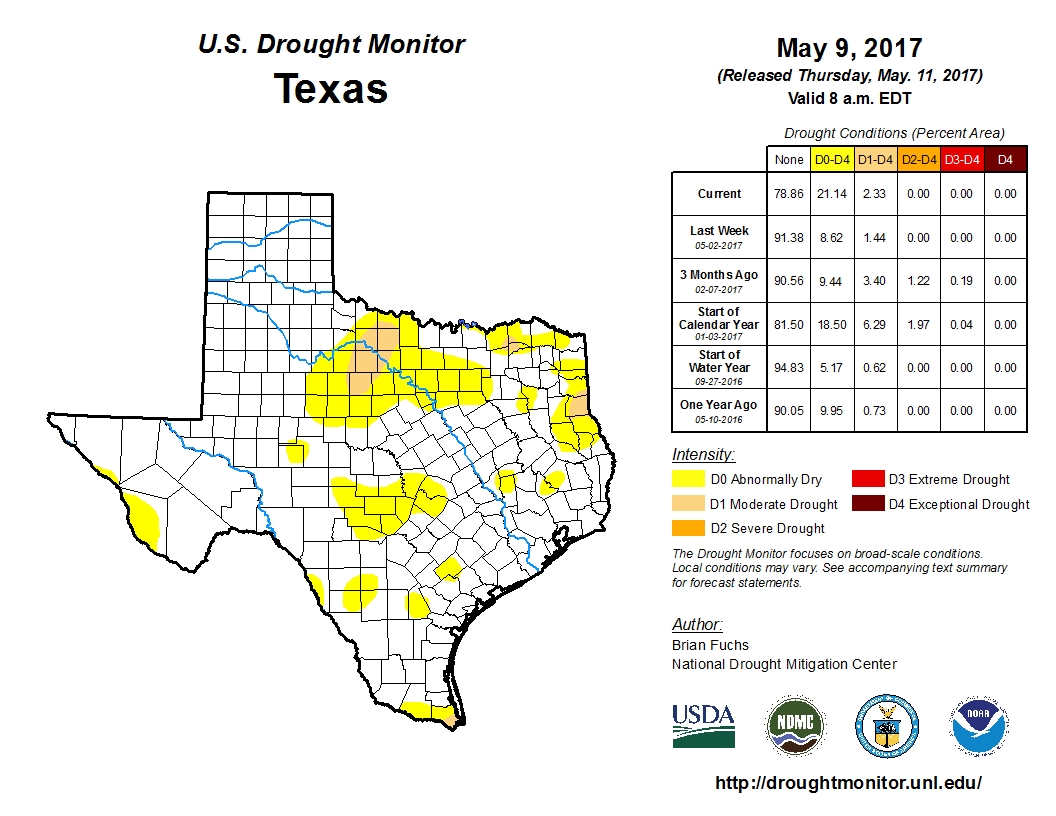 Today and Tuesday
Partly sunny skies will combine with a warm onshore flow to lead to two warm days, with highs in the upper 80s. Of the two days, afternoon clouds are more likely on Tuesday. Nights will remain warm with inland lows around 70 degrees, and warmer along the coast. Rain chances are near zero.
Wednesday and Thursday
A more southwesterly flow will arrive by the middle of the week, and with all the moisture in the atmosphere we're going to see a chance of rain. However right now there's doesn't appear to be any real factors to force the issue—something that would drive air at the surface to rise. I wouldn't expect accumulations of more than a tenth of an inch of rain, or two, from scattered showers and thunderstorms for most of the area. Highs will remain in the mid to upper-80s.
(Space City Weather is sponsored this month by Jetco Delivery)
Friday
With clearing skies, look for highs in the upper 80s, with high humidity. Only a slight chance of rain.
Saturday, Sunday and beyond
We're not going to come close to the nice weather the region experienced this past weekend, sorry. The region's weather will turn a bit unstable in advance of a weak cold front—this will provide some lift for the possibility of showers and thunderstorms with our moist atmosphere. The details are still fuzzy with this one, as the models have hinted at the possibility of heavy rain along with the front, but others have indicated at a mostly dry passage. I'm leaning toward pretty healthy rain chances for the forecast area, with accumulations of 0.5 to 2 inches for this weekend into early next week, but I'm not doing so with great confidence. And I'm not really sure whether the rain will come on Saturday, or be delayed into early next week.
The front will have a moderate effect on temperatures, possibly giving inland areas a night or two in the mid-60s. But cold, or particularly dry? It's likely to be neither of those given the time of year.
Posted at 6:50am CT on Monday by Eric