This morning is pleasantly chilly for early December, with temperatures in the 50s across the area. However winds today will gradually become easterly, and this will set us upon a pretty dramatic warming trend later this week, culminating in the mid-80s by Friday. A strong front will arrive late on Friday night or Saturday morning, and reset our thermometers back to more winter-like weather.
Tuesday
Despite the chill in the air, temperatures this morning are still about 10 degrees above normal for this time of year, when we should be in the mid-40s. With skies remaining partly cloudy today, expect highs to top out in the mid-60s, with light winds turning easterly. Lows tonight will drop into the 50s tonight for all but coastal areas, which will be a bit warmer.
Wednesday
Some fog will be possible Wednesday morning as dewpoints match temperatures before sunrise. The day itself should be mild for December, with highs in the mid-70s. With mostly southeasterly winds we'll start to see humidity levels recovering. Overnight lows Wednesday will drop into the 60s, with only far inland areas potentially dropping into the 50s.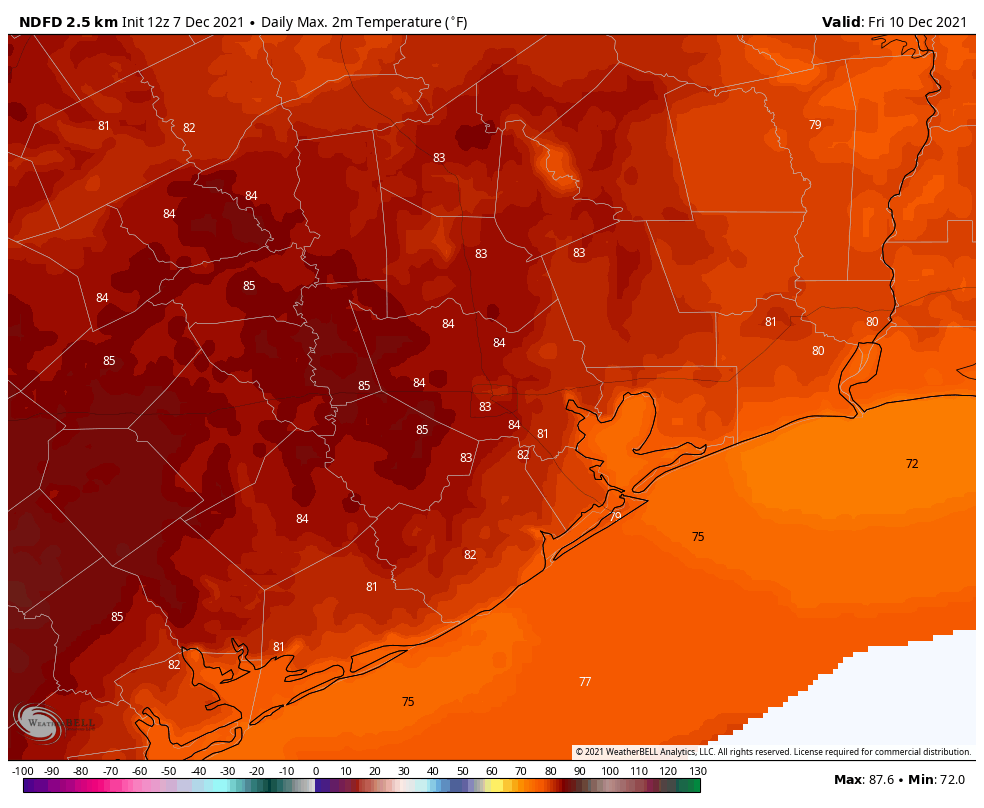 Thursday and Friday
These will be warm and fairly muggy days for December, with highs in the low- to mid-80s and a mix of clouds and sunshine. Some isolated to scattered showers will be possible both days, but I'd peg rain chances at less than 20 percent. Rain chances increase Friday night as a front approaches the region, but for now I think this activity will not pick up until after midnight.
Saturday and Sunday
The weekend should be clear and cold once the front passes. So when will that be? Right now the models show the front arriving in Houston by around sunrise on Saturday morning, if not a bit before. It looks like a few tenths of an inch of rain may accompany the front, but we're not looking at anything too intense, or too long lasting. This should be a pretty clean frontal passage, with the moisture being swept out in its wake. As a result we probably will see clearing skies by late morning or early afternoon.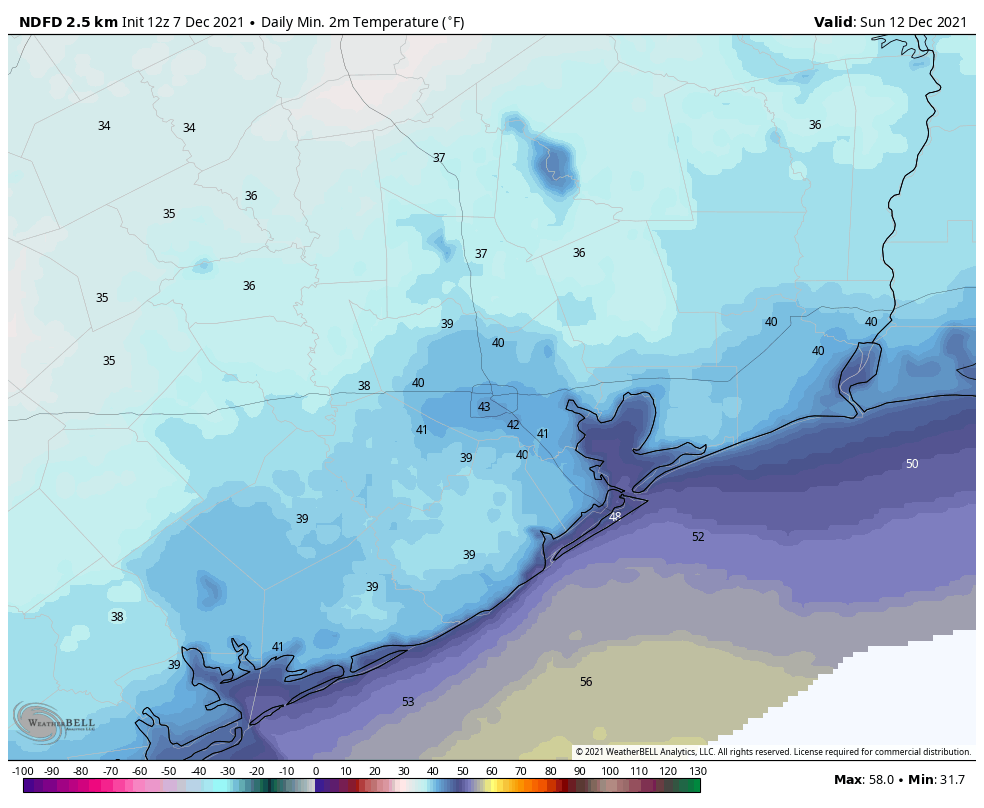 By Saturday afternoon temperatures will likely fall to around 60 degrees, and keep going down from there. It will feel chilly, especially with northerly winds gusting to 25 mph or higher. Right now these gusts should begin to die down during the evening hours, which is good because temperatures will be dropping into the 40s by late evening, and to around 40 degrees by Sunday morning. Inland areas outside of Houston's urban core will likely see lows in the 30s, although temperatures most likely will remain above freezing. Despite ample sunshine, highs on Sunday will peak at about 60 degrees. It will be a fine winter day in Houston. Overnight temperatures will again get down into the low 40s in Houston.
Next week
By Monday a warming trend begins, but I don't think we're going back into the 80s. Mostly, next week, we should be in the 70s. So, not winter-like. But not exactly October weather, either.