Low temperatures are generally around 60 degrees this morning, and we're going to be on a continuous warming trend until Friday night, when a fairly strong cold front arrives. The record high temperature for Thursday (84 degrees, 2019) and Friday (83 degrees, 1939) are both definitely in play. The weekend will see much more seasonal weather, with highs dropping back into the 60s, and lows mostly in the 40s.
Wednesday
Patchy fog this morning will burn off, leaving behind partly to mostly cloudy skies near the coast, with a little more sunshine inland. Winds will be light, shifting to come from the southeast, with high temperatures rising into the mid-70s. Temperatures tonight will be a few degrees warmer than Tuesday night, perhaps only dropping into the low- to mid-60s for much of Houston, with even warmer conditions right along the coast.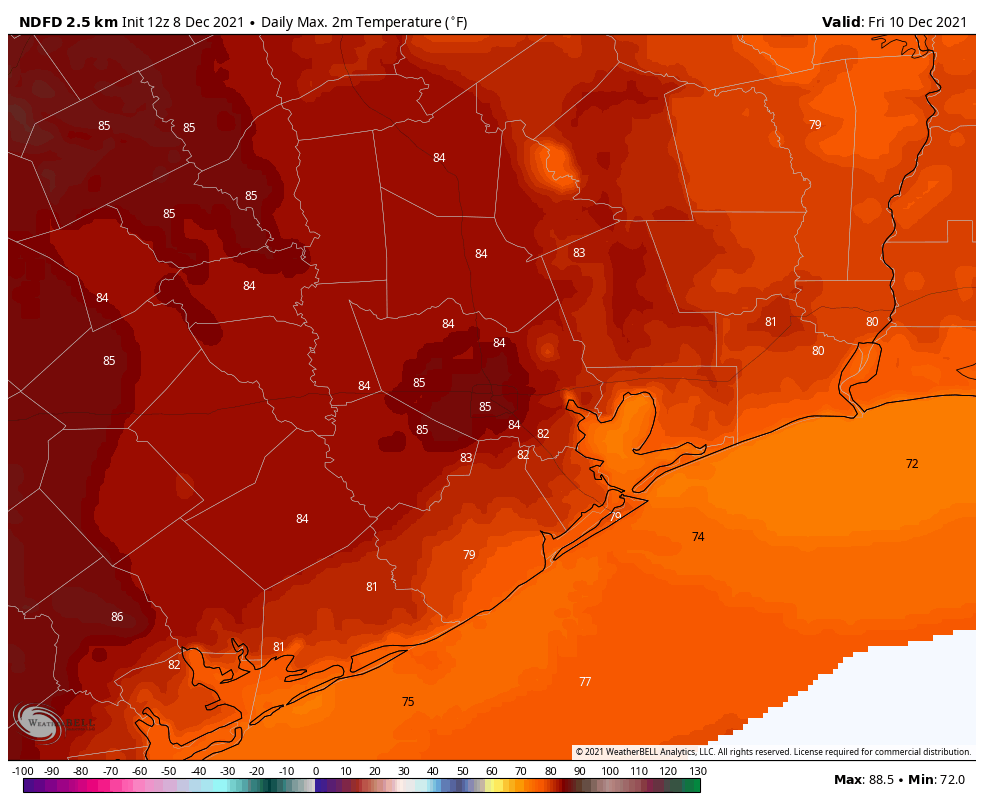 Thursday
Dewpoints really start to ramp up on Thursday, into the 70s. What this means is that, in addition to temperatures rising into the low to mid-80s on Thursday, it's going to feel rather sticky outside. Think October, not December. Some slight, scattered showers are possible during the morning hours. Overnight lows on Thursday night probably won't drop below 70 degrees for most of the region.
Friday
As a low pressure system moves down across the central United States on Friday—this will evenutally move through Houston as a cold front—it will suck warmer air northward into the Texas coast. Effectively this means we're going to see temperatures in the mid-80s on Friday. Again, some slight scattered showers are possible during the daytime. The front itself looks to arrive after midnight, probably reaching the coast around sunrise on Saturday or shortly before.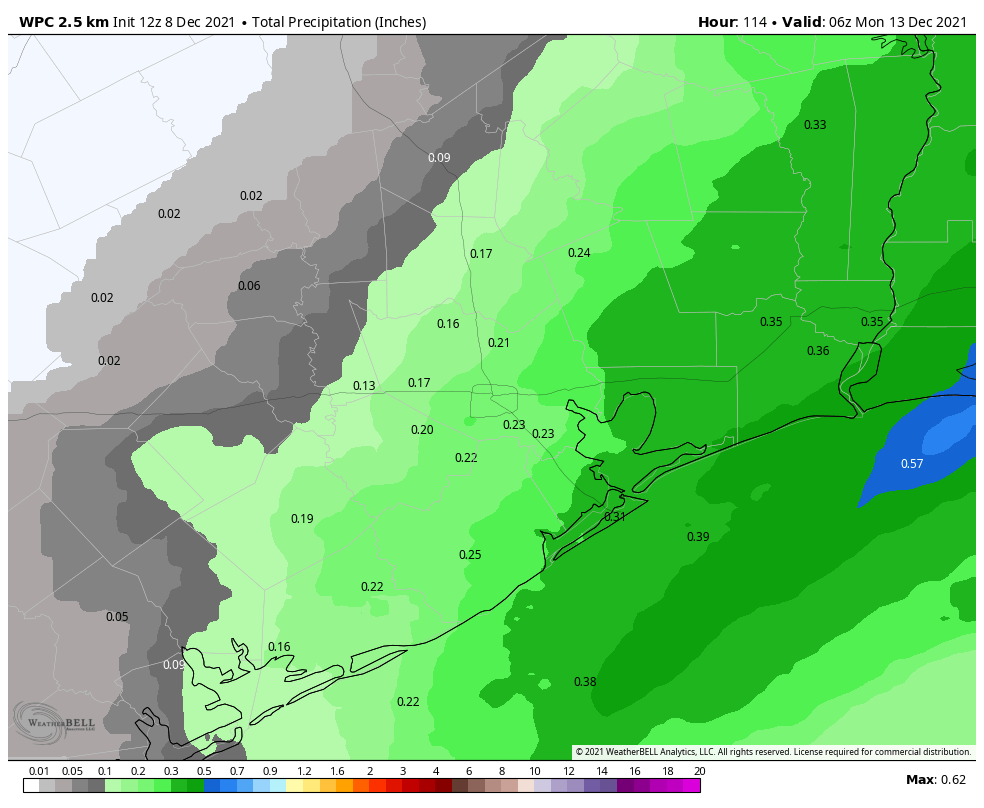 Saturday
A thin line of showers should accompany the front, bringing accumulations of perhaps a tenth of an inch of rain or two, into Houston. These showers should be over by sunrise, and we likely will see clearing skies by late morning or early afternoon. Temperatures will fall throughout the day on Saturday, probably into the 50s during the afternoon hours. Winds will be gusty, out of the north, up to 30 mph during the daytime, but these should start to back off during the evening hours. Saturday night will be the coldest of the week, with widespread lows in the 40s.
Sunday
This will be a splendid, mostly sunny winter-like day. Highs will peak in the low 60s, and temperatures on Sunday night a few degrees warmer than Saturday night.
Next week
Houston will see a familiar pattern, with a warming trend next week as temperatures go back into the 70s. Another front is likely toward the end of next week or into the weekend. Rain chances will likely be low, to non-existent, until that next front.