In the wake of Harvey, it's been interesting and fun to see so many people seeking out ways to learn more about weather, flooding, hurricanes, and more. Knowledge is power, and both Eric and I want to see our community more knowledgeable about weather risks. We will attempt to give you a few book suggestions here. This list isn't comprehensive by any means. It's just a listing of books we've read about weather that we think our readers may find interesting, and hopefully it's a group of books some of you can learn something new from! All links point to Amazon for simplicity, but I'm sure you can find some of these on local shelves or order them through local bookshops.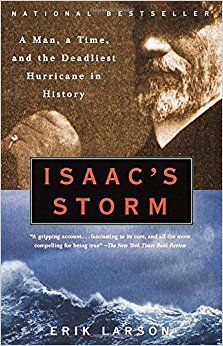 "Isaac's Storm," by Erik Larson – No, we couldn't make a weather book list in Southeast Texas without including this title. "Isaac's Storm" tells the story of the 1900 Galveston Hurricane and Isaac Cline, the weather observer at the time, and what he was able to do (and not do) through the storm. You won't get a full meteorology education here, but this is a must-read for anyone interested in Houston, Galveston, or hurricanes.
"Hurricane Watch," by Jack Williams & Bob Sheets – Jack Williams is one of the best weather journalists out there, and Dr. Sheets is a former director of the National Hurricane Center. He is also one of my childhood meteorology "heroes" who inspired me to be a strong weather communicator. This book walks you through the history of hurricane observation and prediction, going way back in time and bringing you up through Hurricane Andrew in 1992. It includes a look at the history of the Hurricane Hunters, why we can't control hurricanes, and closes with a look at the future (as written in the early 2000s). This is a great introduction to hurricanes, their prediction, and the history behind that.

"Hurricanes of the Gulf of Mexico," by Barry Keim and Robert Muller – This book is a dry one, but if you want a history of a lot of storms that have worked their way through the Gulf, it delivers. Again, it won't win any awards for being a fun read, but it's a nice reference to have and may give you storms to research and learn more about.
"Thirty Eight," by Stephen Long – This book has nothing to do with Texas or the Gulf, so why am I recommending it? I read fewer weather books than you'd expect. Much of my time and focus with reading is spent on American history. So when I do read a book about weather or a storm, I have a high standard. This book absolutely blew it away for me. It tells the story of the great 1938 New England hurricane (the "Long Island Express") in a non-traditional way: Through the trees and forests of New England. One of the more unique books I've ever read. It discusses how you can still see scars from that storm today, and it gave me an interesting lesson in trees. It's fascinating. Note: "Taken by Storm," by Lourdes Aviles is another good read for more about the meteorology behind the 1938 hurricane, one that would be catastrophic if it repeated itself today.
"Flash Floods in Texas," by Jonathan Burnett – Full disclosure: I *just* ordered this book so I haven't read it quite yet. But it's easy to see from previewing it that this will be a wonderful resource to have, and I wouldn't hesitate recommending it right away. This book is what it sounds like: A history of flash flood events in Texas.This won't cover every flood event we've seen, but it does cover some of the worst, underscoring how widespread a threat flooding is in our state. Locally, there are chapters dedicated to Allison and the December 1935 downtown Houston flood.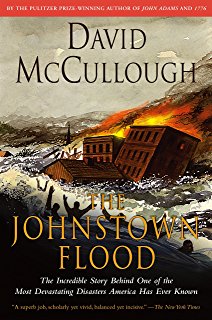 "The Johnstown Flood," by David McCullough – McCullough is one of the best non-fiction writers in America, and this book was his first. It's one of those "essential" books about a weather event to have on your list. The story of Johnstown is a tragic one. This book does a good job keeping the story alive.
"What Stands in a Storm," by Kim Cross – A book that tells the story of the April 2011 Southeast tornado outbreak. This book is not easy to get through without becoming emotional. It's a very easy read, but also a very tough topic. The story of the event is told, interweaving the lives of people from Mississippi and Alabama into how the outbreak unfolded. It's really, really well done, but prepare to wipe your eyes.
"Essentials of Meteorology," by C. Donald Ahrens – Unlike the other books on this list, this one is actually a textbook. But don't let that scare you. If you actually want to understand the nuts and bolts of the atmosphere or have an interest in pursuing a meteorology degree, this book absolutely gives you a great introduction to the basics. To read and learn from or to just have as a bookshelf reference, I highly recommend it. It was my first college meteorology textbook, and I found it extremely accessible.
"Northeast Snowstorms," by Paul Kocin and Louis Uccellini – Being a New Jersey native I had to include this one. This is a heavy two-book set, both literally and figuratively. But if you are really, really into meteorology and like winter, you have to have this. Many case studies walk you through various winter storms that have impacted the Northeast Corridor. If you seek a deeper understanding of winter storms in general, this is an invaluable resource. As a meteorologist and weather weenie, I have to say it's just awesome.
By no means is this list exhaustive. These are just books I own or that I have read. I have dozens of other books on my list that have something to do with weather. One day I'll get to them, and I'll publish an addendum to this post.