Houston's bout with tropical moisture continues, and on Monday afternoon and evening it was the southern side of the region's chance to contend with heavy rainfall. With 2 to 3 inches falling in a couple of hours, Friendswood, Pearland, and the Clear Lake area were hardest hit as rains briefly filled streets. We should remain in this wet weather pattern for most of the work week.
Today
Another day a lot like Monday. The tropical moisture that's capable of bringing heavy rains is still hanging around for areas closer to the coast, so we can expect another mostly cloudy day with highs in the upper 80s, and a healthy chance of storms later today. Some areas could pick up a quick 1 to 2 inches, while other parts of town see almost no rain. Fortunately, because the storms aren't that well organized, I don't think we're going to see anything more significant than street flooding—if that.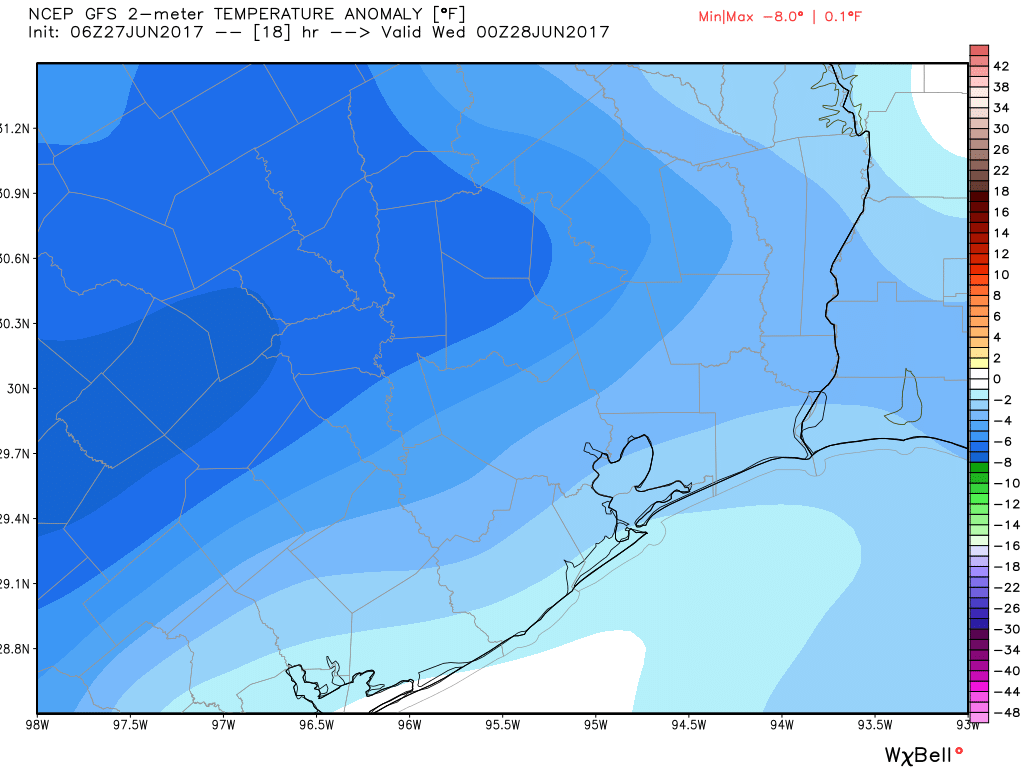 Wednesday through Friday
This pattern will more or less hold throughout the rest of the work week, but the potential for torrential rains should decrease slightly from day to day. Nevertheless, this should be a relatively pleasant way to end June, with temperatures in the upper 80s rather than in the 90s.
Saturday, Sunday, and beyond
Our old summertime friend, high pressure, will build into Houston over the weekend and if you've lived in the south for any amount of time you know what that means—hot and dry conditions. For this weekend I'm expecting mostly sunny skies, highs in the low 90s, and overnight low temperatures near 80 degrees. This certainly won't be as sweltering as the weather can get in August, but it's pretty typical for late June or early July in Houston.
This pattern doesn't look to change a whole lot for at least the first half of next week, although we may see a few scattered afternoon showers due to the sea breeze. We'll see.
Posted at 7:05am CT on Tuesday by Eric