Although Tropical Storm Cindy veered well to the east of the Houston metro area last week, a very moist tropical air mass remained in its wake. That, combined with lower pressures, has allowed for intermittent tropical downpours during the last five days across the Houston area, with some inches receiving as much as six inches of rain.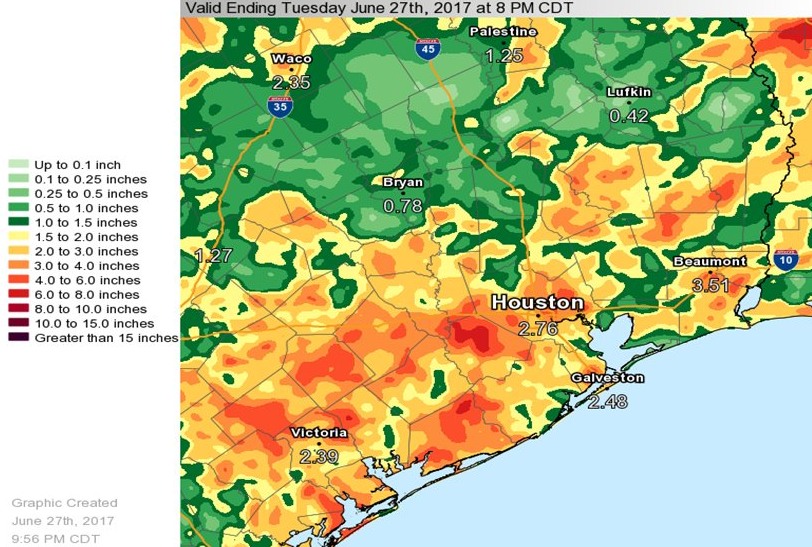 This pattern should continue for another day or two, before the region finally dries out heading into the weekend.
Wednesday and Thursday
With abundant moisture still hanging around, we're going to continue to see partly to mostly cloudy skies, with the potential for heavy rainfall. Storm chances are greatest near the coast for the next couple of days, and like we've seen for much of this week, one part of Houston could quickly pick up 2 inches of rain while it doesn't rain at all a few miles away. The upside of this tropical pattern is that high temperatures should remain in the upper 80s—quite pleasant for the end of June.
Friday
A bit of a transition day. While rain chances certainly aren't going to end, we'll see high pressure starting to push into the area, which should diminish the amount of storm coverage, and intensity of rainfall. Highs around 90 degrees.
Saturday, Sunday, and Monday
As high pressure builds over the area it looks as though we're going to see mostly sunny weather, with warm temperatures in the low- to possibly mid-90s. Rain chances will be low, but not zero. This is summer as you know and love it in Houston. OK, maybe you don't love it. I don't. But for a long, summer weekend this should be great beach, pool, or other outdoor kinds of activity weather.
July Fourth
Independence Day should see similar weather to the weekend, although it's possible the region will see some scattered showers during the afternoon hours. Right now it doesn't look as though accumulations will be significant, however, and I don't foresee any difficulties with fireworks. I'd be more concerned about mosquitoes!
Posted at 7am CT on Wednesday by Eric