Well, thank goodness that's over.
No, the flooding misery for hundreds of thousands of Houston residents hasn't ended, from the western edges of Harris County (see latest information on Addicks Reservoir), to the northeast around the San Jacinto River, and the southwest near Wharton (which got less than 5 inches of rain, but is feeling the effects of upstream Colorado River flooding).
At least swollen bayous and neighborhoods will no longer be insulted by additional downpours for a few days.
This event has rightly been characterized as the region's most severe rainfall event since Tropical Storm Allison, and correctly so. It rained a heck of a lot across southeast Texas during the last five days. Here's a map of satellite rainfall estimates through 1pm CT Thursday.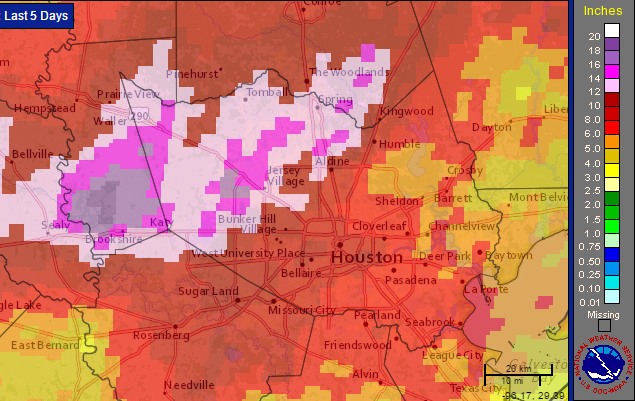 With nearly 10 days left in the month April, 2016, this is already the wettest April on record for the city of Houston.
Now we'll get a break as high pressure moves in tonight. Friday and Saturday will be mostly sunny days. I also think there's a chance some parts of the area fall into the upper 50s on Saturday morning, which will provide a nice taste of cooler air before we move inexorably toward summer.
It is possible that rainfall will return to the forecast on Sunday and Monday, but as Matt mentioned this morning moisture levels shouldn't be too high, and at this point I think we'll mostly see light rain showers. If thunderstorms do develop, they'll likely be scattered. So I don't foresee any troublesome accumulations. All of which means the area will now finally get a chance to drain out.