The rain is over. After days of being tortured by Mother Nature (and, you know, tigers), we can at least turn the faucet off for a bit, as drier weather builds into Southeast Texas for the weekend.
TODAY
As the upper level storm partially responsible for repeated rains finally begins to pick up some speed as it exits the Mid-Continent, that will allow for high pressure to settle in over our region for a couple days. That means we should have a good bit of sunshine today. Temperatures will pop into the low to mid 80s.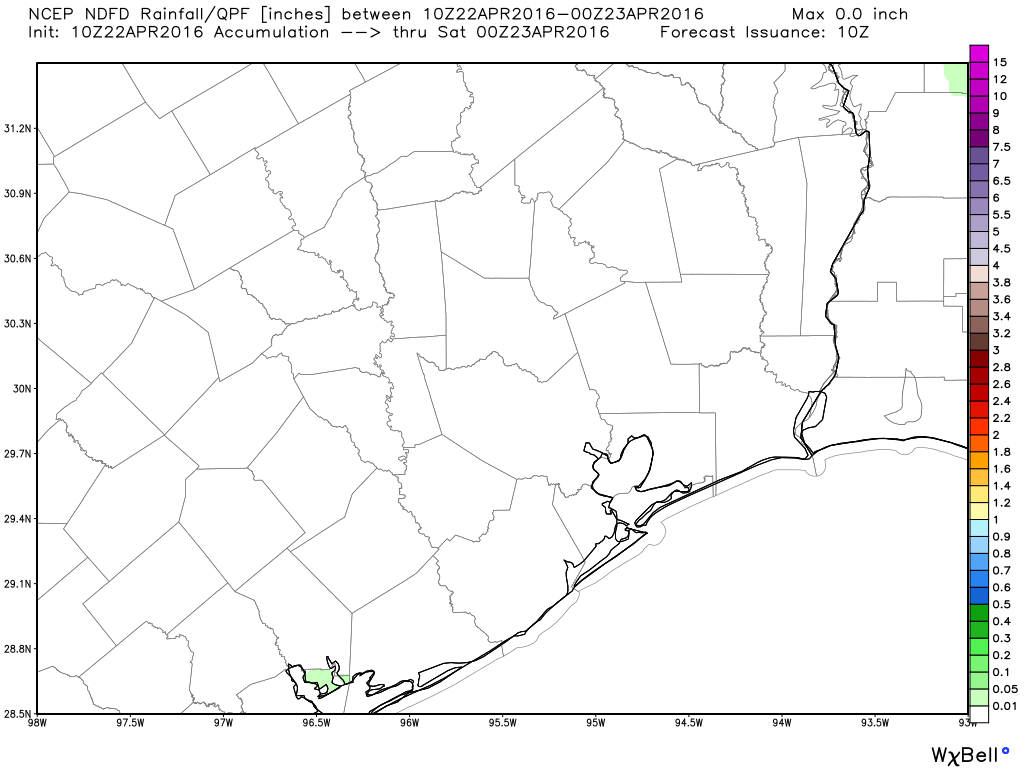 As is often the case when you turn off a faucet, there may still be a couple drips, so one or two *small* showers could flare up with daytime heating today, especially east of I-45. Those would be very much the exception rather than the rule however.
In terms of flooding, the chart from the National Weather Service map from overnight shows that most of the creeks across the region have seen the flood wave pass and are now receding.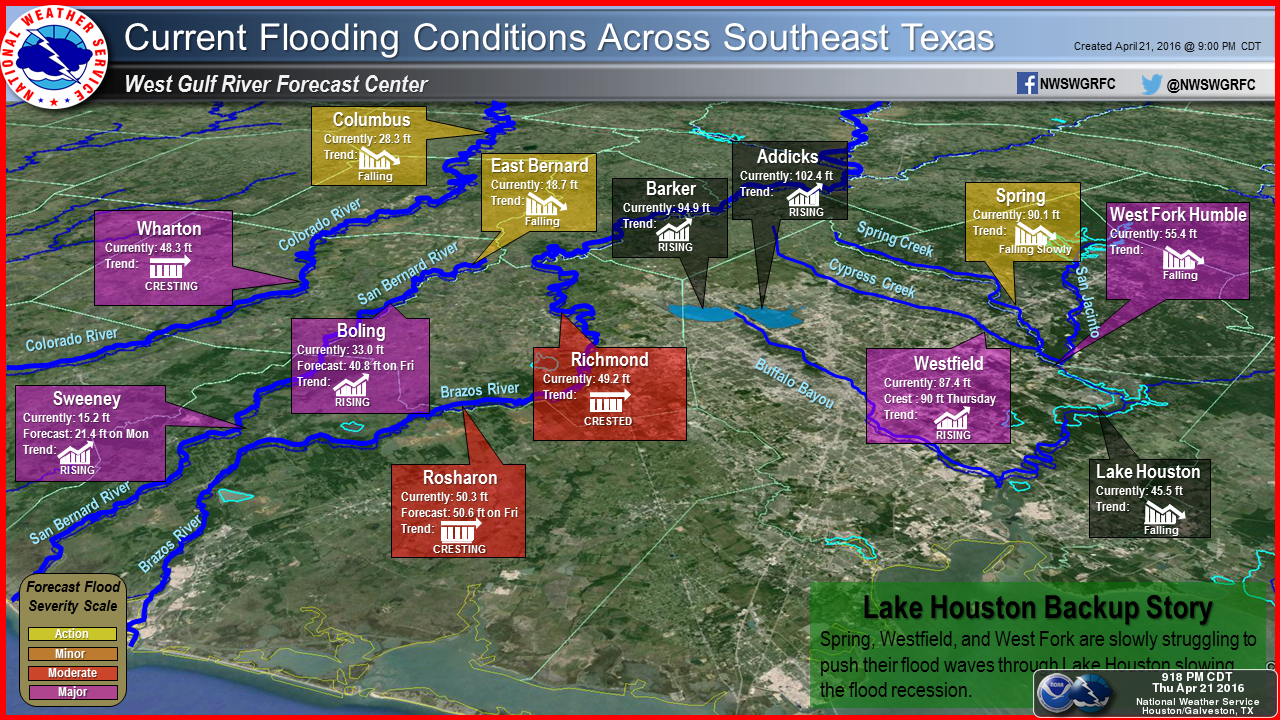 While many creeks are still in flood stage, even moderate to major flood stage, the lack of rain today should mean the pace of the drop in water will be more noticeable. The flood waves will continue rising on portions of the larger rivers though, particularly the Colorado south of Wharton and the Brazos and San Bernard Rivers south of US-59. Those should all crest this weekend.
As far as Addicks and Barker Reservoirs go, the dams are doing their job and holding up fine. They have begun releasing water downstream, but with no rain in the forecast, this shouldn't amount to downstream problems. That said, there will continue to be flooding in some of the neighborhoods around the reservoirs. And the flooding of Highway 6 is expected to continue for weeks. The reservoirs will continue rising over the weekend, but they should level off early next week.
Just as a reminder, there is a sales tax holiday in Texas this weekend on emergency preparedness supplies. After recent events and with hurricane season around the corner, I'd encourage everyone to think harder about ensuring you have an emergency kit (I plan to myself). The worst thing that happens is that you have a few items you don't really need sitting in a cabinet somewhere. All the details are on the Comptroller's website.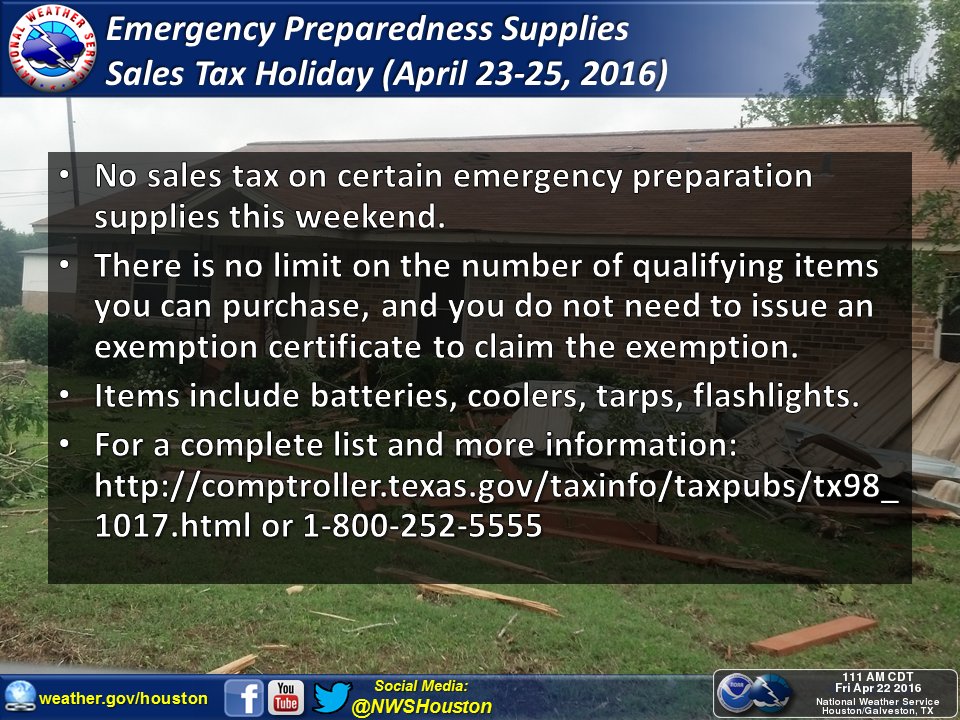 WEEKEND
Good news: Rain chances for Sunday are dropping a bit further. Models indicate the disturbance that would trigger any showers Sunday is a bit weaker and more offshore, so that limits what can occur. The best chance for showers will be southwest of Houston (say, closer to El Campo or Victoria).
So we'll call it this: A dry Saturday and probably a dry Sunday. Could there be a shower or two around either day? Yes. But the risk looks very low and even a few form, they will likely not cause us any problems at all.
We'll see sun and clouds each day. High temperatures Saturday should hit the low to mid 80s again, and Sunday will probably see around 80° or so. Nighttimes will be in the low to mid 60s, so not terrible at all.
NEXT WEEK
The majority of the first part of the week should be trouble-free. There will be a minor chance of a shower or two Monday as that disturbance exits to our south. The best chance is probably east of I-45, closer to Beaumont than Houston. I suspect Tuesday and Wednesday will also be quiet days with just a minor chance of a shower.
The latter part of the week is a little more low confidence. The weather models disagree on exact placement and timing of different features. There's an equal chance late week is warm and dry as there is that it's stormy or unsettled. We'll want to keep an eye on the evolution of a storm in the Plains again (not a slow moving storm like this week, but a vigorous disturbance that will trigger severe weather up that way). Storm chances will trend up as we move toward next weekend, so stay tuned.
But in the meantime, most of us have a multi-day stretch to dry out, and that is great news.