Over the next 7-10 days, the weather over Southeast Texas will probably agitate those of us that like stability in our seasons. We should see a bit of a roller coaster ride unfold over the area. Let's jump into details.
Today
Watch out for some changeable visibility this morning. There will be some dense fog near the coast and patchier fog inland through the first part of the morning. We'll shift to mostly cloudy skies this afternoon, though fog could continue near the bays and coast. There should be a few showers around this afternoon, along with perhaps a rumble of thunder. Look for temps to push toward 70 degrees.
Tonight and Saturday
Our much discussed cold front will make its grand appearance for most us while we're sleeping. The evening should feature low clouds, humidity, and some drizzle or showers. No serious disruption to Friday night plans here. The main front should sweep through the area from northwest to southeast from about 1 AM through 7 AM. With it, some showers, perhaps a few thunderstorms, and then a big change.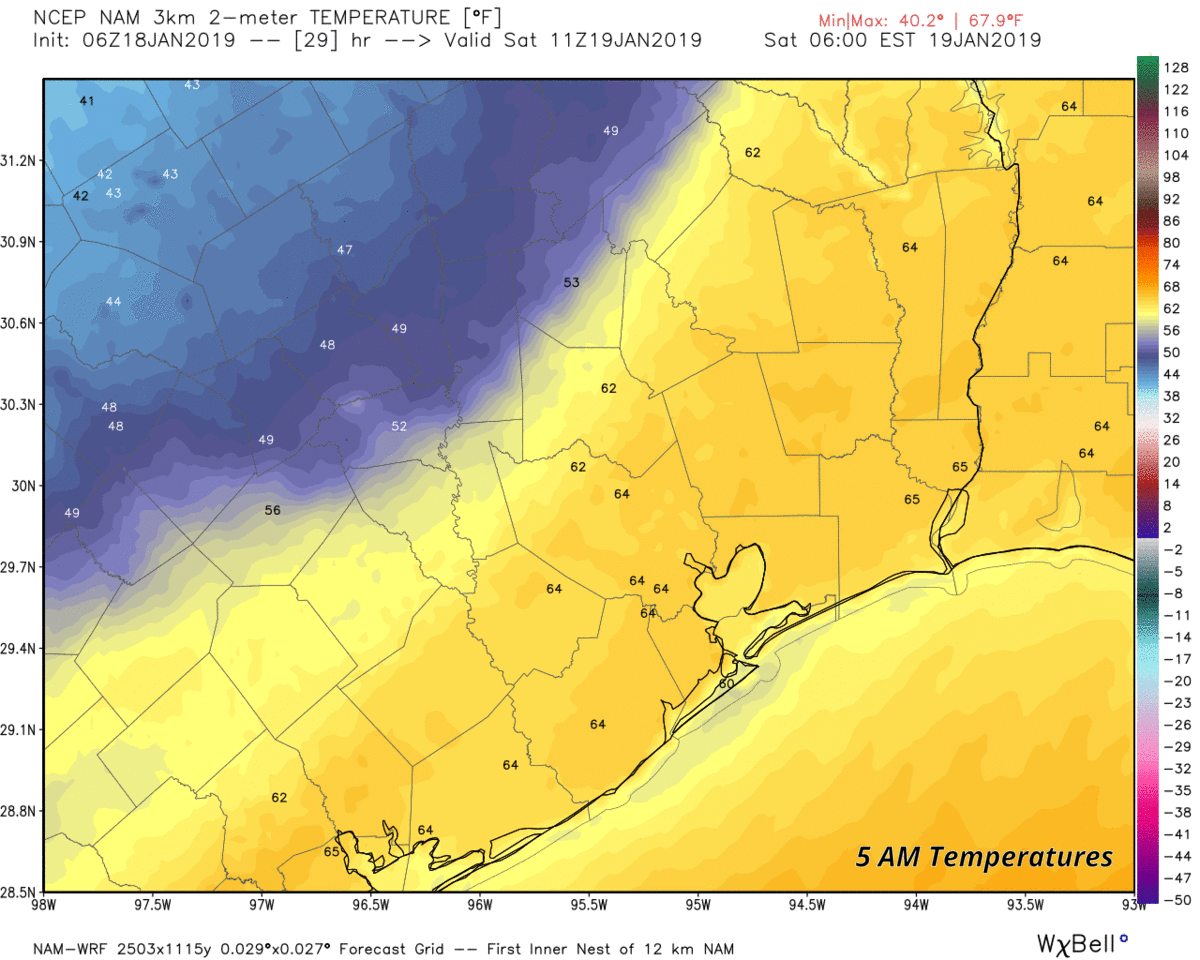 We'll start the day in the 60s around 5 AM and head toward midday with temperatures in the 40s. We should hold in the 40s for most of the afternoon. With it should be a 15 to 20 mph wind, gustier near the bays and on the coast. It will feel like winter.

Sunday
For those running in (or attending) the Houston Marathon, we continue to see improvement over where things looked earlier this week. Winds will slacked to 10 mph or less I think, and we should see temperatures in the mid-30s at race start. Look for us to warm up to about 40-45° by midday and near 50° or a touch warmer during the afternoon. All of this will occur under sunny, blue skies.
For Sunday night's lunar eclipse, as Eric discussed yesterday, it looks perfect: Clear and cool with temperatures dropping into the 40s and perhaps some 30s in a few spots.
MLK Day
For Monday, look for more sunshine. Clouds should begin to increase as the day wears on, but all in all it looks great. For those attending Martin Luther King Jr. parades, it looks pleasantly cool, with temperatures near 50 degrees, warming into the mid-50s. Monday afternoon should see us approach the low-60s with enough sunshine.
Rest of next week & discussing the polar vortex
We'll likely warm up further on Tuesday ahead of our next cold front. That will push through Tuesday night into Wednesday morning, leading to colder weather on Wednesday and perhaps Thursday. Look for mid-to upper-60s Tuesday, followed up by low-50s on Wednesday. Morning lows may sneak back into the upper-30s Wednesday and Thursday mornings. Additional one to two day swings of warmer, then colder weather are likely in quick succession into the weekend the week of January 28th.
All this will be occurring as some substantial changes in the hemispheric weather pattern take place. Most of you have heard of the polar vortex, as the media has tended to hype it in recent years. It's legitimate and something we discuss in meteorology, and it's always there, somewhere. It's not some synonym for cold; it's a real thing. Typically, the polar vortex is by the North Pole, keeping the coldest air in the Northern Hemisphere mostly where it belongs, in the Arctic and Polar regions. But every so often, the polar vortex gets disrupted, dislodged, displaced, or split, and typically that leads to interesting weather somewhere where more people live. That's exactly what looks to unfold over the next couple weeks.
The polar vortex split has opened the floodgates to Arctic air, far more active storm track in Midwest/Eastern US and Western Europe. Details: https://t.co/xiZ5APYpNd

— Andrew Freedman (@afreedma) January 16, 2019
Andrew Freedman over at Axios did a nice job summarizing how this occurs and what it means, so I won't rehash too much of what he said. In a nutshell, when a split like this occurs, pieces of the polar vortex get forced into the mid-latitudes, often into North America and Europe. As you would expect, since some of the coldest air in the hemisphere lies below the polar vortex, some of that cold comes with those pieces into the mid-latitudes. Of course, it modifies a bit, but it's still extremely frigid. What often happens in these scenarios are "blocking" patterns, where relatively warm ridges of high pressure in the upper atmosphere form over the Arctic or Alaska or Greenland. As you push warmer air into those places, the cold that's typically there has to go somewhere, and usually that's south into the U.S. or Europe or Asia.
For us here in Texas, this change in the weather pattern likely means that we still have some legitimate winter in front of us. While we're far enough south that we don't actually see the polar vortex itself here, these types of patterns often drive cold, Arctic air masses and blue northers into Texas. While we can't point to anything specific at this point over the next 2-3 weeks, all the signals and signs are there saying we should have at least a few days of some pretty darn cold weather here in Texas. When and for how long? Stay tuned.