The winter solstice began early this morning, as the Sun reached its lowest point in the sky. Paradoxically, instead of seeing cooler weather over the next week or 10 days, Houston will instead warm back up over the Christmas Holiday, and perhaps most of the following week.
For the northern hemisphere today is the "shortest" day of the year, in terms of daylight. With a sunrise at 7:12am CT and sunset at 5:26pm, there is just 10 hours and 14 minutes of daylight. (At mid-summer the day is 14 hours, 3 minutes long). Here's how that compares with the rest of the northern hemisphere on the winter solstice.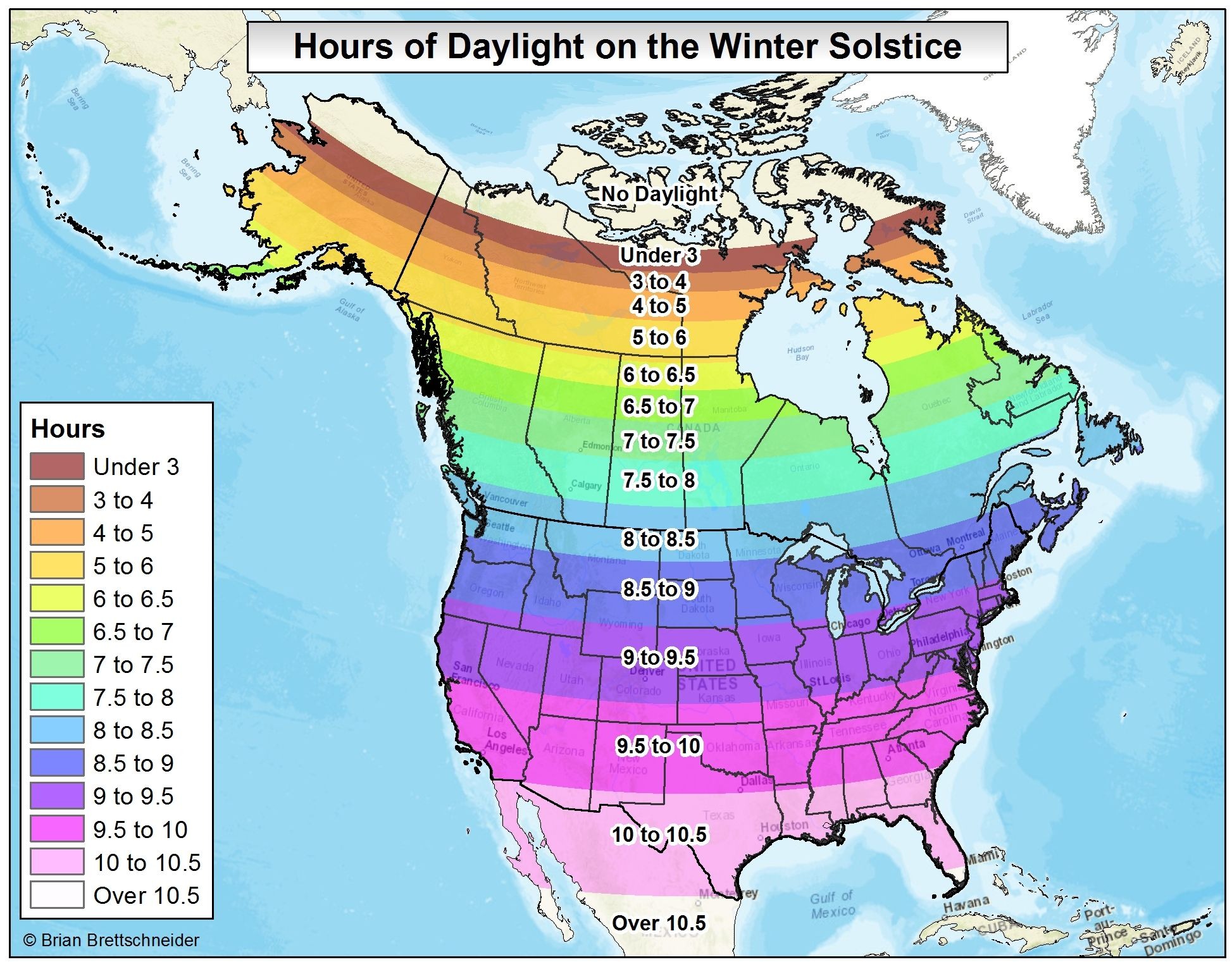 Ok, I hope you were distracted by the dazzling information about the winter solstice, because the forecast for the Christmas holiday week is rather … un-festive.
Today
The Arctic front is long gone, having moved well to the east of the area, and allowing the return of an onshore flow in its wake. Today will be pretty pleasant, with high temperatures of around 70, and moderate humidity levels. Temperatures tonight should fall into the mid-50s.
Thursday
A moderate cool front will push into Houston late Wednesday night or early Thursday—consider this our last breath of cold air for awhile. This dry front should keep highs on Thursday in the mid-60s, and give us one more cool-ish night Thursday night, with lows around 50 degrees for inland areas and a few degrees warmer along the coast. (Side note to runners: For my schedule, at least, this weekend calls for the longest pre-marathon run of training, 20 miles. I am not entirely certain when temperatures will get this cold again, so I am probably going to make that run early Friday morning).
Friday and Saturday
At some point on Friday the onshore flow is going to resume, and then its "go" time for warmth to return to the area. Friday should be a partly to mostly cloudy affair, with highs in the mid- to upper 60s, and some slight rain chances as moisture moves into Houston. Lows Friday night will only fall into the low 60s. By Saturday highs should climb into the mid-70s under partly sunny skies, and with rising moisture levels the region will see some scattered showers and perhaps even a few thunderstorms.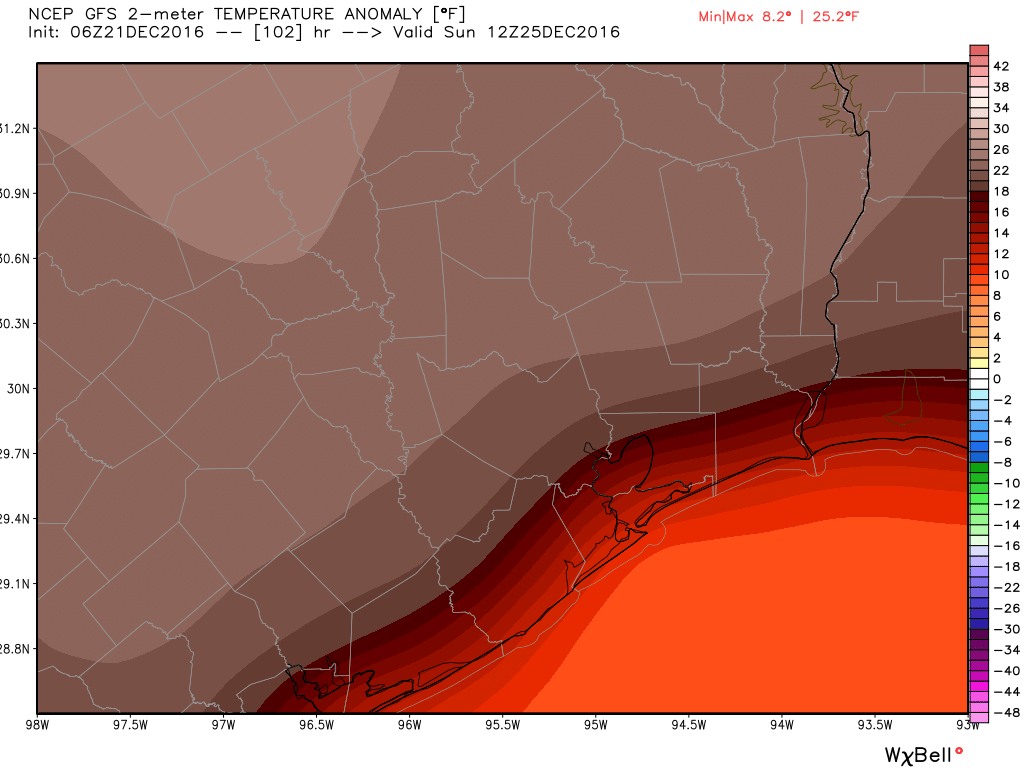 Christmas Day
Christmas morning will start with lows only in the mid-60s, or so, and temperatures should rise into the mid- to upper-70s by the afternoon. Showers and a few thunderstorms (particularly to the east of Interstate 45) will be possible, and I'm not ruling out a few 80-degree readings across the area. Ho-Ho-Hot.
Next week
Looking for relief from the unseasonably warm, winter weather in Texas? I'm not sure substantial relief is coming before the middle or end of next week. I'd look for highs of around 70 degrees for most days, with warmish nights, before Thursday or Friday, when it now appears as though a stronger front will finally move through.
Posted at 8:30am CT on Wednesday by Eric