After a stunning Sunday, the sunshine is mostly going to disappear for some time, and Houston faces a significantly wetter period in which we may have some flooding concerns. There is, frankly, not much confidence in any of the forecast models at this point, but all point to a period of on-and-off heavy rainfall due to a moist atmosphere and meandering fronts.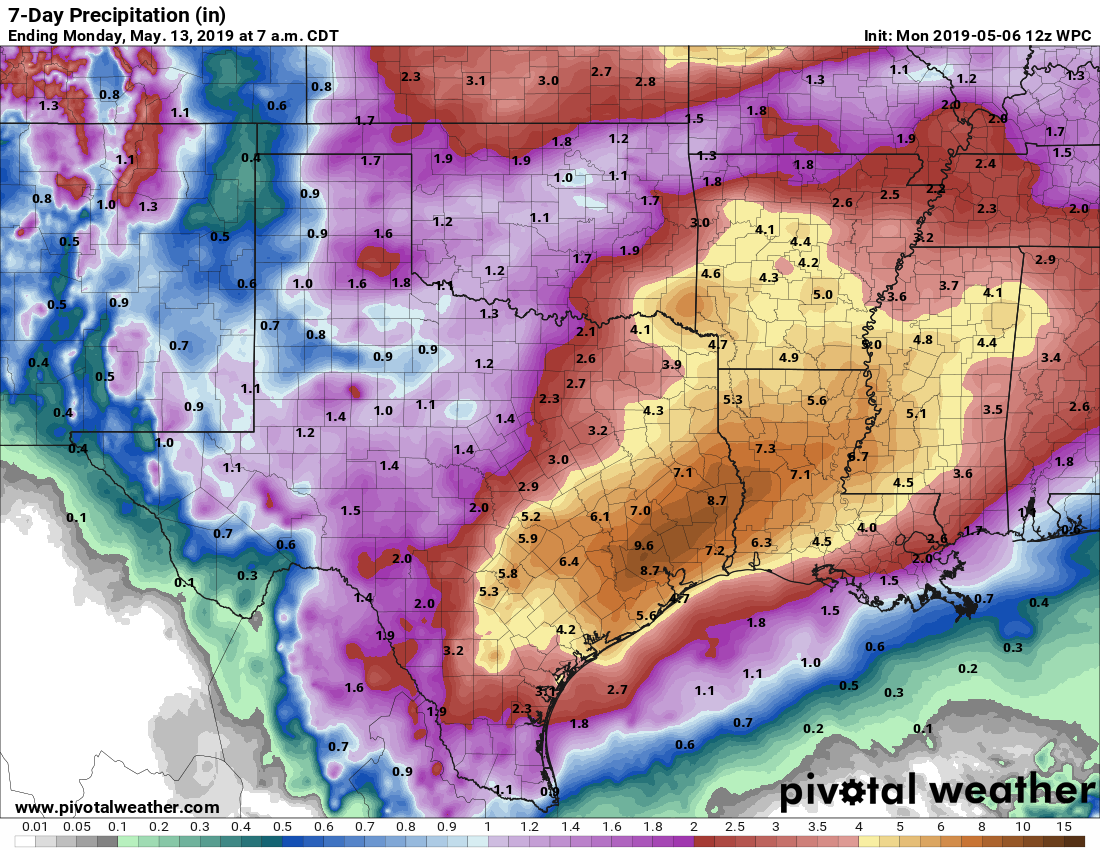 The bottom line is that the region could see from 4 to 10 inches of rain—roughly speaking—over the next seven days, but it's hard to pin down the best days and locations for accumulations at this time. On a day-to-day basis we may have concerns about street flooding. We also have concerns about the Trinity (which already will near major flood stage Wednesday near Liberty) and Brazos (already forecast to reach a minor flood stage Friday morning at Richmond) rivers, as these rains could add multiple inches of rains to those basis. Then, as the week wears on, our grounds may become increasingly saturated and vulnerable to heavy rainfall events that move past street flooding and into yards. Overall, this will be a week to pay attention to forecasts, and we'll do our best to stay on top of what appears to be a dynamic situation. Please clap—I resisted saying it was a fluid situation.
Monday
We can have the most confidence in our weather for Monday. We'll see a mix of sunshine and clouds today, and the additional sky cover should help to limit temperatures in the mid-80s. This is probably the last day, for a week or so, that we can definitively say it will not rain. Also, after drier air filtered into the region this weekend, an onshore flow today will begin to pump moisture back into Houston, setting the stage for wetter days ahead. Lows Monday night will fall into the lower 70s for most.
Tuesday
On Tuesday, a disturbance in the mid-levels of the atmosphere will bring a healthy chance of rainfall into the region, with most of the rains likely falling during the daytime hours. Rain accumulations across Houston will probably range from 0.25 to 2.0 inches, although some areas will undoubtedly see less, and some more. Our biggest concern is that some areas will see heavy rainfall during this time as the overall dynamics do not favor severe storms, for the most part.

Wednesday
An upper-level storm system will move across northern Texas on Wednesday, bringing an enhanced chance of severe weather, including the potential for hail and tornadoes, to the Dallas-Fort Worth region—something to note if you business takes you north this week. The Houston area will lie on the southern periphery of the region at "slight" risk for severe weather, and storm chances will be highest north of Interstate 10, where hail and damaging winds will be possible. I don't have too much confidence in rain totals at this time, although some areas may see heavier rain north of Houston.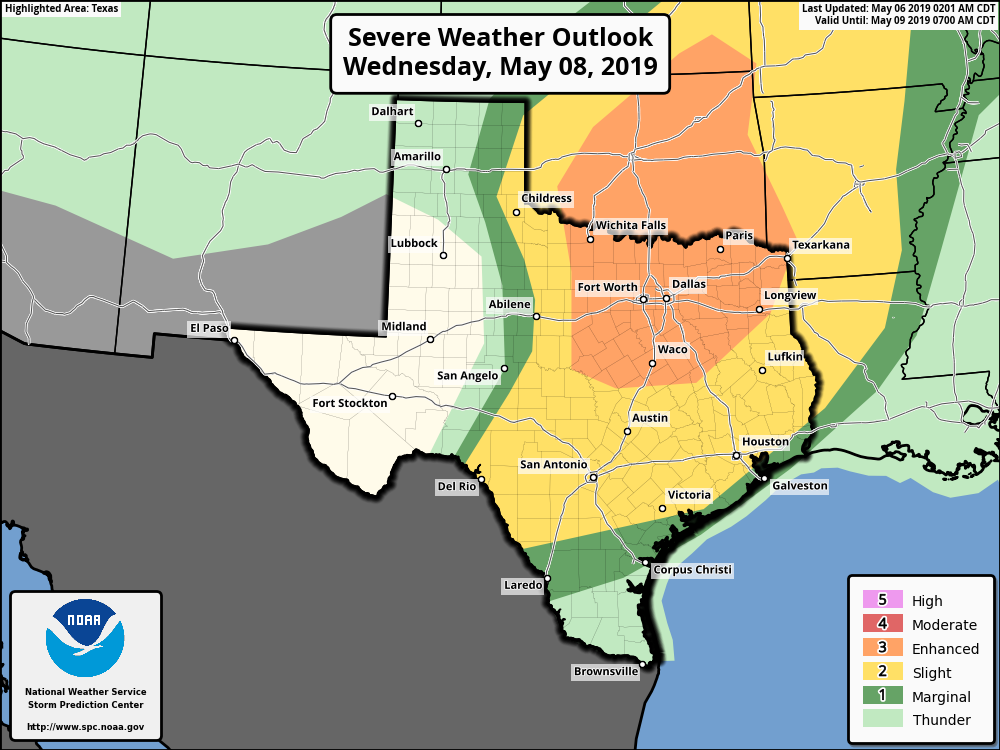 Thursday
Depending on what happens with Wednesday's storm system, Thursday could see a bit of a break from rain showers, all we can say right now is there appears to be no forcing event that will drive them on this day. So we'll broad-brush with a 30 to 50 percent chance of light to moderate rain. Highs will be in the mid- to upper 80s as a result.
Friday and Saturday
We're probably most concerned about this weekend, when a slow moving, or stalling cold front pushes into the region and, combined with a very moist atmosphere, serves as focus for heavy rainfall. We don't have much confidence in timing or locations for the heaviest rainfall, but if you already picked up 2 to 3 inches of rain this week, another 3 to 6 inches over a couple of days could spell trouble for some areas. We'll have to parse the details closer to the weekend, but expect these to be cloudy, rainy days with highs of around 80 degrees.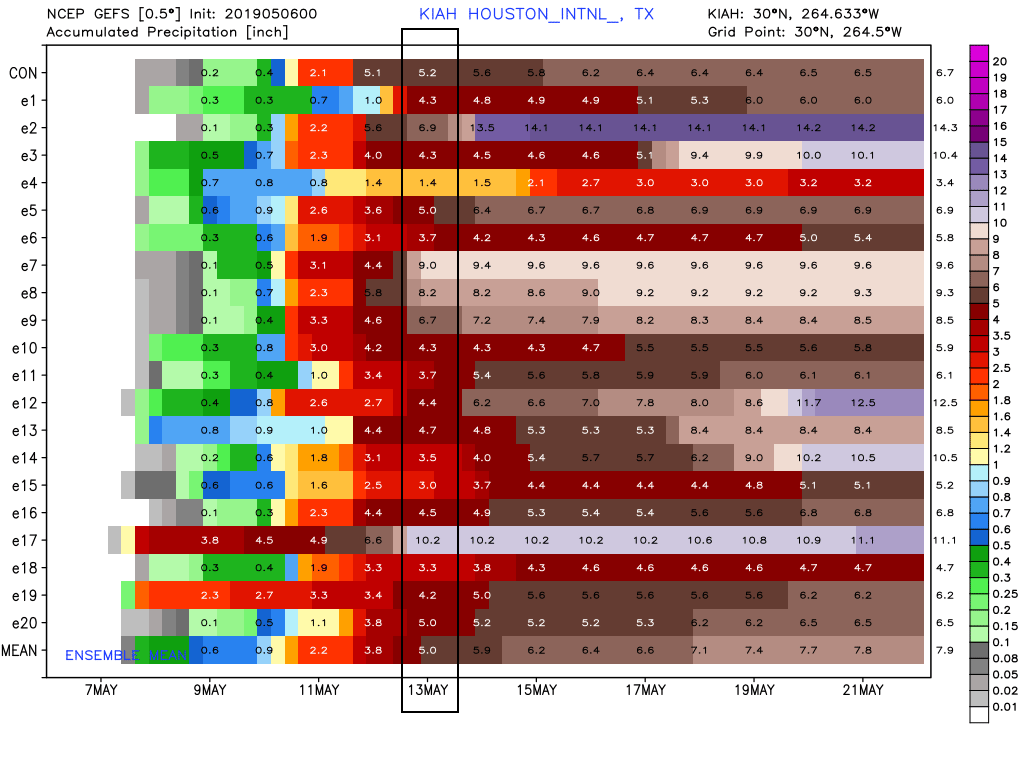 Sunday and beyond
There is a chance this front eventually moves off, allowing some drier air to move into the region. Under this scenario, Sunday and beyond look pretty nice, with some sunshine moving in and cooler nights in the 60s. However, it's also possible this front washes out, and is simply followed by more rain next Monday and Tuesday. I'd lean toward the nicer weather outcome, but again, confidence is low.
Stay with us this week, and we'll stay with you.