Good morning. Houston faces a couple of warmer days before a strong cold front comes barreling through on Saturday afternoon and evening. This front, accompanied by a line of showers and thunderstorms, will quickly drop temperatures and humidity. This will set the stage for winter-like conditions for much of next week. Monday morning looks especially cold, with a light freeze possible for some inland areas outside of Houston's urban core.
Friday
Today will be warm for December, with high temperatures in the upper 70s and mostly cloudy skies. We'll see a consistent southerly flow all day, with winds at the surface of about 10 mph. Rain chances also return, with perhaps a 30 or 40 percent chance of showers this morning into the early afternoon hours. While these will mostly be light showers, it's possible that one or two thunderstorms might pop up. Low temperatures tonight will only drop to around 70 degrees in Houston, with slightly cooler conditions for outlying areas.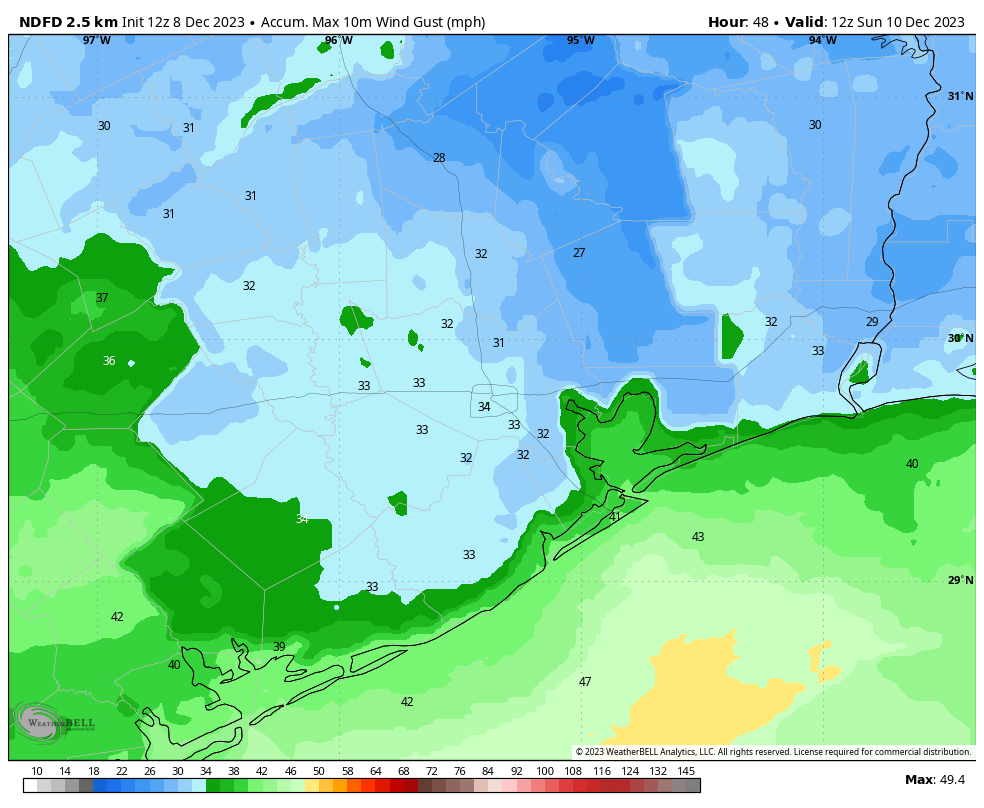 Saturday
Another warm day, with highs in the upper 70s. A few locations may hit 80 degrees with partly sunny skies. Humidity levels will be pretty thick. The front should reach areas north and west of Houston, such as Katy and The Woodlands, between 4 and 6 pm, and push off the coast between 7 and 10 pm. The odds of severe weather now look quite low, but it's still possible that a few storms will accompany the front as it pushes through. Most areas will see a few tenths of an inch of rain, but a few isolated locations could pick up one-half inch, or more. Much drier air moves in after the front's passage, with brisk northerly winds gusting to 35 mph or higher Saturday night into Sunday morning. It will be especially blustery along the coast. Lows will drop into the 40s.
Sunday
This will be a cold, sunny, and breezy day with highs in the upper 50s. Winds will gradually back off during the day, becoming fairly calm by the evening hours. These clear skies and light winds will set the stage for ideal cooling overnight, with lows dropping into the 30s in Houston. For locations in Montgomery and Waller counties, a light freeze is possible—the first of the season.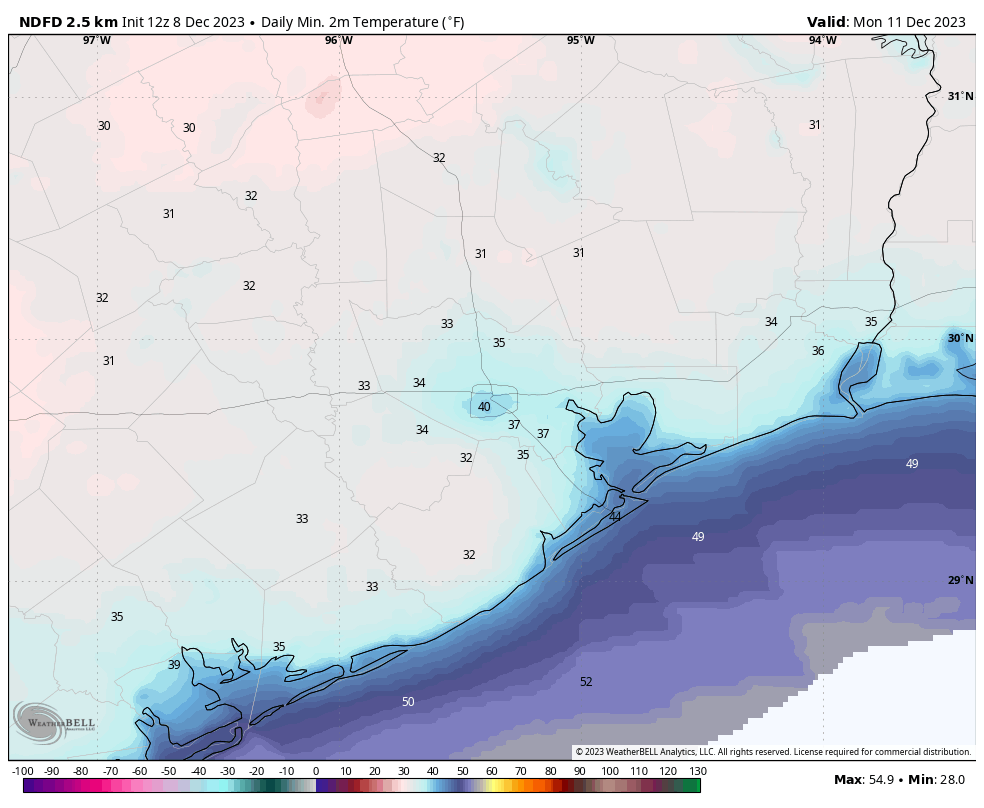 Next week
Most of next week looks fairly typical for December. We'll see highs generally in the 60s, with lows in the 40s and 50s as well as partly sunny skies. Some rain chances return by the end of the work week. After this Saturday, I'm not sure when we'll see highs in the 70s again.
Have a great weekend, everyone, and stay warm on Sunday night!