Good morning! Houston will see generally calm weather this week, with cooler temperatures prevailing until Thursday or Friday. We'll warm comfortably into the 70s to start the weekend before the arrival of a fairly robust cold front on Saturday. I'm keeping an eye on the potential for storms with the front's passage, although the gnarlier weather may remain north of the Houston metro area. Sunday and the first half of next week will turn chillier.
Monday
High temperatures today will be a touch cooler than Sunday, reaching the upper 60s for most of the metro area. This is because a front is pushing through Houston, to keep our air on the drier side of things. There isn't enough moisture to produce any rain, and we should end up with partly to mostly sunny skies today. Look for high temperatures in the upper 60s, with generally northerly winds. The cooler and drier flow should allow lows to drop into the upper 40s tonight.
Tuesday
This will be a sunny day, with highs near 70 degrees, and light northeasterly winds. Another shot of drier air arrives later on Tuesday, with a reinforcing front. This should push lows on Tuesday night into the upper 40s again.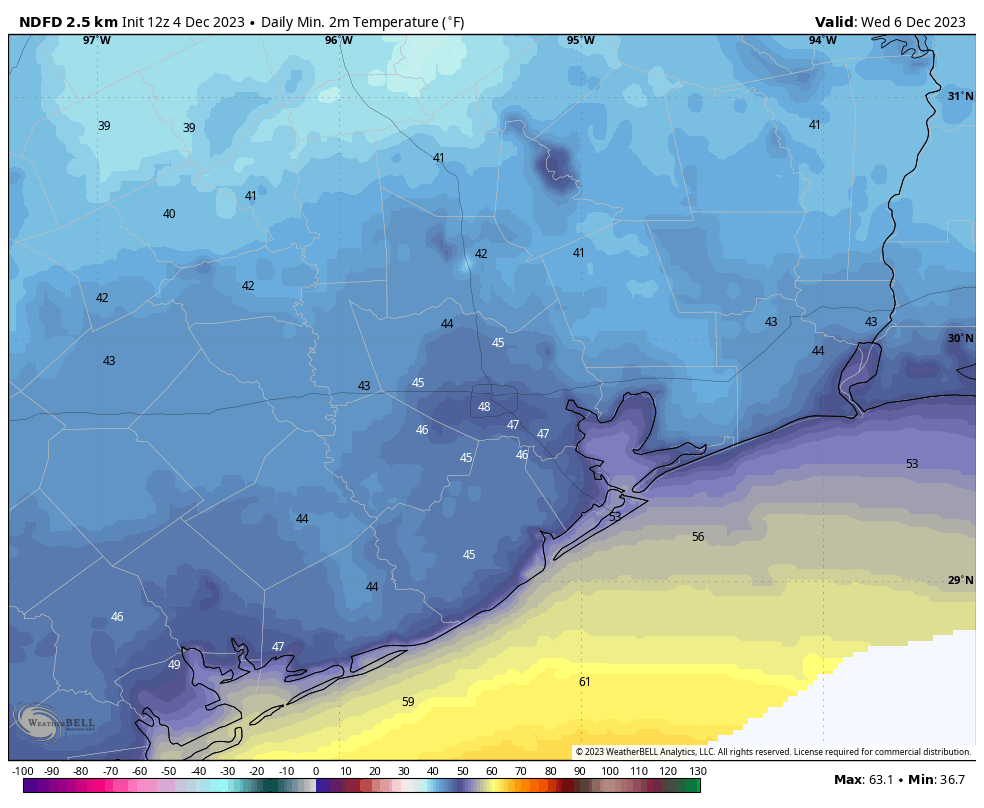 Wednesday
Due to the second front, on Tuesday, this day will be cooler. Look for highs, perhaps, in the mid-60s along with sunny skies. Lows on Wednesday night will drop to around 50 degrees, with cooler conditions for outlying areas. This will mark the beginning of a warming trend as the onshore flow resumes.
Thursday
With that more southerly flow we'll start to see humidity increasing a bit on Thursday, with highs in the low 70s. Winds will start to become a little more gusty as well, coming from the south. Lows on Thursday night will likely only drop to around 60 degrees.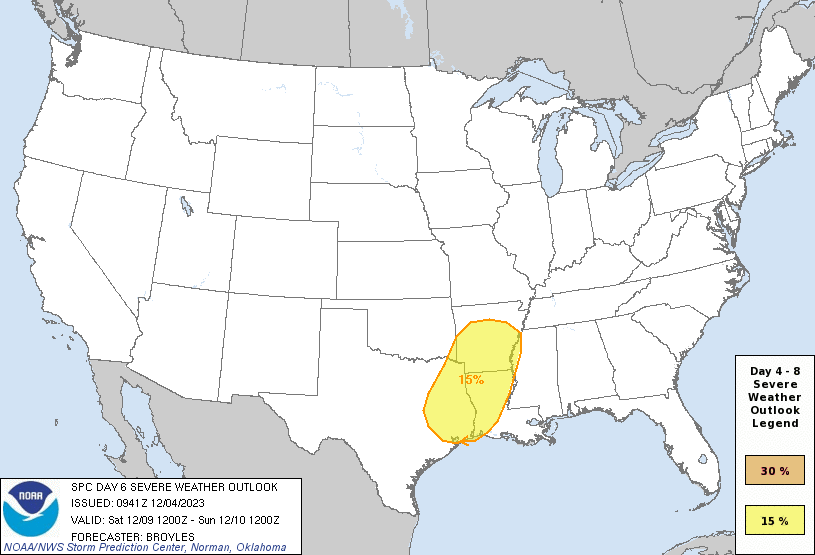 Friday and Saturday
The end of the week will be warmer, with highs in the mid-70s or so, and fairly humid air. Winds will also be more pronounced from the south ahead of a cold front that is likely to push through some time on Saturday. The timing is to be determined, of course, but this front will bring some healthy rain chances, gusty northerly winds, and the chance for some severe weather. The extent of thunderstorms, some possibly severe, will depend on the instability available in the atmosphere. That is difficult to forecast this far out. However, this is something to watch for, and take into account if you have outdoor plans on Saturday. We'll of course fine tune this forecast as the week goes on. Conditions will turn windy and cold after the front's passage, with Sunday morning's lows likely dropping into the 40s.
Next week
We'll see a colder start to next week, with highs in the 50s or 60s, and lows in the 40s before a warming trend begins around Tuesday or so. A handful of readers have asked about a Christmas forecast, and I'm sorry to say that three weeks out I just have no confidence in making any predictions. I'll make an initial forecast one week from today.