As we've been discussing this week, the Houston area will see showers and thunderstorms later today or tonight and severe weather will be a possibility. I'm going to walk you through the day and hopefully provide answers to most of your questions.
Overview
The Storm Prediction Center (SPC) is continuing to keep the majority of the Houston area in the enhanced risk for severe thunderstorms today.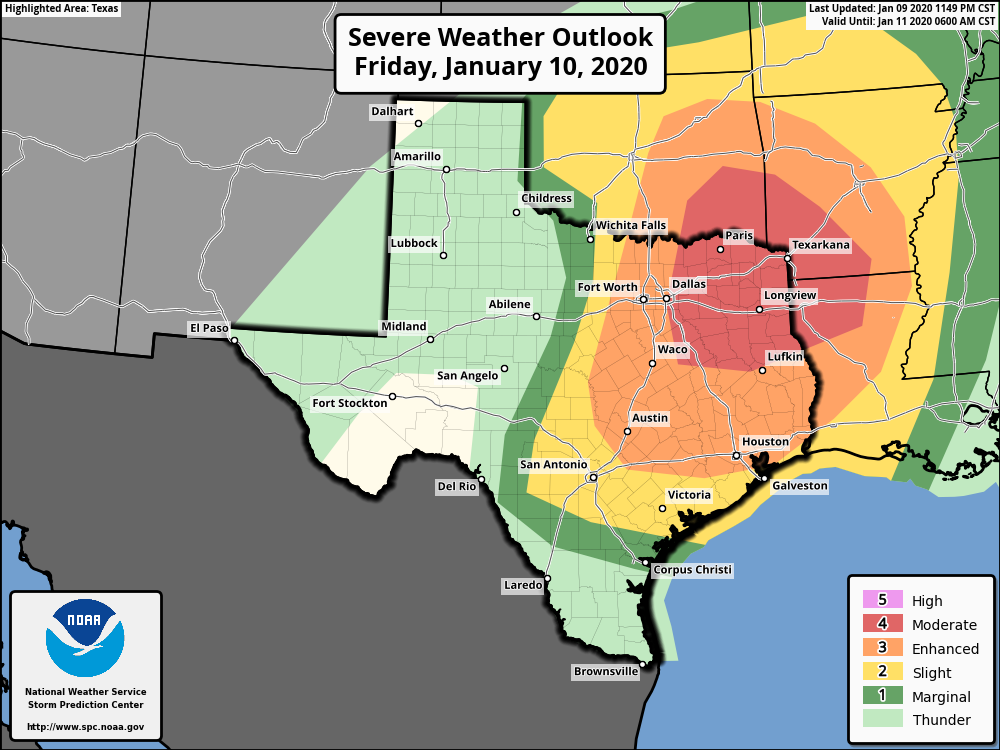 Based on what we've seen in modeling, for the Houston area, this threat will primarily occur much later today, after 5 PM and more likely closer to Midnight. So if you don't see any rain or hear any thunder through this evening, do not be shocked. There may be isolated severe storms in the evening hours before a squall line of widespread strong to severe storms moves through just before midnight.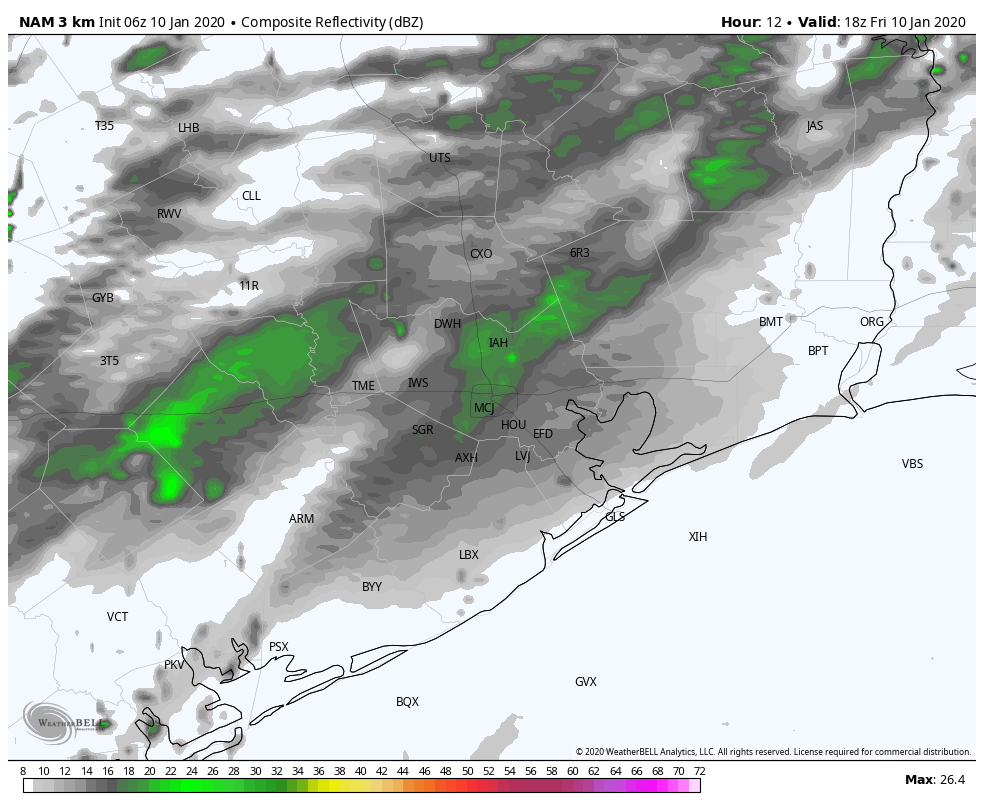 The severe weather threat quickly ends from west to east after midnight. The weekend looks fine.
This morning
Look for clouds and maybe a few passing showers. No severe weather will occur this morning. Temperatures, which actually rose a couple degrees overnight will continue slowly warming through the 70s. It will begin to turn breezy again, and winds could pick up to 15 to 25 mph or even stronger, especially along the coast and bays.
This afternoon (Noon to 4 PM)
We should see clouds, wind, and showers at times continue. Temperatures will warm into the mid- to upper-70s. We do not believe that the Houston area will see much in the way of thunderstorms this afternoon. Any strong to severe storms through afternoon will more likely occur way off to our north and west, well out of the metro area and region (think: Hill Country or perhaps up toward Tyler).
This evening (4 PM to 9 PM)
This is the part of the forecast in which we have the lowest confidence. Our best guess right now is that most of us will only see a couple passing showers in this timeframe. However, there is some chance that a couple rogue thunderstorms may begin to develop. Should this occur, any of those storms could quickly turn severe with hail, damaging winds, or even a tornado. To be clear: We believe this will very much be the exception, not the rule in the evening hours. Still, if you're out this evening, ensure you have a way to receive weather warnings, just in case things get a little more chaotic than we are expecting right now.
Tonight (9 PM to 3 AM)
This will be the main timeframe that we see impacts from this event. Severe storms in Hill Country and the I-35 corridor should have congealed into an organized squall line by later this evening. Ahead of the line, we should see more numerous showers and a few thunderstorms begin to develop here. Any of those storms could become strong to severe, but it seems as though the primary concern will come from the squall line itself, which is going to quickly sweep across the region toward midnight.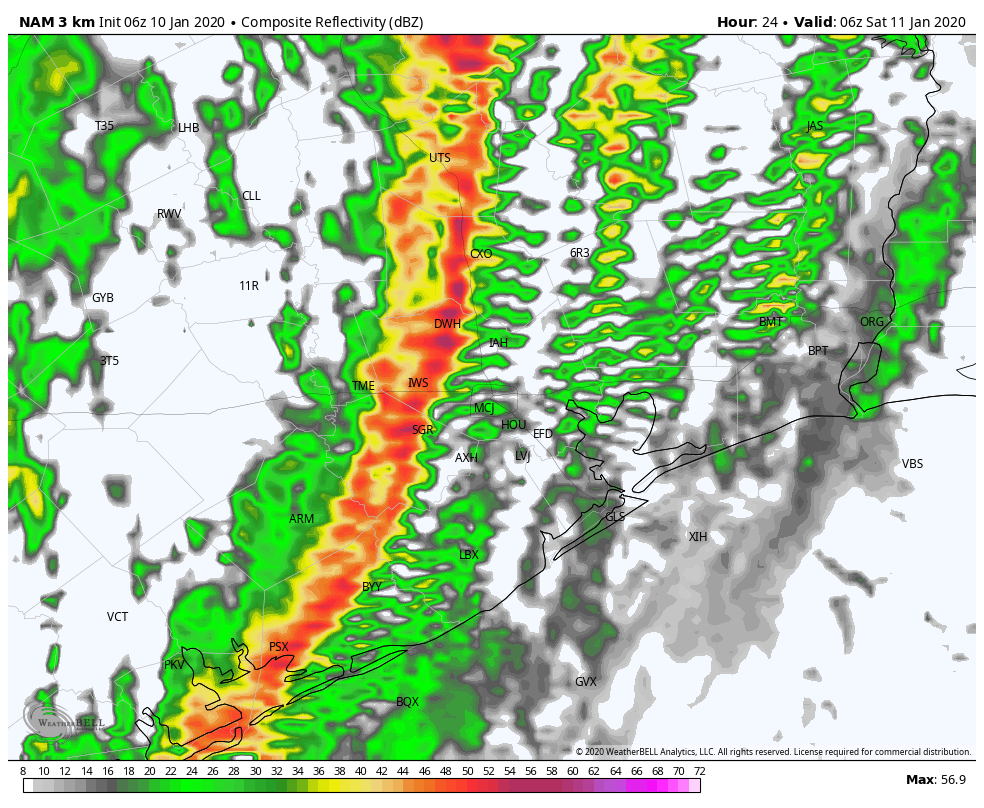 As of right now, we expect the line to hit College Station around 9 or 10 PM, Huntsville through Sealy by 10 or 11 PM, the majority of the Houston metro area between 10 PM and Midnight, Galveston through Lake Jackson between 11 PM and 1 AM, and Beaumont/Port Arthur between about 1 to 3 AM. All those times are approximate and give or take an hour or so.

What will come with that line? Heavy rain, frequent lightning, the potential for very strong wind gusts, and perhaps an isolated tornado in one or two small areas. These types of squall lines usually have a higher damaging wind threat than a tornado threat, but a couple tornadoes certainly cannot be ruled out.
The good news? It comes and goes quickly. The rain should end from west to east across the region between 3 and 6 AM.
If you're out tonight, please have a way to receive weather warnings because it's a lot more challenging to see storms coming when it's dark or when you're sleeping or distracted.
I'll try to answer a few common questions now.
How much rain are we expecting, and is flooding a concern? Most areas should receive about a half-inch to inch of rain. There may be lower amounts south of Houston and higher amounts anywhere, but especially north of Houston. Serious flooding is not a concern, but if you are travelling home later tonight as the heavy stuff moves through, there could be pockets of minor street flooding, as is typical during these kind of events.
Will my flight be cancelled or delayed? We don't know. That depends on numerous factors outside our predictive capabilities. Aside from wind (which can certainly delay flights), conditions at both Bush and Hobby should be good through 5 or 6 PM. Each hour after that, risks for thunderstorms and subsequently delays goes up.
Should I cancel activities today? If your activities will wrap up by 6 PM, no, we do not believe you should postpone your activities. There could be showers, and you should have a way to receive weather warnings out of an abundance of caution. But as noted above, we are expecting very few to no issues at all in the Houston area through early evening. If your activities do not end until 9 PM or so, you may want to consider rescheduling, but we are not confident that you'll be stormed on. We would suggest not traveling if at all possible from about 9 PM through 1 AM during the squall line's passage.
Saturday
We should be left with a few clouds on Saturday morning, but skies will generally be clearing through the morning. We should be treated to a nice, albeit cool winter's day tomorrow afternoon. Morning lows will be much cooler than today, as we will begin Saturday in the low- to mid-50s. Temperatures are not going to recover a ton tomorrow, despite the sunshine. Look for daytime highs, at best, in the mid- to upper-50s. Offshore winds of 10 to 15 mph should be with us during the day, with higher gusts likely.
Sunday and beyond
Sunday morning will be rather chilly. Look for low temperatures in the upper-30s to low-40s in most of the area. Sunday afternoon will see highs back into the 60s.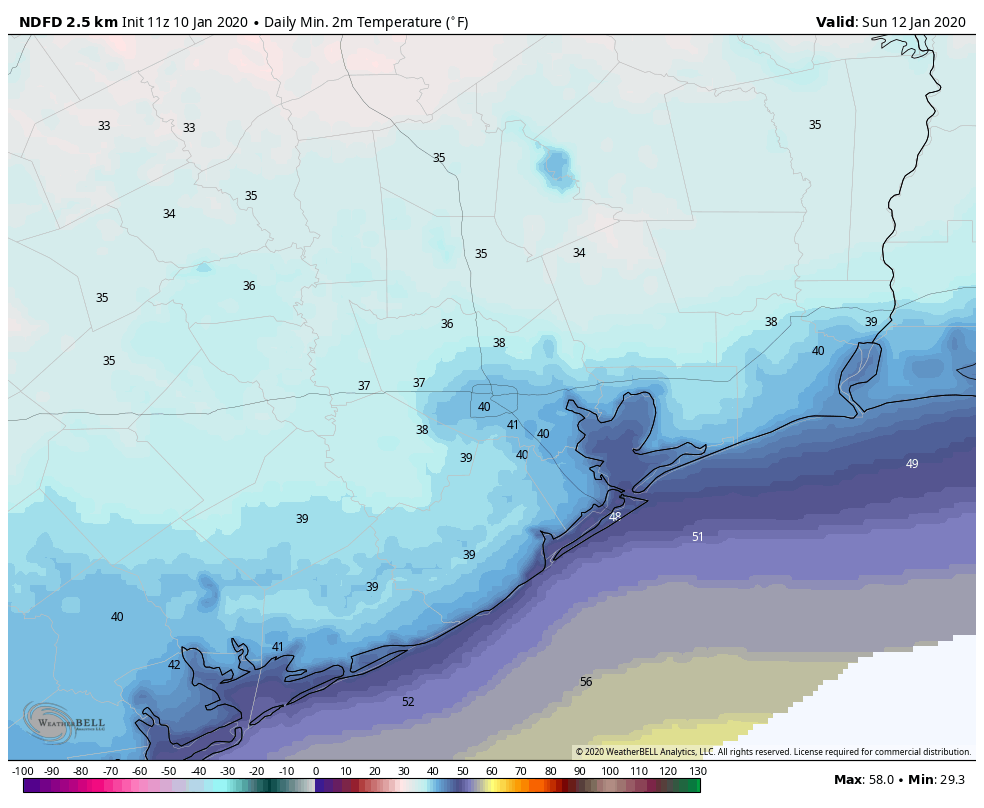 High clouds gradually increase on Sunday ahead of our next system, a warm front which should lift through on Monday night or Tuesday. Showers will be possible with that beginning on Monday, and then we'll turn warm and humid again with clouds, a chance of a shower or two, and coastal fog. The warm, humid weather looks to last through Friday-ish, before our next cold front. More below.
Houston Marathon
The forecast for the Houston Marathon will be contingent on exactly when that late week cold front swings through the area and how strong it is as it passes.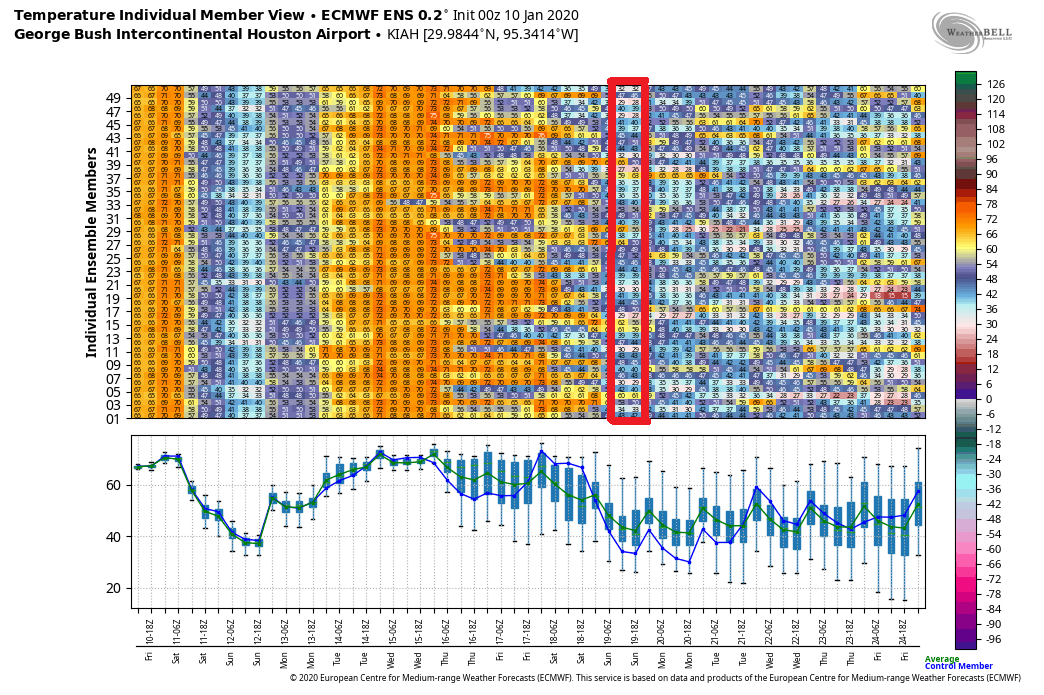 The good news is that model consensus on a late week front has increased a bit further the last couple days. There will likely be some kind of cool down between Thursday and Sunday. So the takeaway here is that, as of right now, we feel that very oppressive conditions (like what we are dealing with today) are very unlikely. The push of cold air late next week also doesn't look terribly strong, so I think we can probably say that morning lows in like the mid-30s or colder are also fairly unlikely. Eric's call of 50° from yesterday still looks pretty good to this meteorologist. We will have much more on this for you Monday.
Sponsor Note from Reliant
We all know weather in Texas can be unpredictable, but Reliant is focused on helping Houstonians be prepared and informed. Visit the Reliant Storm Center for tips.