The forecast situation across the Houston area is walking a fine line between very beneficial rainfall and "alright, you can stop now." Based on model data this morning, it would seem most of the area will see the beneficial aspects, but there remain concerns that some parts of the area may get a bit more than hoped, and because of this, we are going to shift from stage 1 to stage 2 on our Space City Weather Flood Scale.
Flood watch
A flash flood watch was hoisted by the National Weather Service yesterday evening, right about the same time we posted about calling for a Stage 1 flood event on our Space City Weather Flood Scale. Our reasons for escalating to stage 2 are laid out here.
What does it all mean? You should interpret all of these things to mean that street flooding is a very good bet today and at times through Sunday. It would be a good idea to adjust your plans around the weather the next couple days.
Could it get worse than this? Thankfully, we are starting off with low water levels and dry ground. So it will take a little time for grounds to truly become saturated. Remember, flash flooding is less about how much rain falls and more about how quickly it falls. Rainfall rates are expected to be 1 to 3 inches per hour at times. Initially, that can produce street flooding, hence why the flash flood watch is in effect today. Rapid rises will likely occur within bayous today, but at this point, we would expect them to remain within their banks. After today, the ground will be more saturated, and if we were to see several hours of 1 to 3 inch per hour rain rates tomorrow or Sunday morning, then we could begin talking about something a little more serious. For now, expect street flooding to be the main issue, but we are going to watch things closely today and tomorrow in case this does escalate.
So, you're bumping to a Stage 2 flood alert? Given that this looks to be a bit beyond just nuisance street flooding (Stage 1) and will likely have some more significant localized impacts (Stage 2), we are going to upgrade our flood alert to a Stage 2 this morning. For most folks, Stage 1 impacts of nuisance street flooding are all you will see. But given the "training" aspect of heavy rain rolling over some places again and again and the excessive rates (1-3″ per hour), we do believe a few locations may see a bit more than just nuisance street flooding, more akin to a Stage 2 event. In the interest of full transparency, the risk of this escalating to a Stage 3 type event, while not especially likely, is not zero, and this is something we will be watching closely this weekend.
So how much rain are we talking? On average, we expect most places to receive 2 to 4 inches of rain by the time we get to Sunday evening.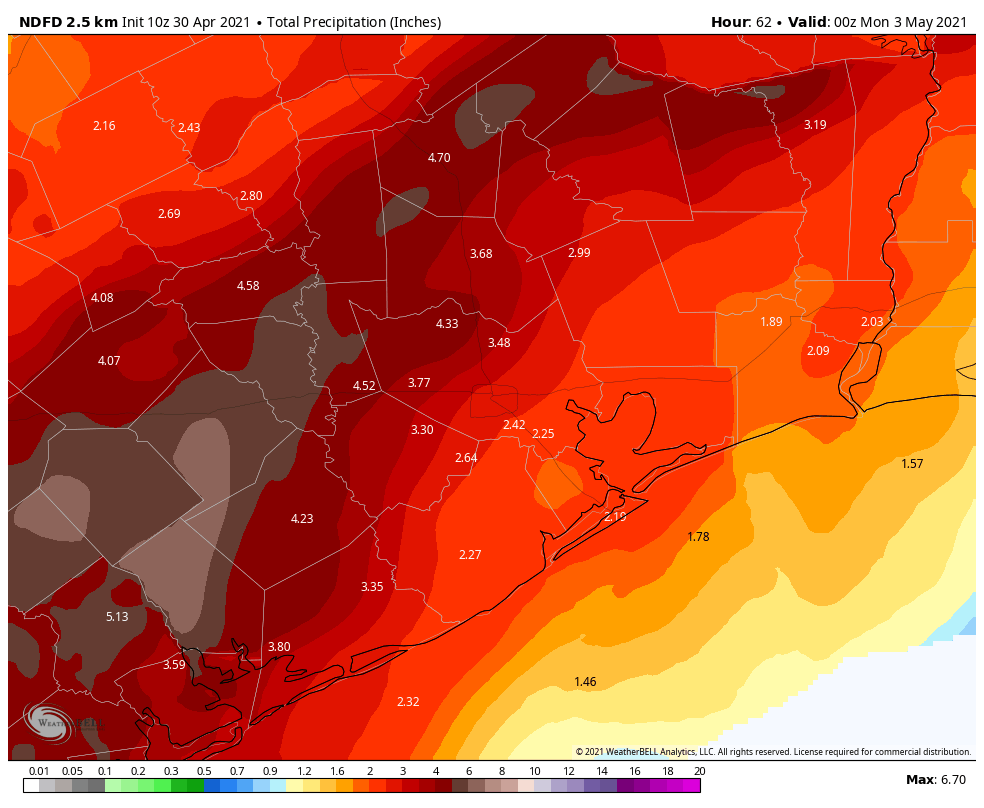 Some may receive a bit less. With 1 to 3 inch per hour rates, yes, others will receive a good bit more than this. Most models do indicate that the maximum total rainfall in very, very localized areas could reach 10 to 12 inches or even a little more. Given the setup today, I would expect the highest chance of those max totals to be north or west of Highway 59.
Today
Radar this morning shows heavy rain lined up mostly on the west side of the city stretching on an axis from Port Lavaca through Wharton, the Katy area, Cypress, up into The Woodlands and Conroe and northeast to Lake Livingston.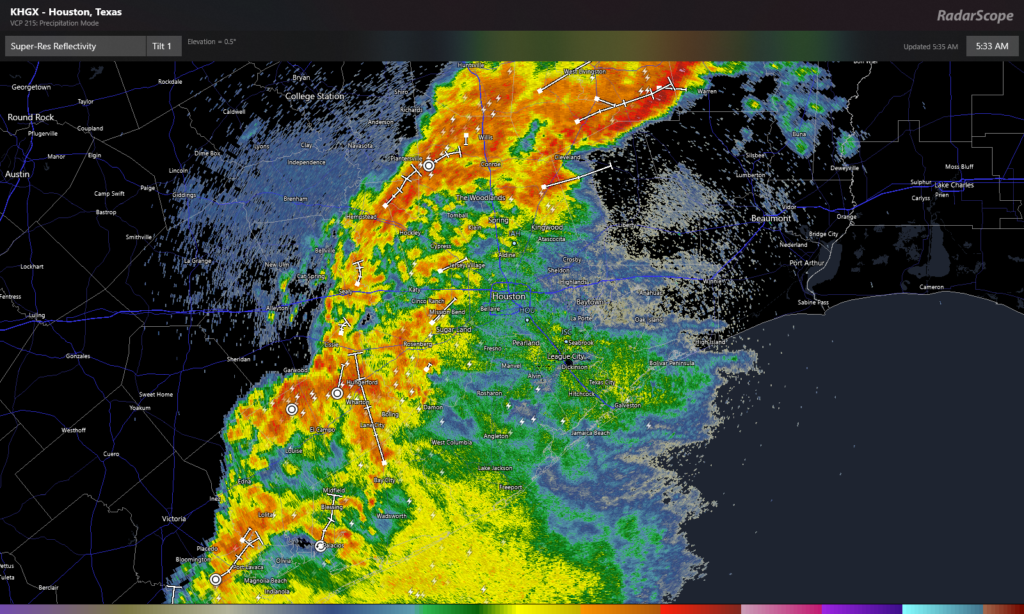 Notably, it's around Lake Livingston where the heaviest rainfall is causing almost 3 inch per hour rates this morning. Closer to Houston, Kuykendahl at Spring Creek has seen over 1.3″ in an hour as of this writing. As I was about to press "post" here, a Flash Flood Warning was just issued for parts of Waller, Montgomery, and Walker Counties.
Over the next few hours, we expect this band of rain to stay mostly in place, though it may wiggle east or west a bit at times. This will allow for repeated rounds of rainfall on the west side of town, and totals could easily jump up to 2 to 5 inches or more in some spots before this evening. East of Houston? You're fine for now. Expect at least some rain or showers and storms today, but places like Galveston or League City or Baytown will probably fare okay today with modest rain totals.
Tonight
We may see things taper off this evening for a time, or at least become more intermittent across much of the area. But the next round of rain seems likely to develop overnight, particularly to the southwest of Houston. This batch of rain is likely to try and work into parts of the Greater Houston metro toward Saturday morning. We'll have more on this later today.
Saturday
Many folks have Saturday plans. Between crawfish boils, the MS 150 bike ride, and other post-vaccination life fun, there is a lot planned this weekend. While I want desperately to be an optimist and tell you it's going to be fine, the reality is that you should have backup plans in place for outdoor events tomorrow. I will say that the afternoon *might* look better than the morning. We expect that area of rain and storms to weave through the area tomorrow morning and hopefully exit to the east or die off. But there are some models that keep periods of moderate to heavy rain going west and southwest of Houston in the afternoon as well. The reality with upper lows is that forecasts beyond 12-18 hours get sloppy, and we won't have a great idea on what tomorrow looks like until tonight.
Saturday night & Sunday
One more slug of rain and storms is possibly going to move through later Saturday night and Sunday morning. By Sunday afternoon, the focus of rain should shift into far East Texas and Louisiana and Mississippi. Hopefully by Sunday afternoon we will see some sunshine.
Temperatures all weekend look tolerable, albeit with some humidity with highs in the 70s and lows in the 60s. Sunday could see temps surge past 80° with enough sunshine, however.
Next week
Monday looks like a fine day right now. There may be just enough of a trigger left behind after the weekend storm to allow a shower or storm to pop up, but as of today we would expect the vast majority of the region to stay dry on Monday. Heat and humidity will rule, with lows in the 70s and highs in the middle or upper-80s. A cold front still seems on track to hopefully clear the area on Tuesday. It will bring a chance of showers or storms, and then follow up with hopefully a little lower humidity for Wednesday and Thursday. Right now, this still looks promising, but as noted American philosopher Justin Timberlake once quipped, "It's gonna be May." May in Southeast Texas is often where cold fronts come to die. Here's hoping that's not the case next week.
We will have another update on today's rain situation before Noon today.