The most intense storms that developed early Friday morning have been winding down as we approach the middle of the day, and this general weakening trend should continue through the afternoon.
For most of us, the rains have been more than manageable so far, with 1 to 2 inches across much of the region. But areas north and northwest of central Houston, including northern Waller County and western Montgomery County, have received 4 to 6 inches. While bayous remain mostly within their banks, these rains have saturated soils in the region.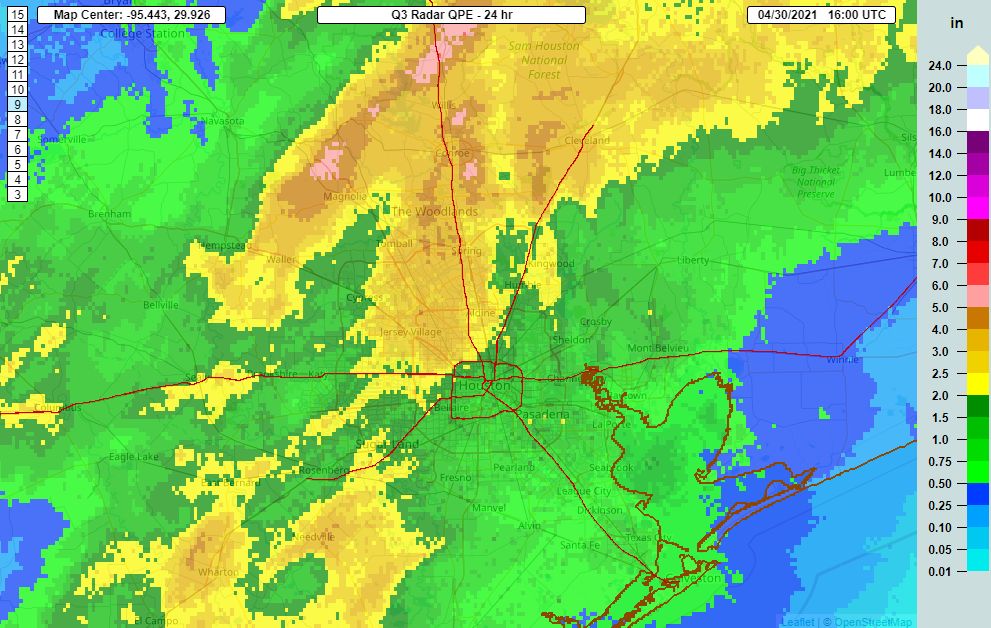 Given the unpredictability of this kind of weather system, we still have lots of questions about the forecast. As a best guess, the next area to watch later today will be the Matagorda Bay region, and the potential for storms that develop there to migrate into the Houston area overnight and on Saturday.
Matt did an excellent job of summarizing things in this morning's post, but the bottom line is that we still expect a situation where some area roadways may see high water during heavy rains. However, we're not concerned about flooding of homes and businesses at this time, and think bayous are well positioned to handle these rains. For this reason we remain solidly in a Stage 2 flood alert, and don't anticipate the need to increase this.
There may be some let up in storms on Saturday afternoon or evening, before a final round of storms pulses through the area on Saturday night and Sunday morning. Again, we think this will be mostly manageable for the area's floodways, but you should be aware of the potential for moderate travel disruptions through Sunday morning.
We will post our update no later than 9 pm CT on Friday evening.