Good morning. Before we move on to the potential for inclement weather later tonight, and again later this week, I wanted to note for the record that there was in fact a tornado in Houston on Sunday evening. The National Weather Service confirmed the touchdown of an EF-0 tornado, with 70-mph winds, in League City. It's track went for 1.4 miles.
TODAY
It's a warm and muggy morning, with temperatures only falling into the low 70s out there, and we're going to see a very warm day in the upper 80s under partly sunny skies. Areas in northern Texas and Oklahoma are likely to see strong storms later today, and quite possibly a number of tornadoes. However I do not believe any of these storms will move into the Houston area today.
WEDNESDAY
Some of the energy from the system over northern Texas should sag southward into the greater Houston area by early Wednesday, or mid-Wednesday morning, however. The best chances for storms should come north of Interstate 10, and the primary threats are wind and hail, with tornadoes a lesser possibility. As for timing, for the metro area I expect any line of storms that does develop to move through between about 6am and noon. We are probably looking at widespread rain totals of 0.5 to 2 inches of rain, with greater accumulations to the north. Isolated areas could see higher rain totals. While these storms have the potential to produce a flooding threat, and I'm not ruling that out, I don't feel as though most areas will see high enough rain totals. (We will be watching it closely all the same).Some lingering showers are possible Wednesday afternoon.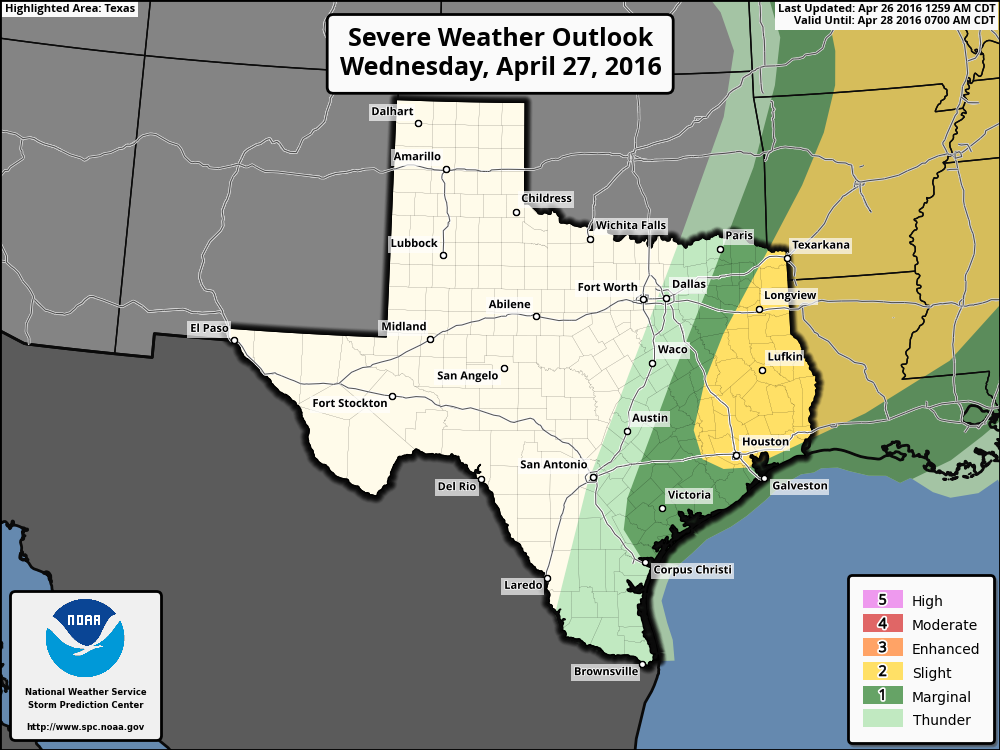 THURSDAY
Rain chances fall on Thursday, but don't go away entirely. We should be warm again with mostly sunny skies and highs in the upper 80s.
FRIDAY
Rain chances increase Friday as moisture flows back in from the Gulf of Mexico. Beginning as early as Friday morning before sunrise we could see numerous scattered showers and thunderstorms popping up across the area. Strong winds are possible within these thunderstorms. Locally heavy rain accumulations are possible too, but we will probably have to wait until Saturday for a truly organized system.
SATURDAY
Forecast models continue to depict the movement of a large area of showers and thunderstorms through Houston during the daytime hours on Saturday. I'm still not convinced about the timing, but as I've been saying for a couple of days, it continues to seem likely that we will see 1 to 5 inches of rain sometime on Saturday, with higher isolated totals. No, this event should not be comparable to the Tax Day rains—there's less available moisture—but some areas may get hit pretty hard. We'll have to continue to watch this closely due to the continued high water on the west and southwest parts of the metro area.
SUNDAY
Lower rain chances on Sunday, with highs in the mid-80s.
MONDAY and BEYOND
Are you ready for a little bit of good news? By Tuesday or so a cold front should arrive and bring some clearer and cooler weather for the middle and end of next week. We could see some nights in the 50s.
Posted at 6:55am CT on Tuesday