Note: This is the first in a series of reports by Matt Lanza that puts the Tax Day floods into perspective, and discusses what Houston should learn from this natural disaster.
On Monday afternoon the Harris County Flood Control District released its first official summary of the historic flooding that occurred last week in the greater region. I've read through it and compiled some highlights for here. (You can also view the report yourself in its entirety here). A serious thank you to Jeff Lindner at the flood control district who has worked tirelessly since last week to provide critical, useful, and interesting information to put this event into context and keep the region informed. He is also a must-follow on Twitter if you're into weather, haven't done so yet.
Report highlights
Rainfall rates of 1″ in just 5 minutes were observed in Harris County. The maximum hourly rate was 4.7″. The maximum amount in 12 hours was 16.7″
Harris County averaged 7.75″ of rainfall for the event. That's equivalent to 240 billion gallons of water falling on the area. This exceeded Memorial Day (162 billion gallons) by almost 80 billion gallons of water. That event was more confined, whereas the Tax Day rains were much larger spatially.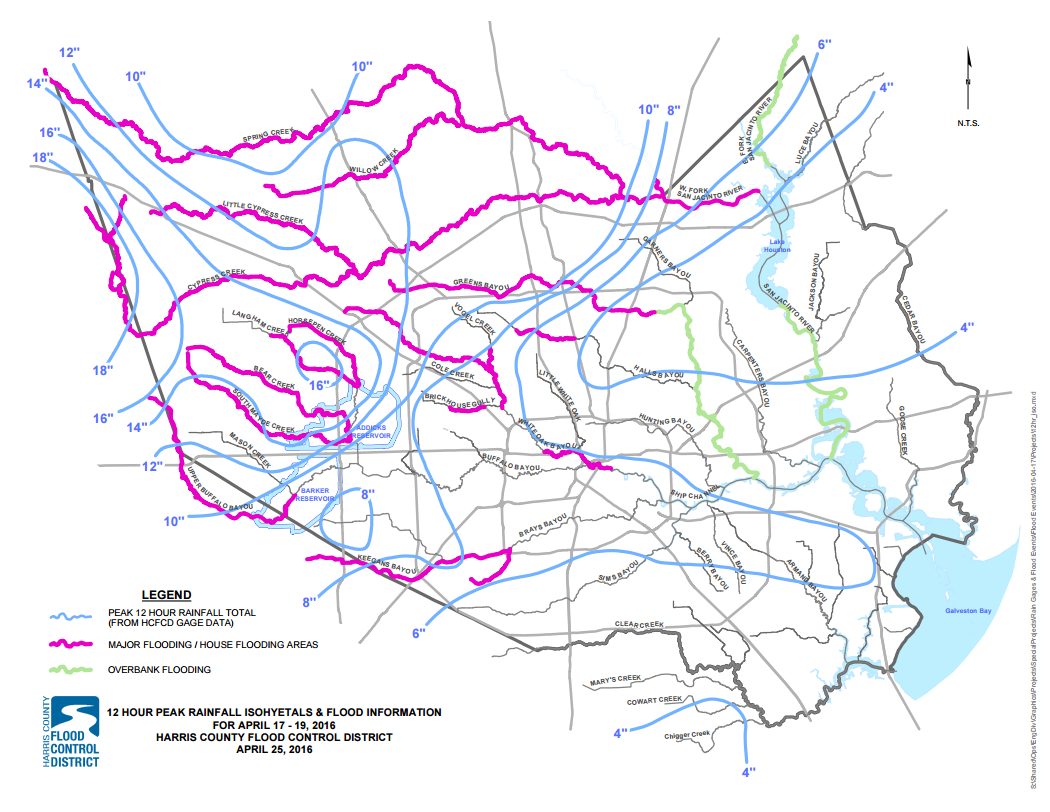 The highest rainfall total in the region was 23.5″ recorded in 14.5 hours in Pattison, just north of Brookshire in Waller County.
The Pattison rain total is estimated to be have exceeded the *10,000* year level (0.01% chance of occurring in any given year). It should be noted that these numbers are very tough to quantify with any level of confidence, so although the rains were off the charts, we may never truly know how much so.

Return period for some of the most extreme flooding during the Tax Day rains. (HCFCD)
Regarding comparisons to Allison in 2001, the maximum rainfall in that storm was 28.5″ in 12 hours on Greens Bayou. During last week's event, the maximum rainfall was 16.7″. So for many areas, yes, this fell short of Allison levels of flooding (I have more to say on this below).
Cypress Creek, Langham Creek, and Horsepen creek all exceeded their 500 year flood levels for a 12 hour period. The 500 year flood level is the one you have a 0.2% chance of seeing in any given year. Numerous other creeks exceeded 100 year (1% chance in a given year) levels.
Rainfall over Cypress and Little Cypress Creeks shattered the October 1994, October 1998, and April 2009 flood event levels.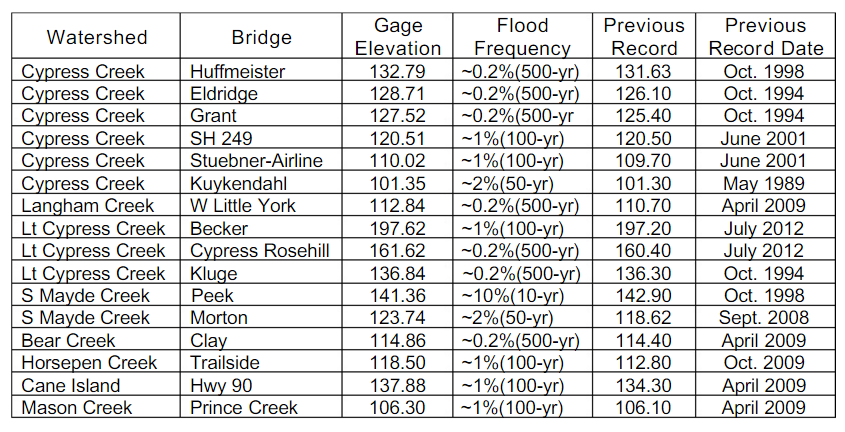 Overland flows were 3 feet deep along Sharp Rd and Katy Hockley Rd in Northwest Harris County, making last week's event the highest known overflow event in Northwest Harris County.
The three creeks that inflow into Addicks Reservoir set new records for flow.
Addicks peaked on Saturday morning at 102.63′, breaking the previous record (March 1992) by over 5 feet. 60% of the reservoir's total capacity was filled. Barker Reservoir had 40.5% of its capacity filled. It peaked Saturday morning at 93.6′, breaking the old record by over 1.5 feet.
As of Monday, just under 6,000 homes across the region are reported to have flood damage (of those 3,500 are in unincorporated Harris and ~1,700 in Houston).
This was truly a remarkable event, one that will be remembered for many years in Southeast Texas. Throughout the event, we heard and read numerous comparisons to Tropical Storm Allison, Memorial Day of 2015, the 1994 floods, etc. It's made me wonder about how you can truly compare flood events here in Houston and do so effectively. Flooding is a fact of life here; it happens often, but each event is unique. Each one has its own fingerprint.
The first of a series
In the coming weeks, we want to show some past flood event comparisons. Namely, I'm curious about where the rain fell and how fast. One of the big risks in flood events is the notion that because one event doesn't appear worse than your previous benchmark event, "it can't be that bad." Sometimes it really is a matter of luck: Shift a stationary rain band one mile further west and you have a totally different outcome. There is also the elephant in the room that Houston, with its enormous geographic footprint and far flung suburbs, may be seeing flooding events worsen because of our growth: A victim of our own success. It's plausible that an identical event, had it occurred 30 years ago, would have a much less significant impact on the same places today. This is the consequence of developing and paving over hundreds of square miles of wetland and prairie that act as a natural sink for excess rainfall. In addition, although a single weather event cannot be attributed to climate change, it is expected that a warmer atmosphere will produce more intense rain storms and subsequent flooding.
Eric and I want to address these issues and, most importantly, bring to light more on the history of weather and its effects on residents here. Greater Houston has added over 1.8 million new residents since Allison in 2001. Along with natural turnover as much as half of the population in the metro area may not have lived here 15 years ago. The more we know about our flood history, the more we can understand and plan for future flood events, which are inevitable here. So be on the lookout for future posts about this, and please feel free to comment with any questions or concerns you have. We can't answer everything, but we will tackle what we can.
You can also find me frequently on Twitter to discuss these issues.