Out with the old, in with the cold. This weekend, we will bid farewell to a 2017 that will end up as Houston's warmest (likely) and wettest (definite) on record. 2018 will subsequently start as one of Houston's coldest on record. Start making some plans now to protect the four P's: People, pets, plants, pipes. It's likely going to get cold enough next week in most of the region that you'll need to take action on at least one night, if not multiple nights.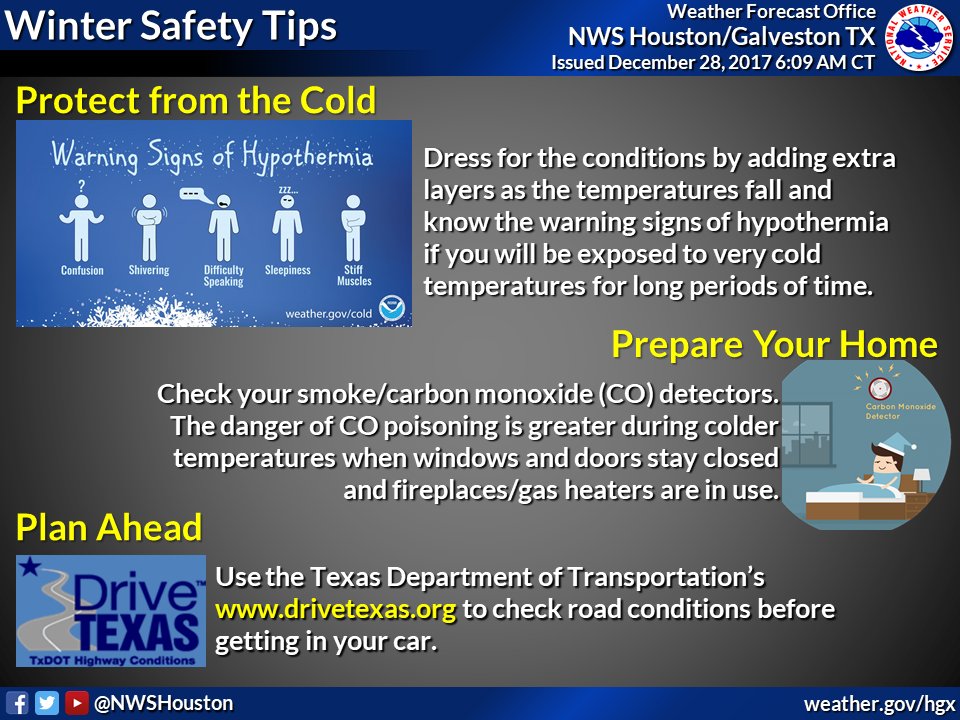 First, let's look at the weekend.
Today & Saturday
No serious weather issues are anticipated the next couple days. That said, there's a couple things to track. Clouds are likely to dominate the picture again today. There will be some drizzle or mist around this morning, particularly south and east of Houston.
Onshore flow begins in earnest later today and tonight. That means a couple things. First, we might see more drizzle in spots and perhaps even a few showers (mainly Saturday near coastal locations). Second, fog will probably reappear in the area. I think coastal fog is possible tonight into Saturday, with perhaps even some inland as well. Saturday just looks kind of dreary with clouds and some showers or drizzle around.
Temperatures today will warm into the upper 40s to low-50s. It's possible that temperatures don't drop at all tonight, and Saturday will see temperatures warm further into the lower or middle 60s in Houston. It could be a degree or two warmer south or a little cooler north.
New Year's Eve
So the first part of the day will be mild and cloudy. We'll likely have fog in spots, and a few showers will be possible throughout the day. We should top off in the upper-50s to around 60° or so for highs. A cold front is on track to plow through at some point Sunday afternoon or evening, give or take a few hours. That will send temps down into the 40s for evening festivities. After Midnight, we'll drop into the 30s everywhere. So if you're heading out to celebrate, the weather you experience on your way out the door may not be anything like the weather you'll experience when you're coming home.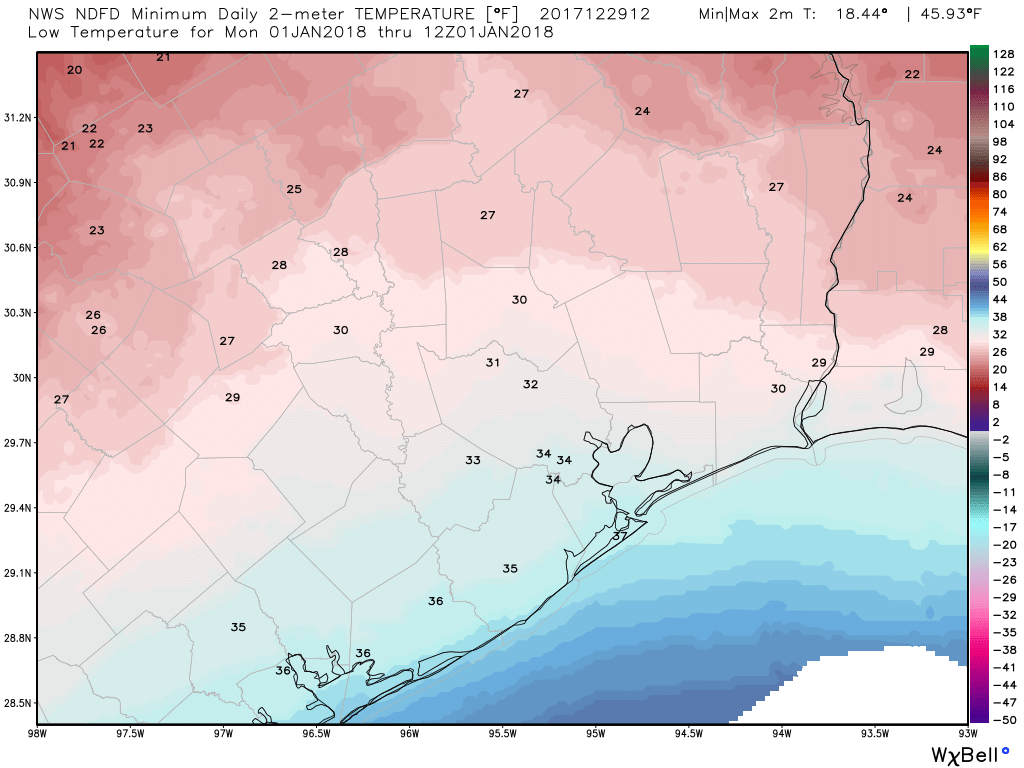 We don't see a lot of risk of ice or frozen precipitation in Houston proper Sunday night. But these situations can be a bit fickle, so you'll probably want to pay attention to the forecast for late Sunday night if you'll be out traveling. If you will be up north (think Brenham-Conroe-Cleveland), it's more likely that you could see some freezing drizzle after midnight. With a possibly damp day, some black ice will be possible on the roads up north too, even if there's no freezing drizzle. So just exercise extreme caution in northern areas and pay attention to the weather in southern areas Sunday night if you're going to or fro. If something changes significantly, look for us to update you Sunday morning or afternoon.
(Space City Weather is brought to you this month by the Law Office of Murray Newman)
New Year's Day
Expect Monday to be a cold, cold day with gusty winds and high temperatures probably struggling to get out of the 30s in Houston. Any clouds or drizzle should end fairly quickly Monday morning and we'll end up with a mix of clouds and sun Monday afternoon.
Rest of next week
The forecast is by no means locked in for next week, as we still have some model back and forth going on regarding exactly how cold it gets or if some precipitation enters the picture. Trends since yesterday have been to back off on any risk of precip, and to keep temperatures pretty cold.
For now, expect Tuesday morning to be the coldest. We should be looking at about 25° in Houston. Mid or upper-20s are likely south and to the coast. North of I-10, multiple hours of temperatures at or below 25° are very possible Monday night and Tuesday AM. Places like Conroe, for example, could drop below 20° as well. I expect freeze and hard freeze warnings to be issued, so as stated in the intro to this post, the time to start getting ready to implement cold weather protection is now.
Tuesday night into Wednesday is lower confidence, but expect a similar scenario as of right now, with mid-20s for lows in Houston. Again, prepare to implement cold weather protection here too. Daytime highs on Tuesday and Wednesday will be cold, with upper-30s or low-40s Tuesday and mid to upper-40s Wednesday. More on that as we get closer.
For now, we hope everyone is able to have a safe and enjoyable New Year's Weekend, and we will update you Sunday if anything changes. Happy New Year!