On Friday, Dec. 22, Houston's high temperature reached 81 degrees. Since then a series of cold fronts have kept highs below 70 degrees—and it seems unlikely that the high temperature will reach 70 again at least for the next week to 10 days, if not quite a bit longer. We truly are in the depths of winter, and it looks as though we're only going to get colder in the days ahead.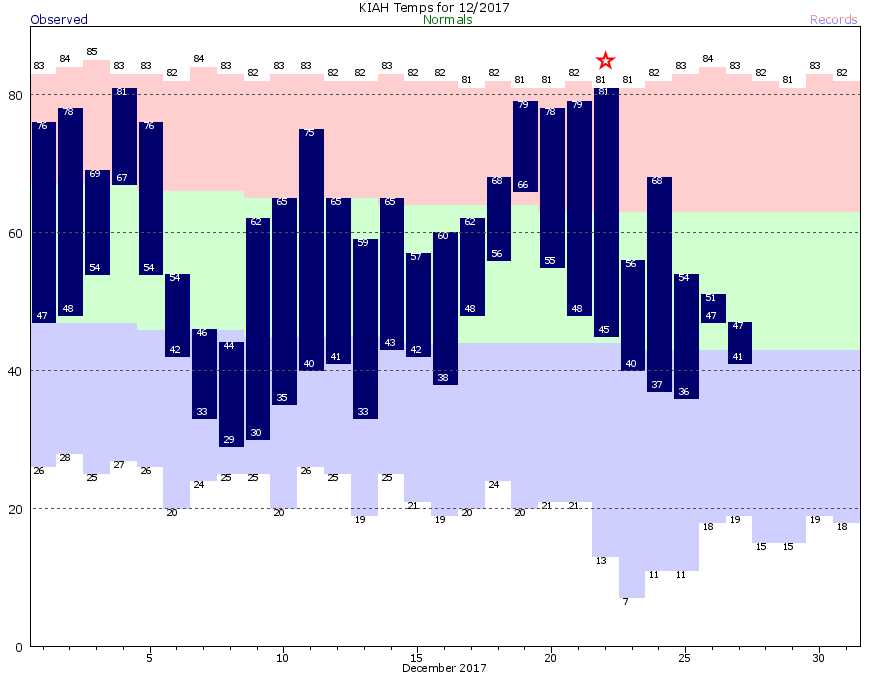 Thursday and Friday
For most of us, the drizzle is probably over for the next couple of days. However, skies will remain mostly gray—there's a chance of some patchy sunshine on Friday—and this will confine high temperatures to the upper 40s or lower 50s. Lows will be about 10 degrees cooler as clouds prevent radiational cooling at nighttime.
Saturday
An onshore flow resumes, briefly, on Saturday. Effectively this means the region will see some warmer weather, with highs likely in the low- to mid-60s. With this, some rain chances will return, especially during the afternoon and evening hours. Accumulations should be slight, regardless.
(Space City Weather is brought to you this month by the Law Office of Murray Newman)
New Year's Eve
The last day of 2017 has the potential to be a real cold mess. After a moderate start with lows in the 50s, Houston will start to feel the effects of an Arctic air mass later in the day or evening hours. The precise timing of the cold air's arrival remains uncertain, but it seems likely between noon and midnight across the region. The bottom line is that if you're going out for revelry, and it feels "not cold" out (i.e. 60 degrees), you'd best be prepared for "quite cold" (40 degrees) at some point later in the evening.
The potential for some light precipitation exists, as well, especially before midnight. Again, this shouldn't be anything heavy—just very light rain or drizzle. But if it's already cold, the wet won't help. The potential for light precipitation and very cold weather also raises the possibility of some freezing rain for areas north of Houston, such as in northern Montgomery County or the Brazos Valley area later on New Year's Eve, or early into New Year's Day. I don't expect these conditions in the city of Houston itself, however, where the mercury should remain above freezing while the precipitation lasts.
New Year's Day
The good news: We might see some sunshine to start 2018. The bad news: It's going to be really cold. Look for highs only around 40 degrees. Overnight lows should freeze for most of the metro area. Mid-20s are possible north of the city.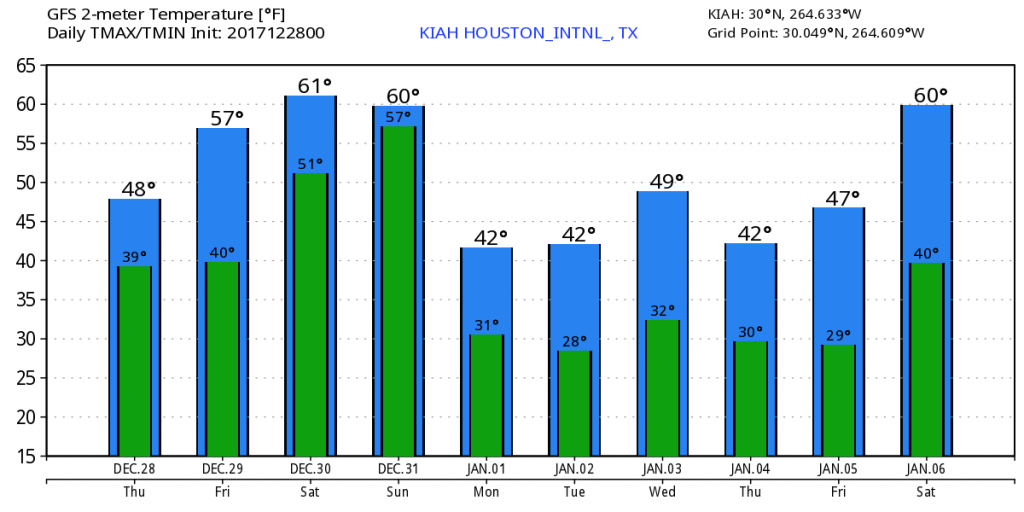 Most of the first week of 2018 looks cold, in fact. Highs may not reach the 50s for awhile.