Yesterday was nice. It wasn't perfect, no, but it's a start on our road to autumn. Unfortunately, like many Houston freeways, the road there is still under construction. More on that in a second. First, some news.
NOAA analysis finds significantly higher rainfall frequency values in parts of Texas, redefining the amount of rainfall it takes to qualify as a 100-year or 500-year event. https://t.co/vgfHqve8wh pic.twitter.com/bY9FtLiMDB

— National Weather Service (@NWS) September 27, 2018
NOAA has completed their analysis of rainfall return period in Texas. Those maps we've utilized for 100 and 500 year floods are now officially obsolete. In the Houston area, a 24 hour rainfall of around 13″ used to be required to classify a rainfall event as a "100-year flood." Remember a "100-year flood" is a flood that has a one-percent chance of occurring in any given year. That 13″ rainfall has been revised up to 18″ of rain in 24 hours to qualify as a 100-year flood. Basically, what we used to define as a 100-year flood is now a 25-year flood. I think most of us knew this already; it had been telegraphed last year, but we can now make it official.
Why is this changing? The previous maps are decades old. The primary reason is that we have more data and better data to work off of. We also know, based on plenty of data, that rain events are getting bigger in Texas, and this is especially disproportionately true in the Houston-area. Ultimately, there will be ramifications because of these map changes. Infrastructure is built to these map standards. Floodplain regulations are based on these map standards. These changes have been well-telegraphed since Harvey, so some of this process is already underway. But it's a slow process, so don't expect changes next month. It's a start, however.
On to the weather…
Today
Radar is mostly quiet this morning, though we are beginning to see a few showers near the coast as of 5:30 AM. More noticeably, we still see a good deal of cloud cover in the area.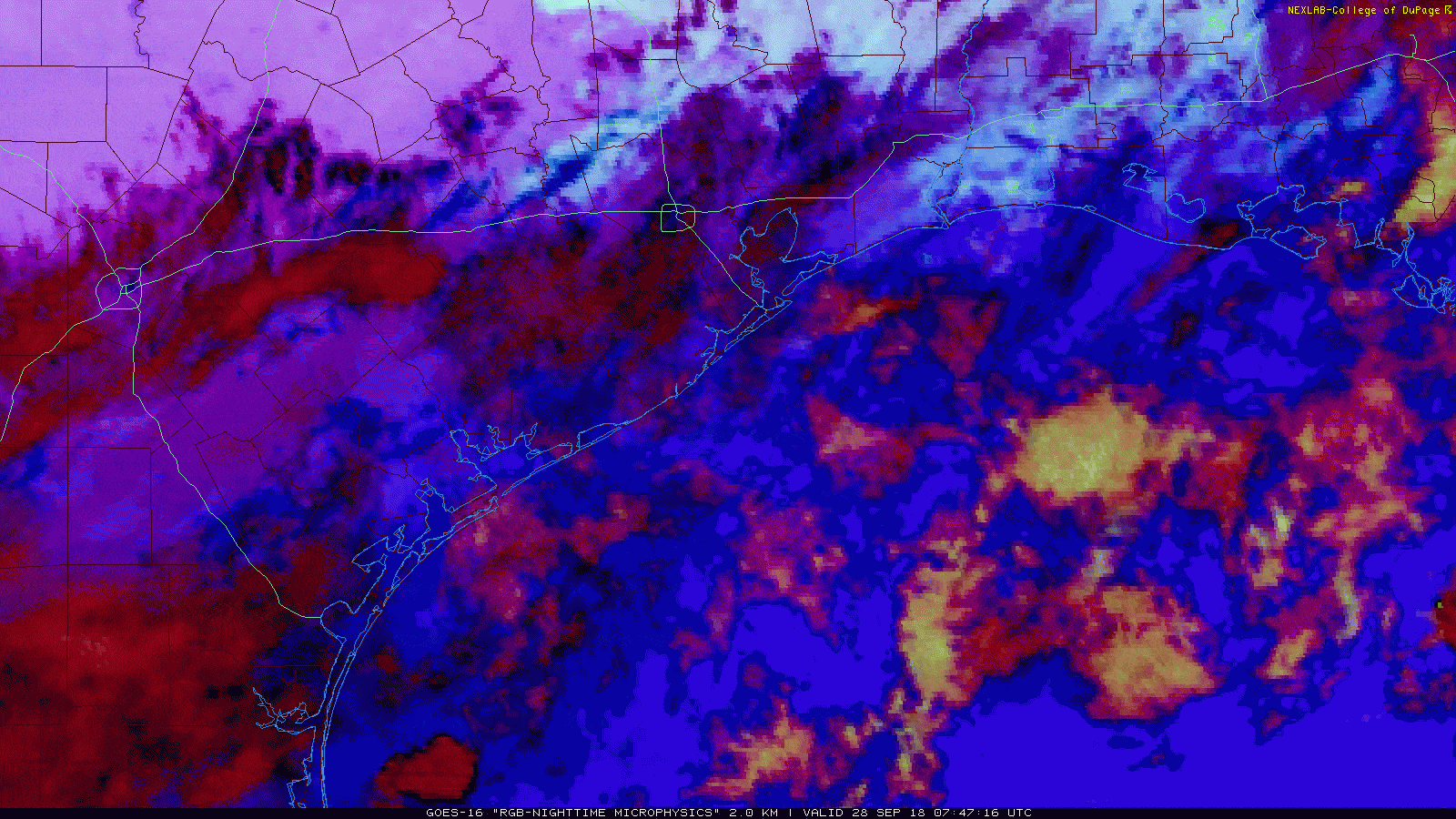 On the loop above, the bright white indicates lower stratus clouds and the darker colors indicate higher cirrus clouds. The yellow offshore indicates showers and mid-level clouds. Bottom line: We have a lot of clouds around, so sunshine will be limited today, especially south and east of Houston.
As the day goes on, we expect to see scattered showers and storms develop, initially near the coast and spreading a bit further inland as yesterday's cold front begins to return as a warm front. Look for high temperatures today to hit the low-to mid-80s.