Good morning. As we begin to close out 2019, it will continue to feel a bit springlike before a Sunday cold front cools us back off a bit.
Today
Dense fog is the main forecast issue, and it will continue to be the biggest problem today and probably tomorrow. Fog is almost everywhere this morning, and it will be stubborn and slow to clear from inland areas back to the coast.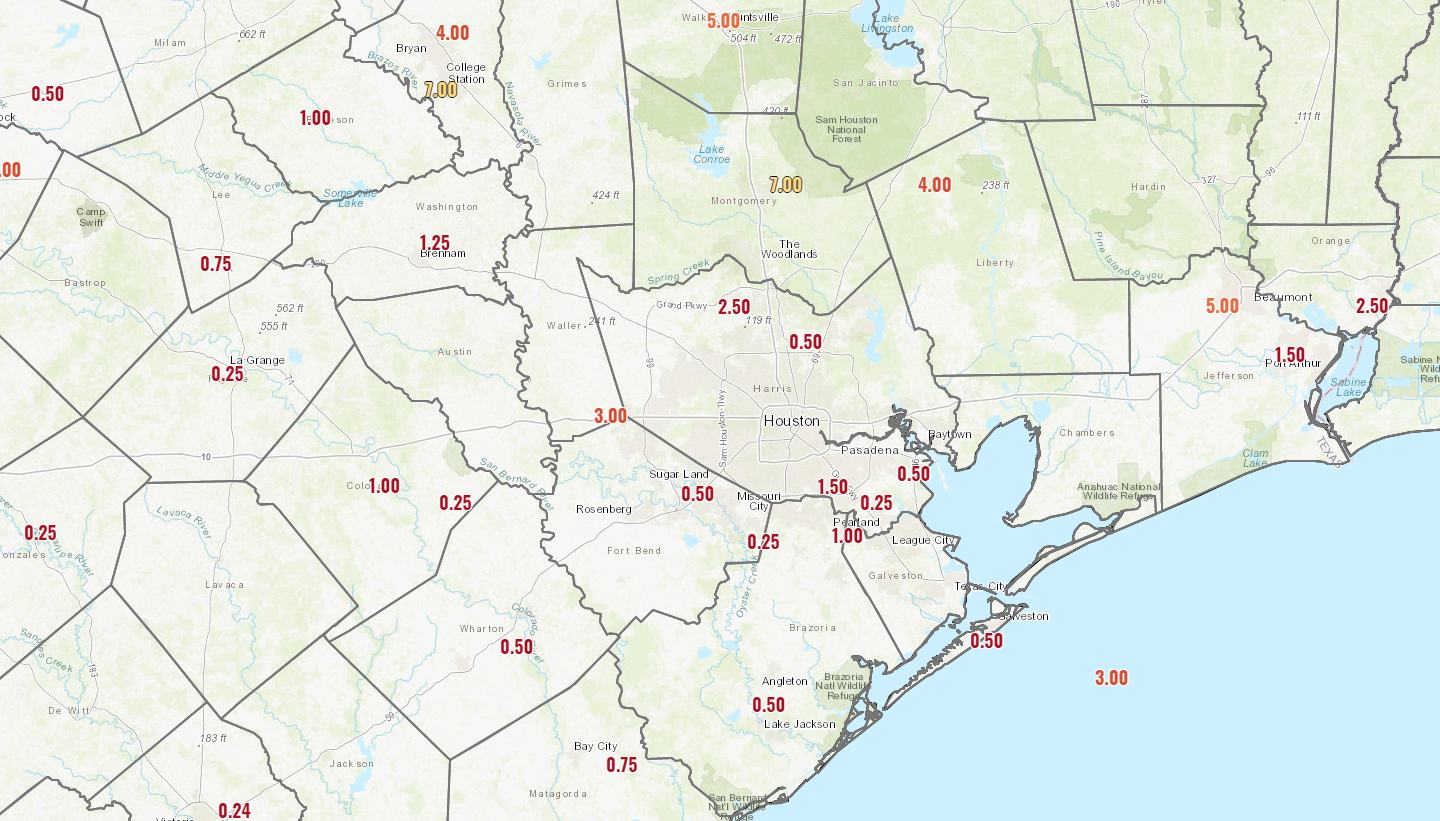 Some coastal or bay-adjacent locations and some other places, mainly south and east of Houston may hold on to fog well into this afternoon. Outside of the fog, it will gradually turn partly cloudy and quite mild. We hit 76° yesterday, and we will probably come close to that again today.
Saturday & Saturday night
Tomorrow should begin similarly to today with widespread fog, especially closer to the bays and coast. Again, that could linger into afternoon. As the day goes on, look for shower chances to slowly increase, mainly north and west of Houston. We'll start in the 60s Saturday and by afternoon, look for highs perhaps near 80° in Houston. The cold front will push through the Houston area from northwest to southeast between Midnight and 5 AM or so Sunday. During that time, almost everyone should see at least some rain and thunderstorms.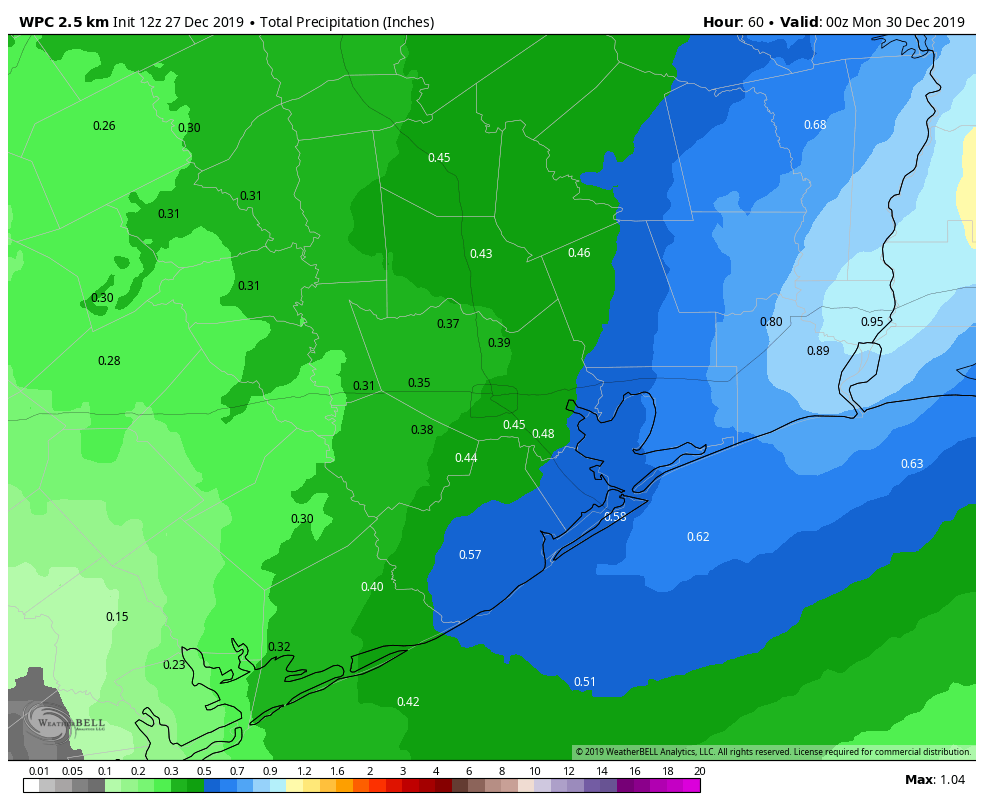 We don't anticipate too much rain when all is said and done, but a quarter-inch to half-inch or so on average, with lower amounts south and west of Houston and higher amounts north and east being the most likely outcome. Any fog risks will end behind the front as well. Some storms, especially north and east of Houston could be a bit strong overnight.
Saturday will warm up from the 60s in the morning into the 70s during the afternoon. Behind the cold front, temperatures will drop into the 50s by Sunday morning.
Sunday & Monday
Some lingering showers are possible Sunday morning. By afternoon, any remaining clouds should rapidly dissipate, and we are going to be left with delightful weather for both the second half of Sunday and Monday. Look for sunshine and high temperatures in the 60s both afternoons. Morning lows will be in the 40s for most folks on Monday morning, though outlying areas could sneak into the upper-30s.
New Year's Eve & Day
Yesterday, it appeared that a storm system would begin to approach on Tuesday, bringing a slight chance of showers for New Year's Eve. That has slowed down today, pushing any rain chances to Wednesday. The image below shows the last 6 runs of the European model's forecast of rainfall from 6 PM to Midnight on New Year's Eve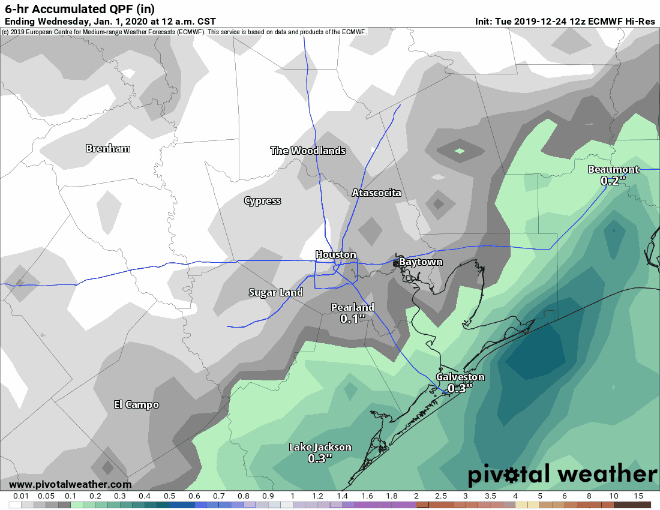 What you're seeing is that until the most recent run, the model indicated shower chances. The latest version holds the rain back for another 12 to 18 hours. What does this mean? It means check back with us on Monday while this system's timing gets sorted out over the weekend. We don't trust this model explicitly and would lean toward increasing rain chances after the calendar flips to 2020, with rain becoming most likely during the afternoon and evening hours of Wednesday. Either way, our chances of a widespread, meaningful rain and some thunderstorms continue looking higher as we move into the new year.
Daytime highs should be in the 60s on both days. For New Year's Eve celebrations, look for temperatures dropping into the upper-40s. We will update this forecast for you on Monday for sure.