Sunday's rainfall almost certainly marked the last significant precipitation of 2019 for the greater Houston area. The region experienced some extreme rainfall, punctuated by Tropical Storm Imelda in September. But overall, Houston came in near normal with annual rainfall—receiving a total of 51.93 inches at Bush Intercontinental Airport (the region averages just north of 48 inches per year). The wettest year on record came in 2017, driven by Hurricane Harvey, with 79.69 inches. Here's the climate graphic, with Houston's rainfall totals on the bottom: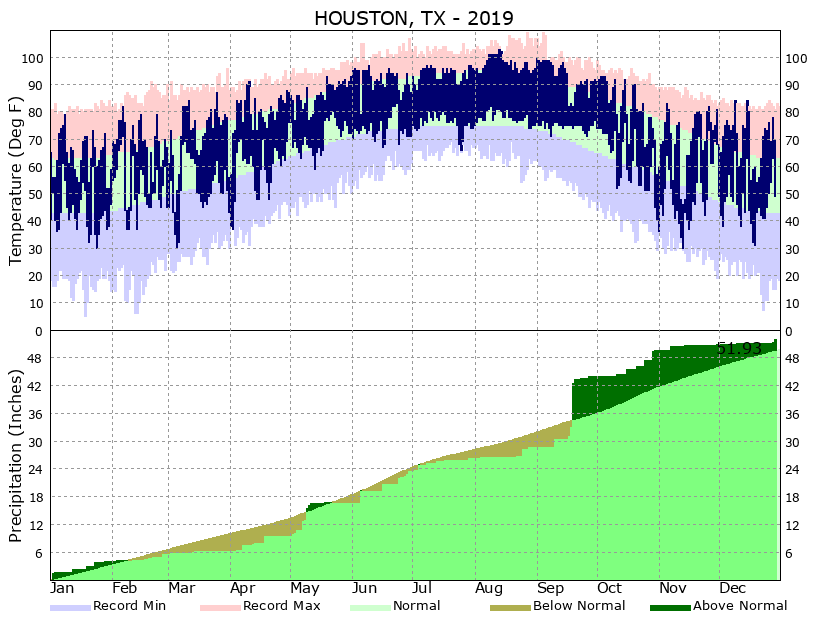 The story is considerably more interesting to the east of Houston, in Beaumont, which bore the brunt of Imelda. That region, based upon its official monitoring station at Jack Brooks Regional Airport, has recorded 85.46 inches of rain in 2019. But this ranks only third in annual totals, behind 2017 (104.30 inches) and 2018 (88.75 inches), based on 117 years of data.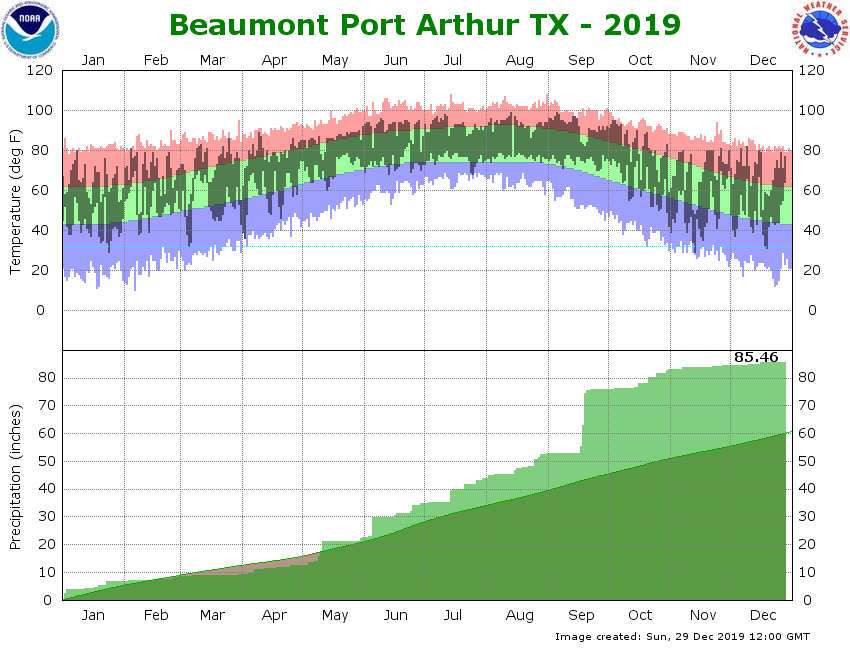 It seems pretty staggering that Beaumont's three wettest years all occurred within the last years. It is difficult not to believe some kind of climate signal must exist in this data, but I will leave that analysis to actual scientists. Needless to say, this has been the wettest three-year period in the recorded history of Beaumont. Here's hoping to more normal weather in the years ahead.
Now, on to the forecast.
Monday
Not much to say about today's weather, which will be splendid in the wake of Sunday's cool front. Look for sunny skies, with highs in the low 60s, and light northwesterly winds. Overnight lows will get down into the low 40s in the city of Houston—warmer to the north, cooler along the coast.

New Year's Eve
Another pleasant winter day, although some clouds will begin to build during the afternoon and evening. We can probably expect a cloudy night to ring in the New Year, with temperatures at around 50 degrees. Sinking air in the atmosphere, however, should preclude the development of rain showers.
New Year's Day
This will be a cloudy and cool day, with highs struggling to make it out of the 50s. There will be a pretty healthy chance of light-to-moderate rainfall during the afternoon, evening, and especially overnight hours. At this point, the best chance for heavy rainfall appears likely to remain offshore, so I'm anticipating totals of 0.25 to 1.0 inch for the Houston region, with the greater amounts likely closer to the coast.
Thursday
Drier air will begin to filter in to Houston, likely bringing an end to precipitation during the morning hours. Clouds will probably remain, however, with highs perhaps climbing into the 60s.
Friday, Saturday, and Sunday
The weekend looks exceptional under the influence of high pressure and a drier flow. Look, generally, for daytime highs in the 60s, lows in the 40s, and lots of sunshine through Sunday. Make your outdoor plans now.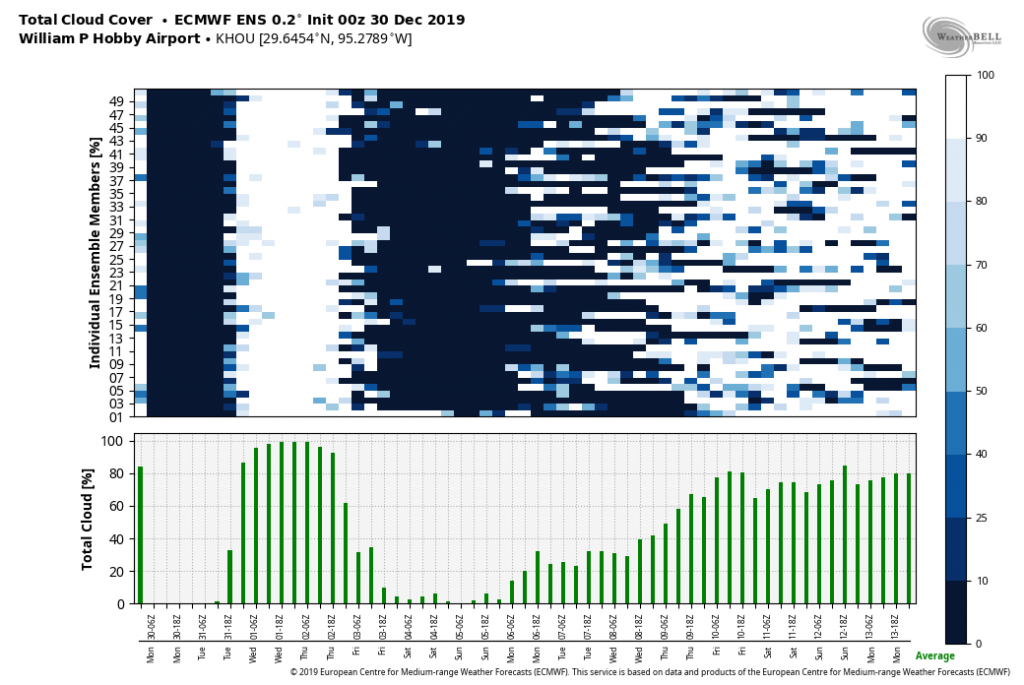 Beyond
We don't have much confidence in the details, but it looks like that beginning next week, perhaps around Monday (Jan. 6) or Tuesday, some significantly colder air may arrive. This will probably push nighttime lows into the 30s, but how far down into the 30s remains to be seen.