Conditions are very warm and muggy this morning, with lows across Houston in the 70s. This will change in a few hours, however, as a blustery cold front moves through and makes for a very windy afternoon and overnight period. This front will knock lows into the 40s across much of the area—probably the last time that will happen for some locations this spring.
Wednesday
The aforementioned front should reach the College Station area around sunrise, central Houston around Noon, and push off the coast by mid-afternoon. A broken line of light showers may strengthen as it nears the coast, and finds more moisture. Thunderstorms will be possible immediately along the coast.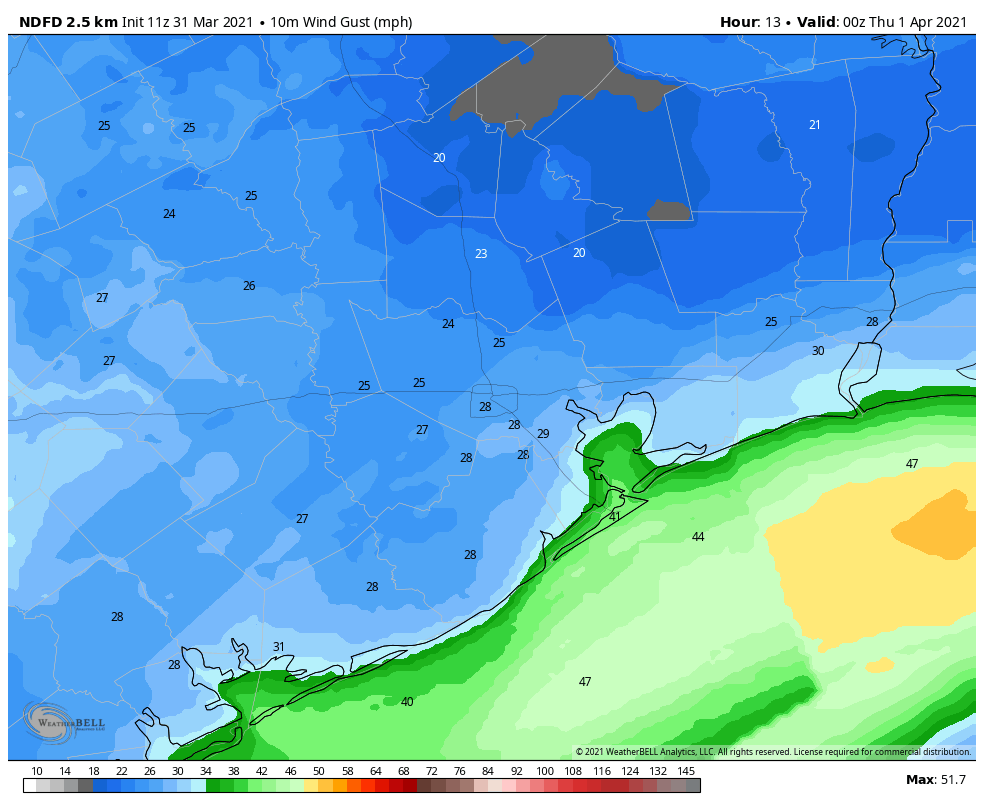 Temperatures will drop into the upper 50s to 60 degrees after the front's passage, and winds will likely gust above 30 mph. Those winds will taper off a bit after sunset for areas north of Interstate 10, but blow along the coast for most of the night. Lows will drop into the 40s, even in Galveston, after midnight.
Thursday
Winds will drop back some on Thursday, although northerly gusts in the low 20s will be possible. Highs will rise into the mid- to upper-60s along with sunny skies. Overnight lows will drop again into the 40s, with some areas in Montgomery County possibly seeing the upper 30s.
Friday
This will be another sunny day, with highs likely slotting somewhere into the upper 60s. Winds will shift to come from offshore later in the day, and this should moderate overnight temperatures a bit.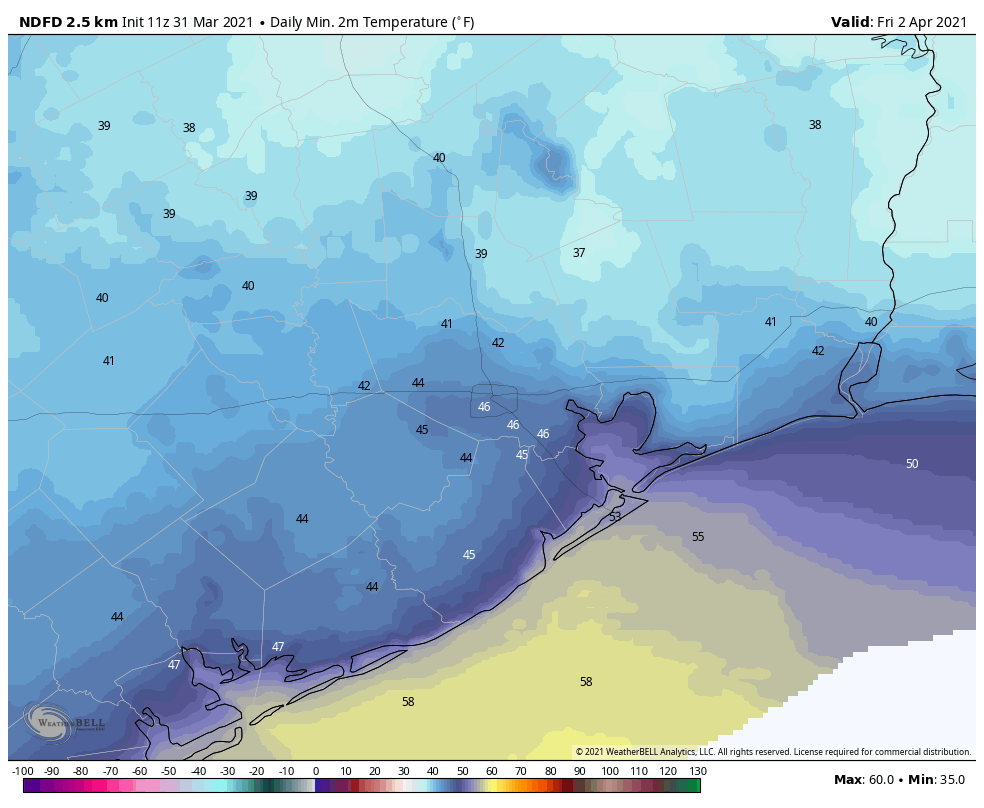 Saturday
Clouds return, and even with southerly winds this should help to limit highs to around 70 degrees.
Easter Sunday and beyond
Sunrise temperatures will start in the 50s for most, with the coast a little bit warmer. Sunday should bring a little more sunshine, although the afternoon will probably still see partly to mostly cloudy skies. Highs will reach the mid-70s. We also can't entirely rule out a few scattered, light showers during the afternoon and early evening hours, but most of us will probably remain dry.
As high pressure builds over the region, temperatures will begin climbing into the mid-80s next week, with at least partly cloudy skies. We'll start to get familiar with our old friend humidity again.