Happy Friday! Before we dive into the forecast, I just want to give a shoutout to Tim Zacharias at Cougar USA. I sat down with him a few weeks back on their Building Value podcast, and I got to talk a bit about Space City Weather, flooding, the freeze, and hurricane season. You can check it out on YouTube, iTunes, or Spotify. If you watch on YouTube, you get the added bonus of seeing Mullet Matt's pandemic hair (which is now gone, thankfully!).
On to the forecast, as we have some things to discuss.
Today
Things are quiet around Houston this morning. Lingering storms from last night are moving southeast up north of us, across Walker, Trinity, and Polk Counties. These storms will weaken, but the boundary they're leaving behind is likely to become the focal point for thunderstorm development this afternoon closer to Houston.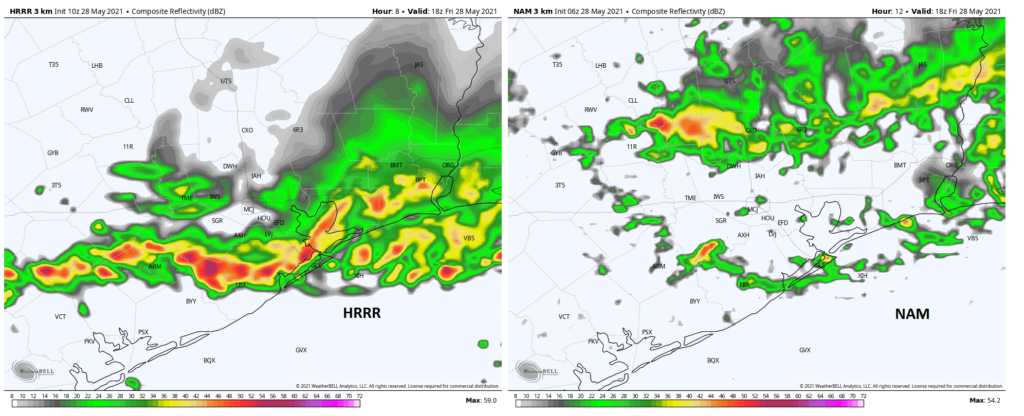 Storms today could become fairly strong and locally severe, so don't be shocked if you see a couple warnings in a few spots get triggered this afternoon, particularly for hail or strong winds. Some models are more aggressive than others with storm development this afternoon, so it's certainly possible that some neighborhoods don't see much of anything today, but a majority of the ingredients we need for storm development today are in place, so I wouldn't go umbrella-free this afternoon. High temperatures will likely top off in the mid to upper-80s.
Tonight into Saturday
Additional storms are going to develop across northern or central Texas later today, likely congealing into a cluster of organized storms. Those should advance into parts of our area tonight, with the timing somewhat in flux. Early evening plans may see lingering isolated showers or storms, while late evening plans risk running into this more organized activity. Either way, have an umbrella. Storms tonight could again be strong to locally severe, with wind gusts being the main thing to watch.
Those storms will likely ease up Saturday morning, but with lingering boundaries, and yes, a bonafide cold front in the neighborhood, we should see additional isolated to scattered storms tomorrow through the day. Clouds, showers, and a slightly cooler air mass should allow morning lows in the 60s & 70s to only warm into the lower or maybe middle 80s.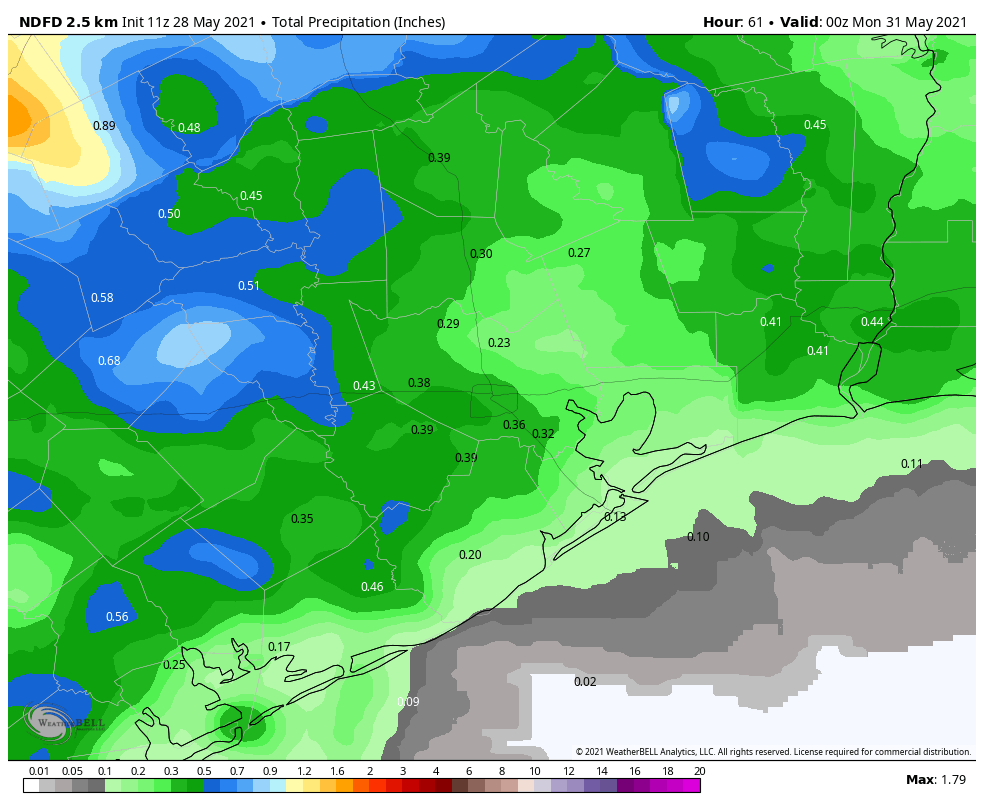 How much rain? It will vary. I wouldn't be shocked to see some places end up with next to nothing from this and others perhaps seeing an inch or two. We don't expect any serious flooding concerns at this time.
Sunday & Memorial Day
Alright, good news. Both Sunday and Monday still look good. We should see sunshine on Sunday and maybe a bit more cloud cover for Memorial Day. That cold front won't usher in super refreshing air, but it will skim just enough off the top with respect to humidity that Sunday should be kind of comfortable for Houston in late May. Monday should be similar, but it will be a little warmer. Look for low to mid-80s on Sunday and mid-80s on Monday. Both mornings should see lows in the 60s away from the coast.
Later Next Week
Look for any vestiges of comfortable weather to disappear by Tuesday, with lows in the 70s and highs in the mid-80s. Rain chances will begin to inch up, probably just a little on Tuesday but more on Wednesday, Thursday, and Friday. It's tough to determine the details, but another slow moving upper level system is likely boost rain chances in our area as the week rolls along. This will keep temperatures cooler than average (mostly mid-80s), but hopefully we're able to avoid heavier rains. We'll update this for you certainly on Tuesday, but perhaps Monday if we have any more clarity.
Meanwhile, enjoy the nicer weather later this weekend!