Good morning! We're back on schedule today. A quick housekeeping note: We are aware of some app and email issues. We'll address those as soon as possible. Thankfully it's a quiet week! Just as a reminder, for backup, you can follow us on Facebook, Twitter, and Instagram, where we usually post daily.
On to the forecast.
Today
No one hit the Mega Millions on Tuesday, but we did have some local winners of the rainfall lottery! They included portions of southern Fort Bend County, the east side of Houston (Mason and Magnolia Park and Pleasantville), and just southwest of Alvin. It was more than one place like Monday, so you all split the jackpot. Congrats!
I think today will see a similar type setup, with a smattering of showers getting a few places wet. This will keep us slightly cooler again. We "only" hit 97 officially yesterday, so today should be similar, with mid to upper 90s across most of the area. Again, most of the area will be dry but at least a few neighborhoods could see an inch or two of rain.
Thursday
Tomorrow should be a lot like today, however it could be a notch or two hotter, with a few less showers. So maybe just a couple neighborhoods see showers tomorrow versus several today. Expect mid to upper 90s again.
Friday
We get a little more pop on Friday which should increase shower coverage closer to what we see today instead of Thursday. Again, most folks will still stay dry, but several neighborhoods should at least cash in on some rainfall.
So, if you want a quick guide to rainfall chances:
Wednesday: 30 percent
Thursday: 20 percent
Friday: 30 percent
Weekend
Both weekend days will see sun, clouds, and heat. Look for mid to upper 90s, again, on both days. Rain chances likely drop a bit compared to Friday, so I would call it 20 percent or less.
Next week
A return to hotter, drier weather seems likely as the week goes on, though I'd keep rain chances above zero each day at least. Instead of 20 to 30 percent odds like we have this week, perhaps it will be more like 10 to 20 percent odds next week. This will be especially true later in the week.
Will this ever end?
The update today is…not great. Obviously, model accuracy fades as you go later in time, but if you look at both the GFS and European ensemble forecasts for day 15, which takes us to August 10th, we see a pretty solid ridge over the Southern Plains.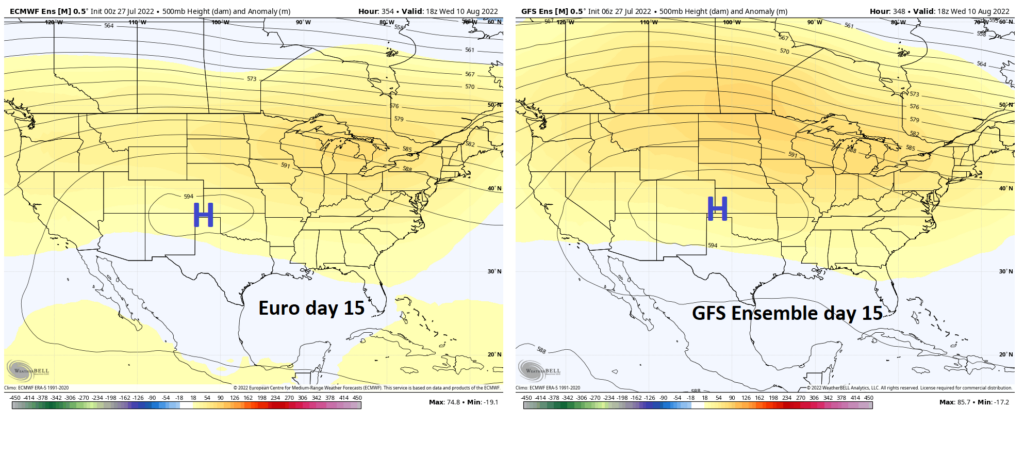 It means that we will likely continue to persist with hotter than usual temperatures and fewer daily rain showers than usual into mid-August. So, no, I honestly can't tell you when this will end.