Another week with a quiet Atlantic basin. No complaints here, though we really do need some rain.
Tropical outlook in a sentence
The Atlantic basin seems likely to stay mostly dormant for at least another week, as no reliable modeling is indicating any meaningful development anywhere at this time.
What gives?
Surely by now we should have had another system, right? Not necessarily. If we look at climatology, the fourth named storm of the season usually doesn't occur until mid-August. So, we're tracking in line with climatology. Of course, when the sales pitch coming into this season was for it to be another busy year, an average start may raise a few eyebrows. I still wouldn't read too much into things at this point, and I would still almost certainly expect the season to finish busier than normal. But for now, just know that this isn't out of bounds in terms of what is typical, even in active seasons.
Where to watch
While we see absolutely nothing in the models that suggests any sort of tropical development is likely over the next 2 weeks, a look at where storms have historically originated from August 1 through 10 is telling.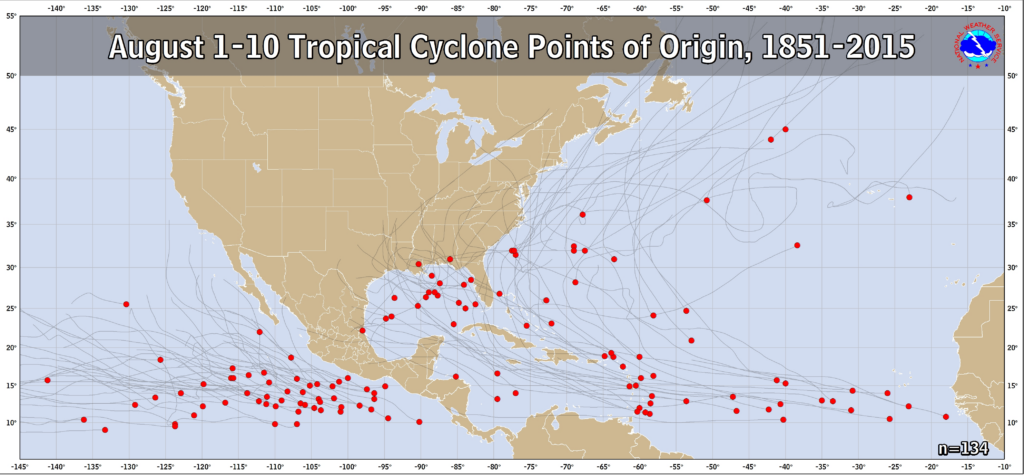 Two clusters stand out in the Atlantic: First, the Gulf and second just east of the Lesser Antilles. So if we wanted to look somewhere for tropical development over the next week or two, those would be good places to start. The Gulf is interesting because so many storms formed *in* the Gulf. In other words, you're more like to get "homebrew" storms than long trackers right now. So while we believe things will be quiet over the next week or two, it's always important for meteorologists to keep tabs on any thunderstorms that find their way into the Gulf for that reason.
The Gulf is warm — does it matter?
One question we've been getting more and more of lately is whether or not the hot weather this summer has led to the Gulf being abnormally warm. The answer is yes.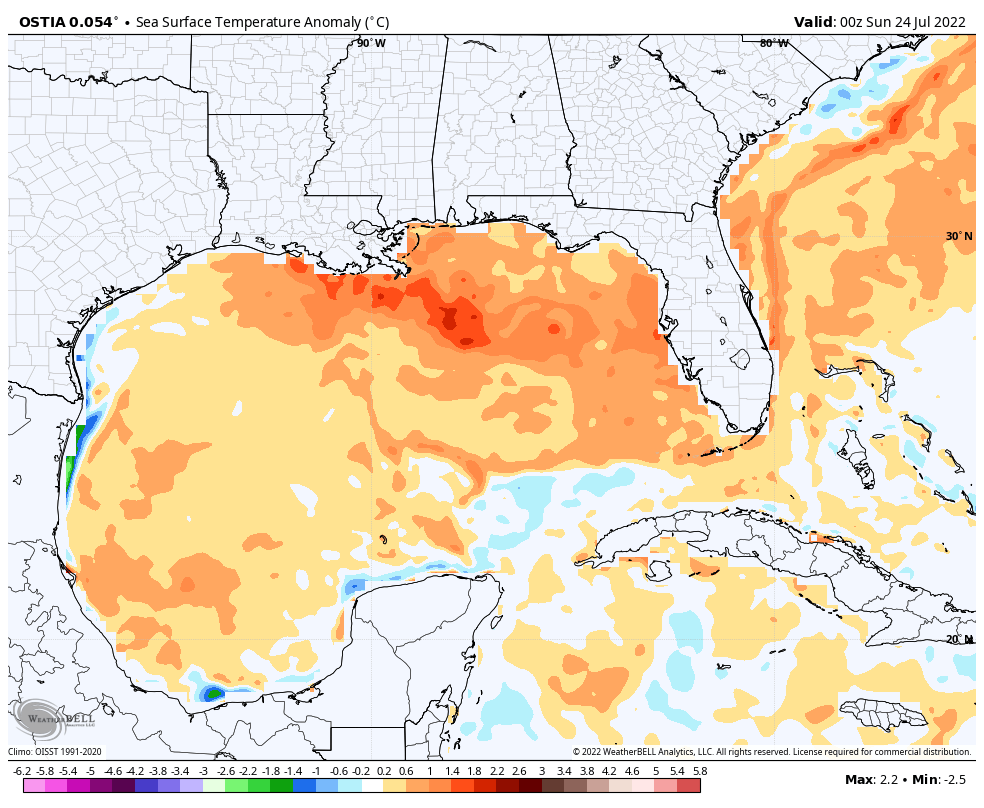 The Gulf is much warmer than usual virtually everywhere. It's especially notable south of Louisiana, Mississippi, Alabama, and off the west coast of Florida. The thing about a warm Gulf, however, is that, while not great to see, it doesn't overly concern us because a.) things can change quickly if the pattern were to change and b.) the Gulf is almost always going to be very supportive of tropical systems. In other words, it's not a guarantee that we're in for trouble this year. But it does give us some pause. Of course, tropical storms need more than just warm water. One of the best examples of a Texas storm that struggled despite a fairly warm Gulf was Tropical Storm Don in 2011. While the Gulf wasn't quite as warm as it is this year, it was still warm. Don got absolutely annihilated by dry air due Texas's drought, as well as wind shear. Then you get years like 2005 or 2020 where everything hits the warm Gulf and seems to explode. Again, not great but not a promise of ugly days ahead. We'll of course keep watch!