We certainly remain in drought in our area, but before Wednesday, only a handful of areas saw a fair bit of rain. Yesterday, the dynamic changed a bit, as a large chunk of the area saw a moderate amount of rain. Gray colors on the map below indicate about an inch or less, while blue coloring indicates up to 1.75″ or so of rain.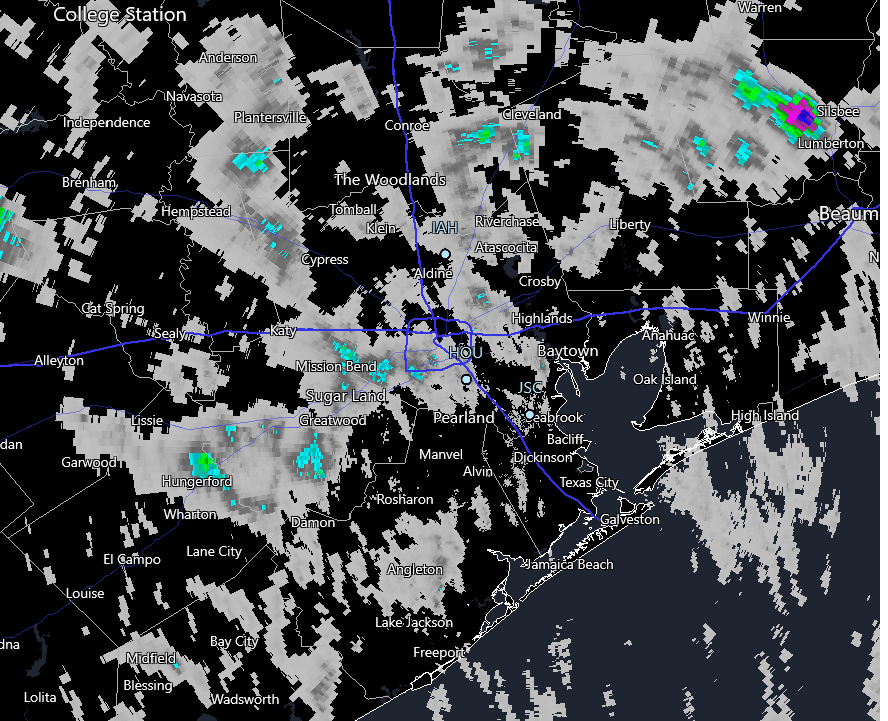 This was definitely needed! We will have additional opportunities in our future.
App issues
First, some quick housekeeping. We've received many reports from all of you on the issues of the app crashing. Thank you for your reports! Eric and I are sort of in flux this week, so it's been a little trickier to address promptly. But, we have fixes in. Android users should be able to download an updated version now. iPhone users should have the update shortly. Check out the App Store later today. It will be version 1.5.156.
If you still have issues, please shoot an email to us ([email protected]) and let us know what's up. Thanks for your patience.
Today
Since there's almost always at least a chance of rain in Texas in summer, I like trying to explain how rainfall coverage will behave this time of year as compared to the day prior. The triggering mechanism for yesterday's storms should be out of the area today, so my guess is we will see a bit less coverage than Wednesday. That could also mean that localized storms will dump slightly heavier rain. Either way, there's definitely a chance of showers today almost anywhere as we head toward afternoon (even this morning near the coast), so have an umbrella at the ready.
We hit 94 degrees yesterday, our coolest day since July 1st! We will probably manage mid to upper-90s today.
Friday
From the looks of model data, we may have another little upper level system that helps enhance showers and storms tomorrow. So coverage may be more like Wednesday than today. Look for highs generally in the mid-90s, or a bit hotter inland.
Saturday & Sunday
Shower coverage on both days should diminish some. I suspect Sunday may have just a slightly higher chance than Saturday. Whatever the case, look for sun, a few clouds, and a bit of a light Saharan haze around. Highs should be in the mid to upper-90s.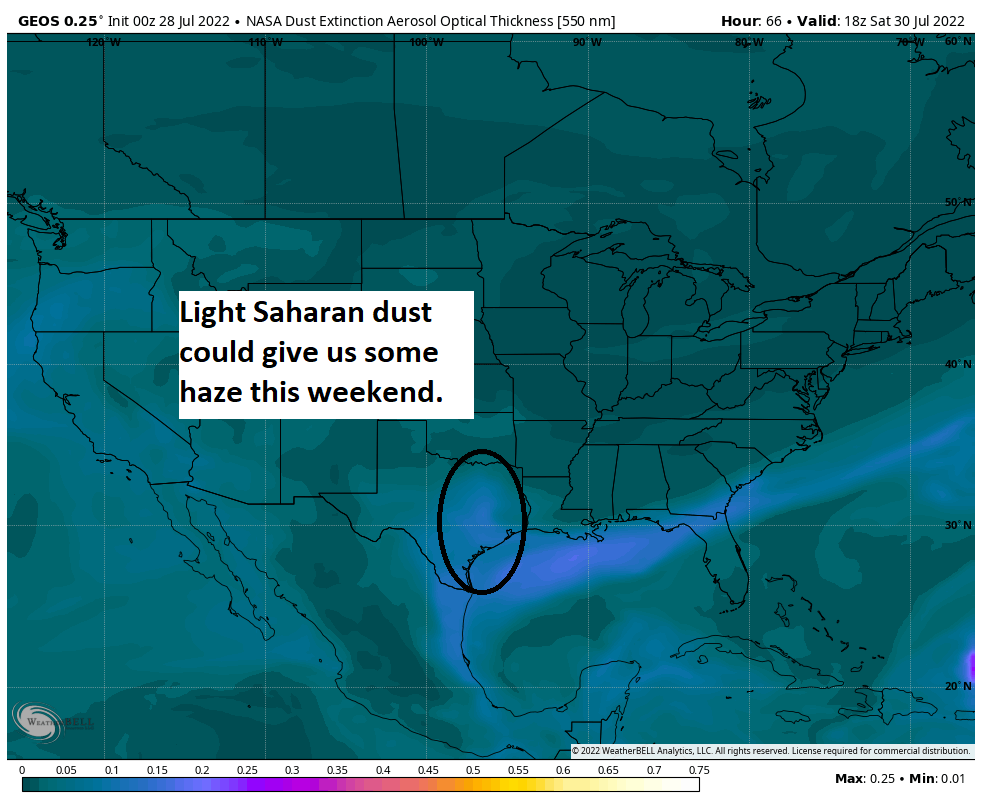 Next week
Monday looks fairly similar with slight rain chances, sun, clouds, and mid to upper-90s. There remains a good chance that we see hotter temps and lower rain chances return for Tuesday and beyond into later next week. More as we get closer.
Tropics
Things remain very quiet. We could see a slight uptick in activity chances emerge late next week or weekend near Central America, but it's nothing that looks meaningful for our area right now.