After our wild Wednesday, we were treated to absolutely gorgeous weather yesterday in Southeast Texas. That will lead to another winner of a day today, albeit warmer. We continue to watch the weekend however, and the chance for both severe weather and heavy rainfall. Here's the stormy breakdown.
Today
No weather trouble at all today. Expect ample sunshine, warm temperatures, and a breeze. We should make it into at least the middle 80s for high temperatures after a pleasant start this morning. Humidity will gradually work its way back ashore later today and tonight, but the majority of the day should feel pretty comfortable. That said, tree pollen (oak and cedar) remains high despite recent rain, and both grass pollen and mold spores are high also. So if you're an allergy sufferer (raises hand), we still have a ways to go.
Quick cool thing I wanted to share. Here's a satellite loop over South Texas this morning from the new GOES-16 satellite that was launched last November. This is experimental and non-operational data, as they're still doing fine tuning, but check out how many lakes and different bodies of water you can detect on the satellite even at night.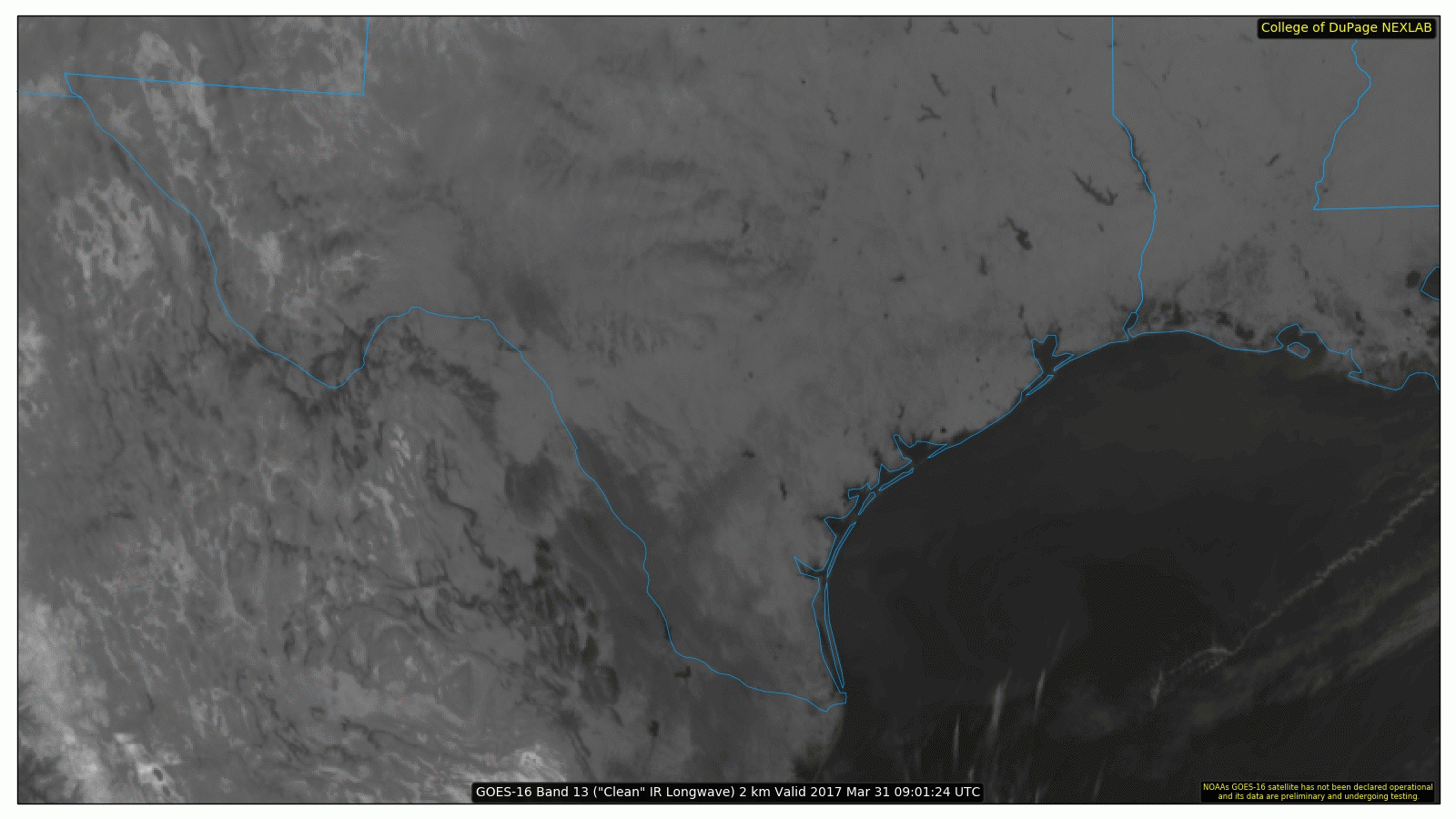 Amazing difference, and it's like going from a clunky box of a TV to an HD set for meteorologists.
Saturday
The forecast gets a little trickier Saturday. Humidity will continue to flood ashore through the day. I expect we'll see increasing clouds after a fairly sunny start. The last couple days it's looked close for perhaps a few storms as early as late Saturday afternoon. Recent model data limits those chances until late evening. So while I think we'll be dry during the day and early evening Saturday, if you'll be heading up to the Shell Houston Open or to the Dynamo/Red Bulls match or Whatever Fest east of Downtown, just be aware later in the day in case it does get stormy.
(Space City Weather is sponsored this month by an anonymous donor)
Sunday
Onward to Sunday, the main event. For days now, the models have been remarkably consistent in pegging a heavy rain and thunderstorm threat for us Sunday. We know that the environment is going to be extremely supportive of heavy rain and probably very supportive for severe thunderstorms. What we don't know yet are the details. What happens Sunday is going to be contingent on smaller scale factors we just can't entirely predict more than 12-24 hours in advance. We know there will probably be heavy rain across the region, which is why the NWS Weather Prediction Center has much of the area (especially north) in a marginal or slight risk for excessive rainfall.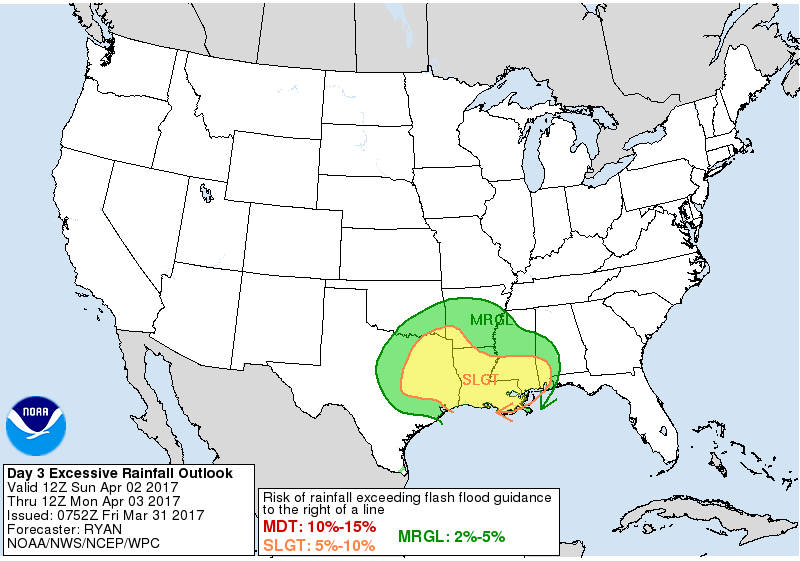 The current rainfall forecast from the NWS remains stout, with 1-2.5″ over the region. This seems reasonable as an average, but I'm willing to bet some places will see considerably more rainfall than that. We just can't say exactly where or how much that will be yet.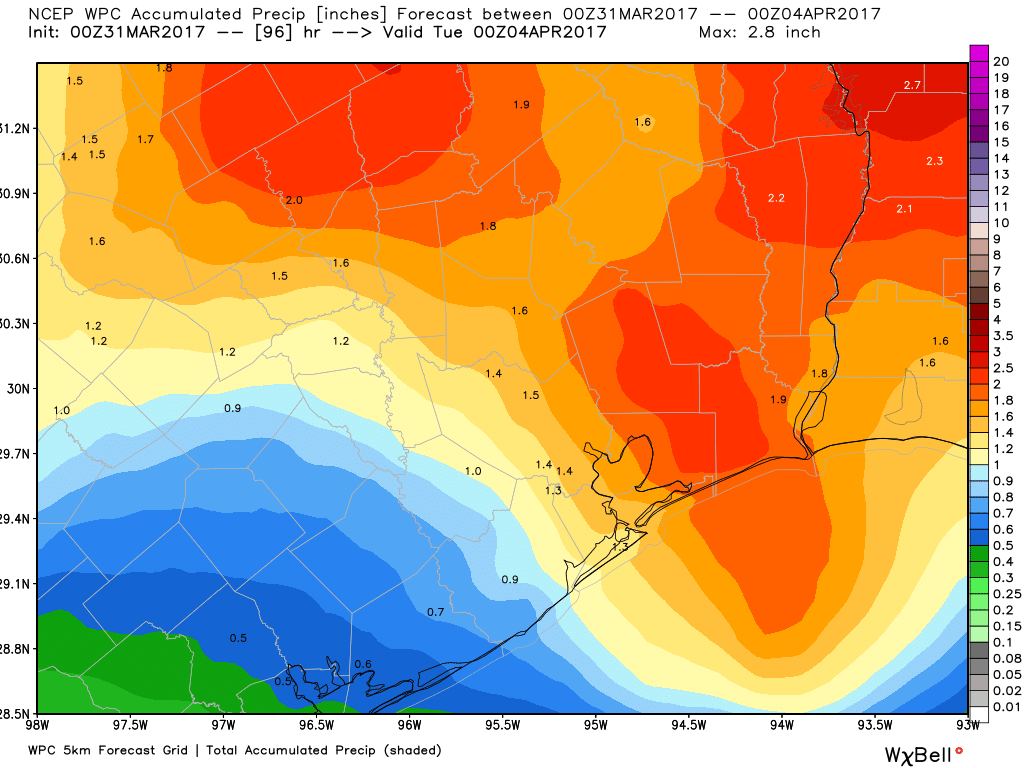 We also can't say for sure whether or not there will be severe weather, but we know the atmosphere on Sunday will be very favorable for it. In fact, the Storm Prediction Center already has Southeast Texas in an enhanced risk for storms.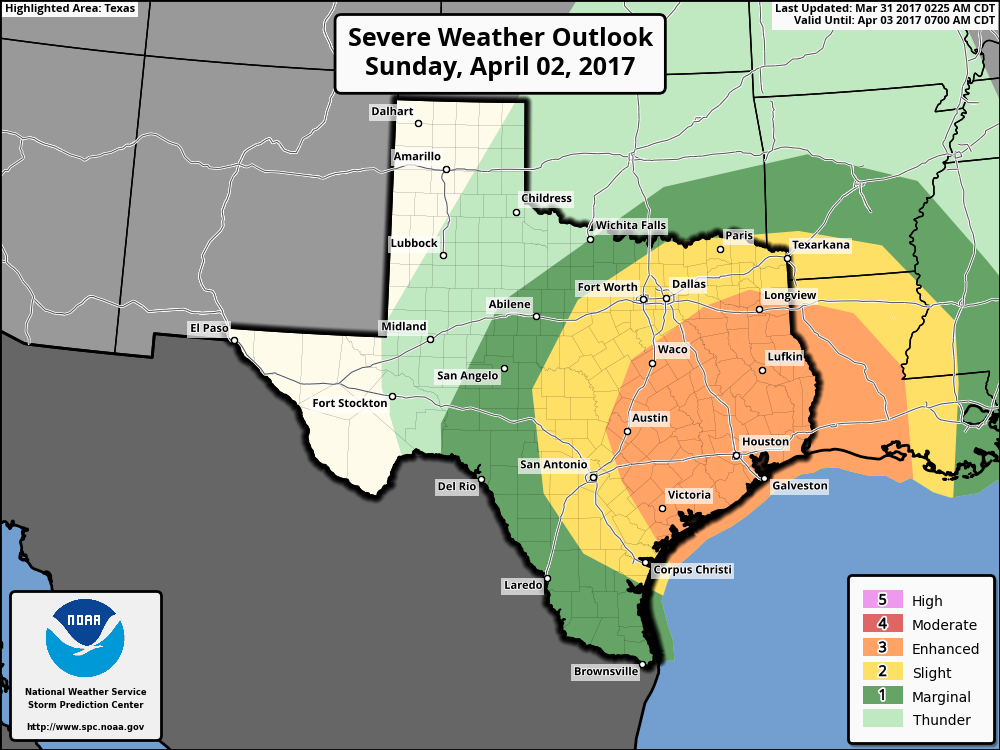 The current setup certainly supports the risk of hail, strong, damaging winds, and isolated tornadoes.
Bottom line on Sunday: If you have plans Sunday, have a way to receive weather warnings in a timely fashion. I expect outdoor events to be impacted by weather from at least mid-morning onward, including the Ironman 70.3 in Galveston and the final round of the Shell Houston Open. We will keep you posted this weekend.
Next Week
After Sunday, we should get back into this see-saw pattern of warm back to pleasantly comfortable weather a few days. But it looks very quiet next week, with limited rain and storm chances. A few days of less stormy weather would be a nice break, so here's hoping the forecast holds.
Posted at 6:55 AM by Matt