A cool front moved into the Houston area during the overnight hours, and this will bring us a brief spell of slightly cooler air before conditions warm up again this weekend. We'll also have to watch for the return of storms and widespread, heavy rain on Sunday.
Today
Winds are blowing out of the northwest this morning, and could gust up to about 20mph later today. Even after skies clear out we should expect high temperatures only to rise into the upper 70s today—alas there won't be too many days this cool again until late next fall. Lows tonight should fall into the upper 50s for the northern half of the Houston area, and to around 60 degrees closer to the coast. Enjoy the drier air.
Friday
After a cooler start on Friday morning, conditions will quickly warm under mostly sunny skies. Look for high temperatures in the mid-80s across Houston. I think some areas further inland, such as College Station, could see highs in the upper 80s although I don't think they'll quite make 90 degrees. Lows Friday night will be 5 to 7 degrees warmer than Thursday.
(Space City Weather is sponsored this month by an anonymous donor)
Saturday
Moisture levels will begin rising later on Friday, as southerly winds return, and we could see some clouds by Saturday morning. A few forecast models are hinting at the possibility of some rain showers later on Saturday, during the afternoon or evening hours, but right now if that occurs accumulations look modest. Highs Saturday should be in the low- to mid-80s.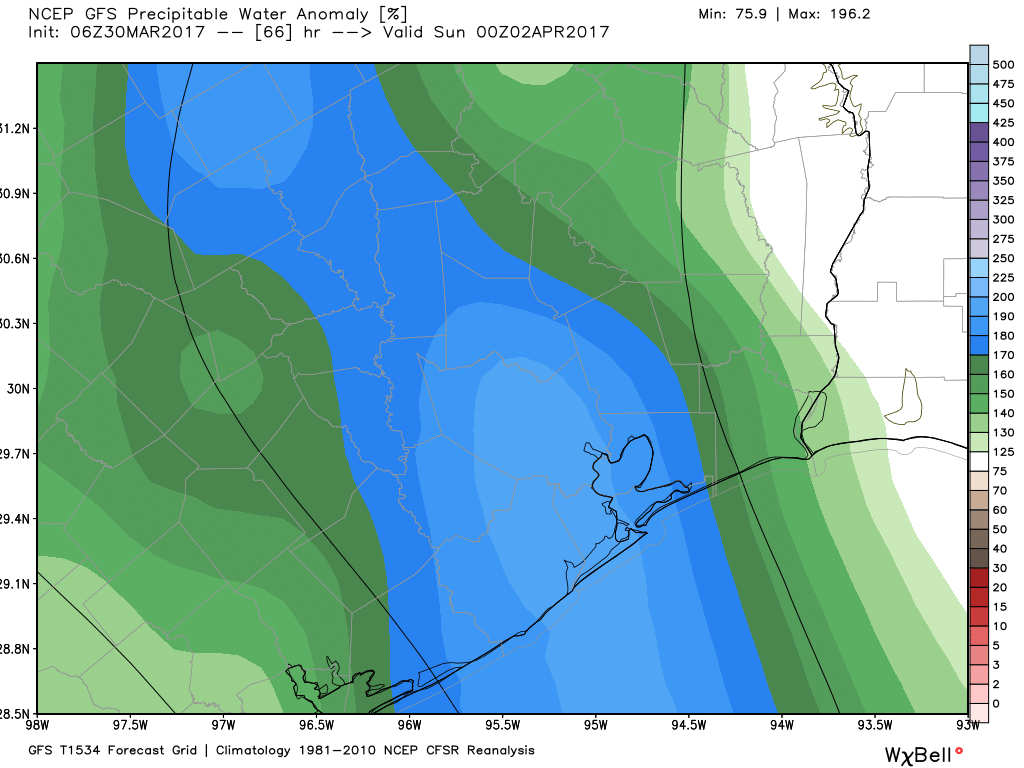 Sunday
By early Sunday atmospheric moisture levels will reach very high levels for springtime, and in conjunction with a cold front passage we're going to see the possibility of storms and heavy rain. There are several major events around the Houston area on Sunday that bear watching, including the Shell Houston Open in northeast Houston and the Ironman 70.3 event in Galveston, and both could see significant effects.
In terms of timing—and this is a rough guess rather than a concrete prediction—I'd expect a line of storms to approach the Houston region from the west-northwest before sunrise, and move into Houston during the morning hours, and down toward the coast by around noon. We'll know more about timing in a day or two, but it is safe to say nearly all of the Houston region will likely see 1 to 2 inches of rain sometime during the day on Sunday, and thunderstorms and other potentially severe weather cannot be ruled out. Rain exits sometime Sunday evening or during the overnight hours.
Posted at 6:50am CT on Thursday by Eric