While we've been discussing periodic cold fronts, record warm Decembers, and everything else over the last month or so, we have been quietly amassing a rainfall deficit in the Houston area. Since November 1st, Houston has officially seen just under 6 inches of rainfall, about 5.96″ to be exact. Normally over that span we would have received roughly 8.5 inches of rain. The last 30 days in particular have been pretty rough all across Texas with a handful of localized exceptions.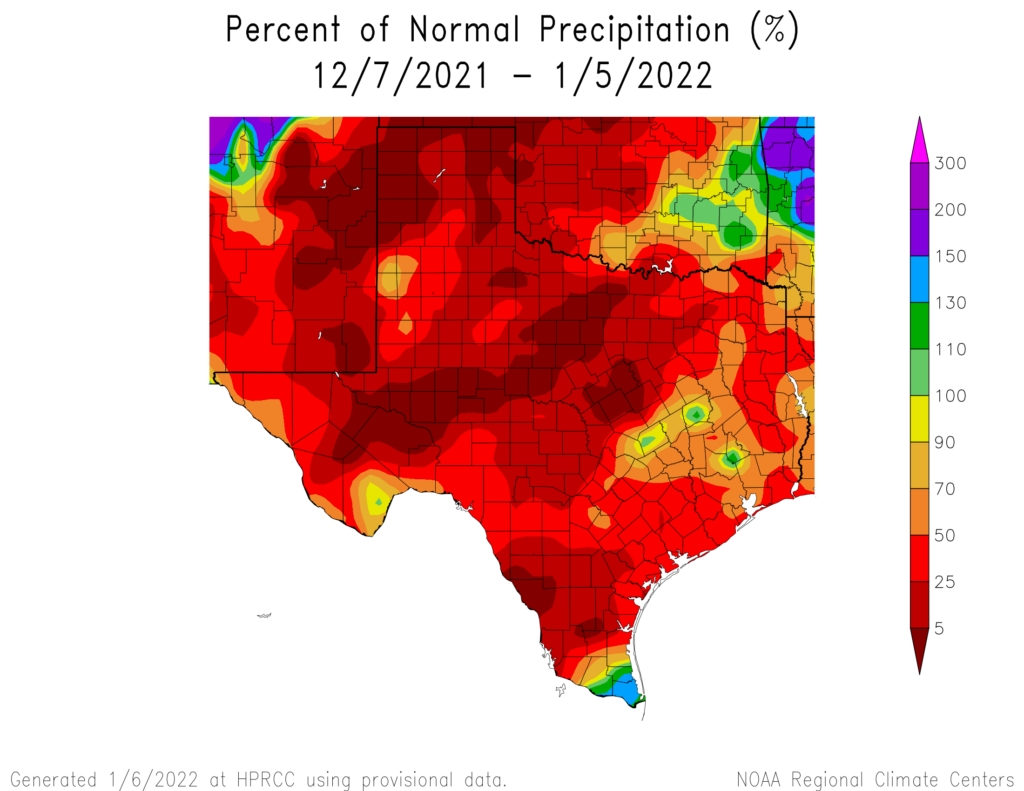 We've received about half our normal rainfall over the last month, and other parts of Texas are seeing it even worse. Yesterday's Drought Monitor placed parts of the Houston region into drought for the first time in quite some time. That's why this weekend may seem a little out of place with our recent stretch of weather, as there will be bonafide rain chances for most of the area. However, because of the scattered nature of the rain this weekend, many of you seeking some water will be left thirsty once more. There are more rain chances in the forecast after this weekend, however.
Today
There shall be no rain for today, however. Most areas should see sun to start today, but look for clouds to try and build in from the south this morning and afternoon. The chilly morning and some clouds will limit how warm we get today, with highs likely only in the mid or upper-50s.
Saturday
For those of you trying to make outdoor plans for this weekend, basically, you're going to have live with at least the chance of showers and storms all weekend. It's unlikely to rain more than a few hours at a time in any given location, but trying to time exactly where and when it rains will be somewhat difficult in this setup.
For Saturday, I would expect to see showers and storms develop around sunrise southwest of Houston, toward Matagorda Bay or out along US-59 toward Victoria and Wharton. Those storms would spread north and east through the morning and into the afternoon. Not everyone will see rain all day on Saturday, and there's a chance some folks may not see much rain at all. But for those that do see rain, it could be heavy, as the amount of moisture in the atmosphere this weekend will be near record levels for early January.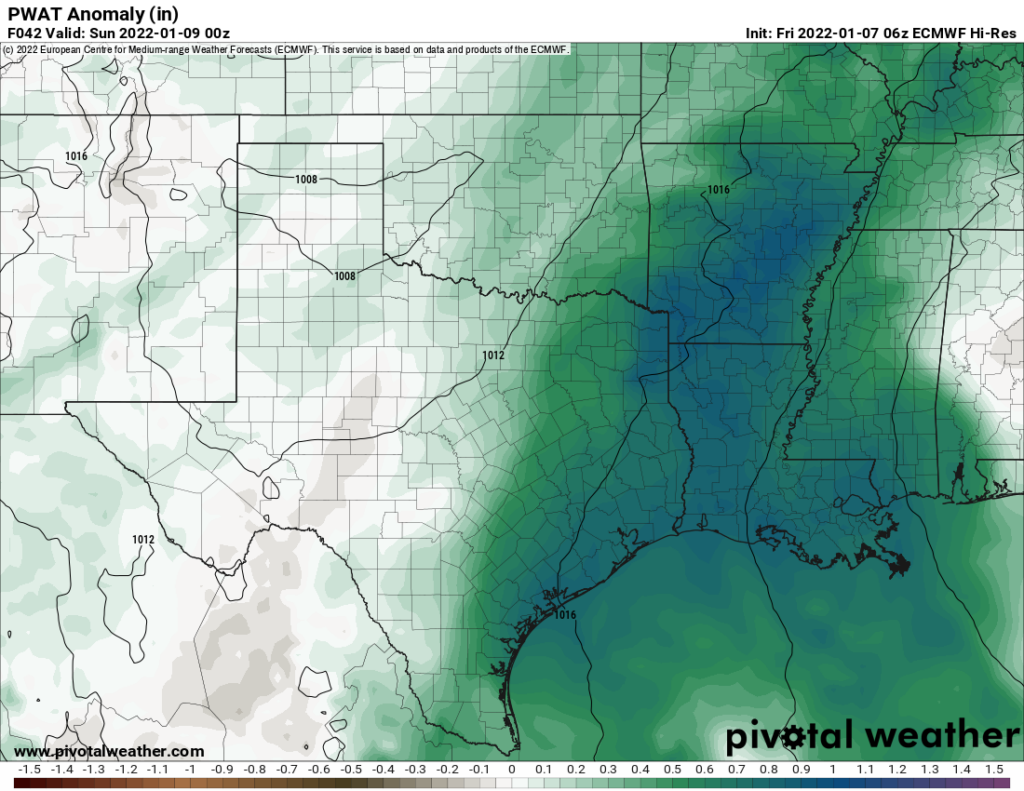 So, localized street flooding is a definite possibility for those that see more persistent showers on Saturday.
In addition to the rain, severe weather is a possibility. While we are not expecting a significant severe weather outbreak, the atmosphere will be capable of allowing storms to briefly rotate on Saturday, which could lead to a couple tornado warnings in the area.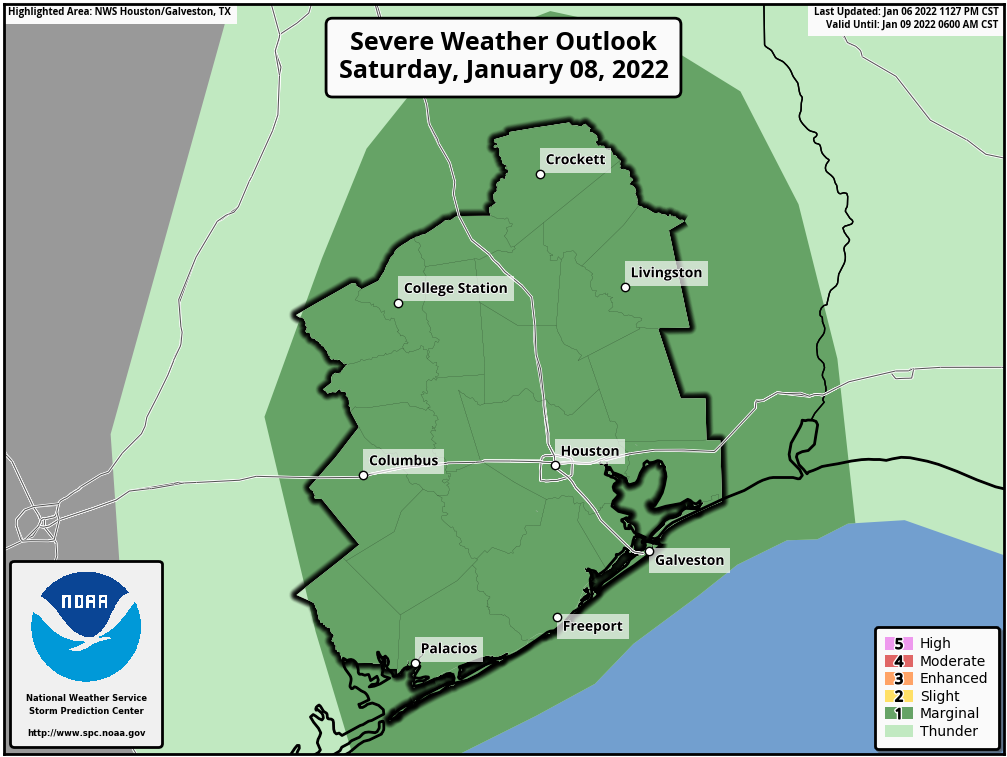 The Storm Prediction Center has us in a "marginal" risk for severe weather, or level 1 of 5 on Saturday. I don't want you to worry too much about this, but just be aware of the chance and stay plugged in this weekend.
Outside of the rain, look for lots of clouds and skyrocketing humidity. It will feel quite warm and humid by Saturday afternoon, with highs well into the 70s and overnight lows barely budging just under 70 degrees.
There is a definite signal in the models that we could see showers and storms persist or even expand on Saturday night into early Sunday morning, so that's something to be aware of as well.
Sunday
Modeling is all over the place on details for Sunday's outlook but the story should be: A healthy chance of storms in the morning, followed by a cold front sometime Sunday afternoon or evening. Once again, heavy rain is possible in spots before this all slides to our east in the afternoon. In general, expect decreasing rain chances from about midday onward.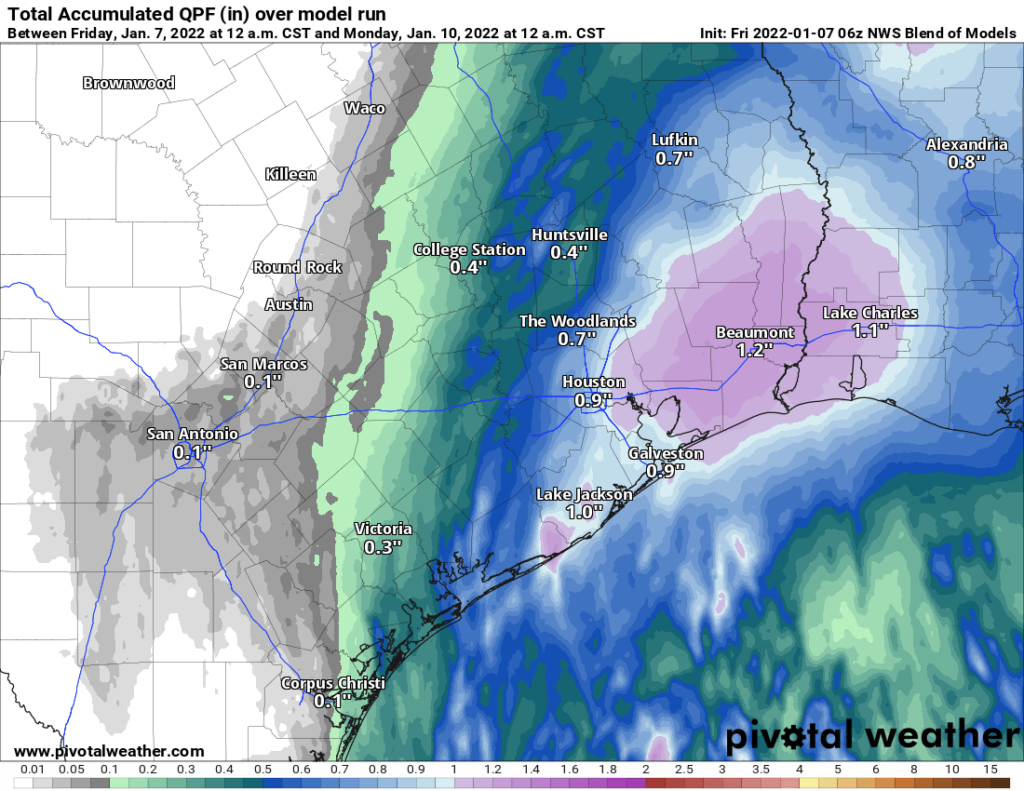 Once all is said and done, we should expect some places to see as much as 2 to 3 inches of rain or even a bit more, an average of about a half-inch to inch across the area, and, yes, certainly some folks that see less than that. It will be quite variable.
Sunday's high temperatures could approach 80 degrees depending on how exactly things play out. This would be our first shot at 80 since way back on New Year's Day.
Next week
Behind Sunday's front, look for a return to more "Houston-winter" type weather. Morning lows on Monday should be in the 40s and low-50s, warm to near 60, and then drop into the 40s and 30s on Monday night. Expect another cool day Tuesday with highs only in the 50s and nighttime temperatures back into the 40s again. We will likely see another warming trend with more moisture back in the picture later next week. With that comes rain chances, but details are uncertain this far out.
As Eric has alluded to this week, I too am fairly optimistic that the next front should pass before next Sunday's Houston Marathon. A lot can change between now and then, but if you're looking for minimal humidity, you are setup nicely right now. I would anticipate race temperatures mostly in the 40s based on the current model scenarios, but again, it's still a bit too soon to get too specific. Stay tuned!