One year ago, after a warm spell in early January, several readers asked if the 2020-2021 winter was effectively over for the Houston region. Our response at the time was, "It is decidedly not, but we are having quite mild conditions during what is normally the 'dead' of winter." Of course, a little more than one month later, temperatures plunged as part of the Valentine's deep freeze that prompted widespread, prolonged power outages, deaths, and significant home damage due to burst pipes.
A similar question might be asked this year, especially after record warmth in December, and a high temperature of 77 degrees on Wednesday. However, our answer remains the same. Houston can have pretty strong cold outbreaks through the middle of March, so "winter" will likely last for about two more months. With that said, the window for a terribly cold freeze, on par with what occurred last year, is closing. We probably have about six or seven weeks during which we really need to worry about seeing a really hard freeze. At present there are no indications of such happening.
Thursday
It will certainly feel like winter later today and tonight as a front moves through the region this morning. Drier air will move into the region from the northwest today, and winds will gust up to about 20 mph from the north-northwest. Although high temperatures will get into the 60s this afternoon beneath sunny skies, they'll drop off pretty quickly this evening, and bottom out at about 40 degrees overnight in Houston. A few outlying areas may see a light freeze.
Friday
Friday will be mostly sunny, and after a chilly start temperatures will warm to about 60 degrees. As winds shift to come from the east and then southeast, our air mass will modify pretty quickly. As a result we should see clouds returning by Friday evening, and temperatures won't drop much, if at all, during the overnight hours.
Saturday and Sunday
The weekend still looks wet, gray, and warm. The combination of moist air and a low pressure system will yield our first real rain chances since mid-December. The ingredients are there for showers and thunderstorms, and even some heavy rainfall. Right now, models are pegging area-wide accumulations at about 1 inch, but I could certainly see some areas picking up 2 to 3 inches from Saturday morning through Sunday. Rains will likely end by late Sunday morning, so there's a chance of some sunshine later in the day. Both days look warm, with highs in the mid- to upper-70s. A front will arrive on Sunday afternoon, or evening, to drive the moist air away.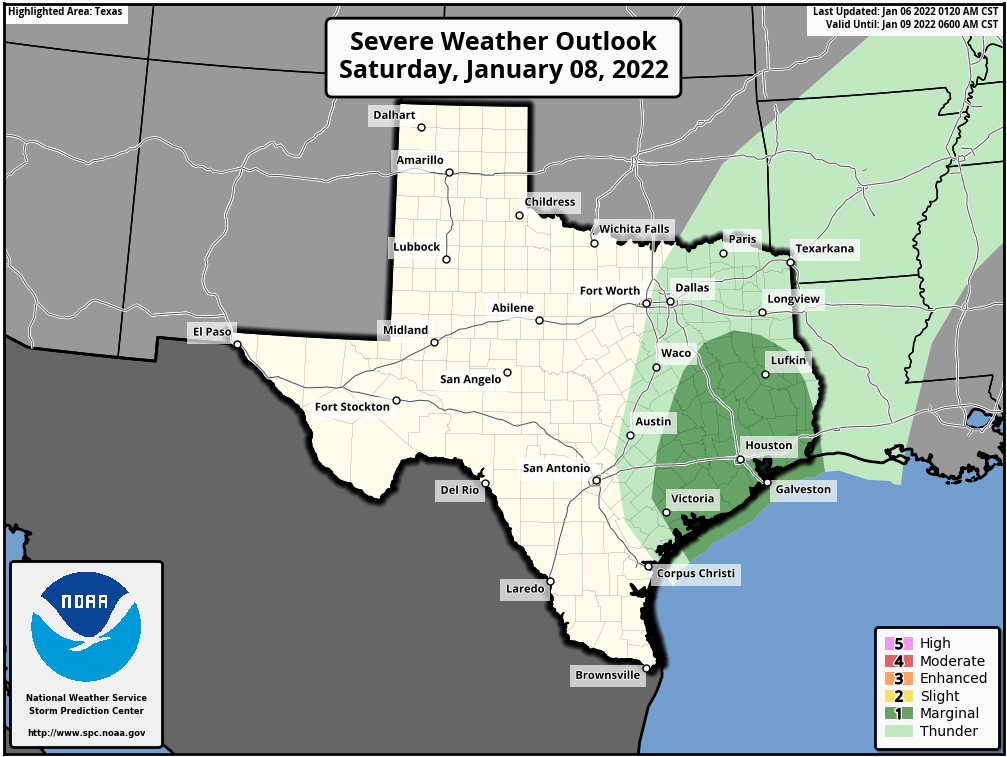 Next week
Accordingly, most of next week should see highs somewhere in the 60s, with overnight lows in the 40s and 50s. Some rain chances return mid-week, and some kind of front should arrive by Friday or Saturday to cool us down for the weekend. Start line temperatures for the Houston marathon still look pretty cold, probably about 40 degrees, give or take.