We managed the mid-80s yesterday with dew points sitting in the 50s all day, which is pretty comfortable. We get another day or two of that kind of weather before things go back to pre-summer and the details of the forecast get more complicated.
Today and Friday
Look for lots of sunshine and just a few clouds both today and tomorrow. A little low cloud cover or patchy fog is possible tomorrow morning southwest of Houston. We should manage mid-80s both afternoons and upper-50s to mid-60s tomorrow morning, similar to today. Galveston should bottom out near 70° tonight, however. No weather woes, but air quality may be poor. You may have seen the Ozone or Air Quality alerts on your phone or other sites you use for weather info. Having a lot of sunshine, warm temperatures, and light winds tends to help produce ground-level ozone in areas with pollution from heavy traffic and industry. Days like this in spring, summer, and early fall are not uncommon here unfortunately. Take it easy if you have any respiratory sensitivities.
Saturday
Humidity will still be low enough on Saturday morning to allow temperatures to drop perhaps into the low to mid-60s away from the bays and coast. But as Saturday progresses, the humidity will inch upward. Look for highs in the 80s, some sunshine and added clouds, and a very slight shower chance. Saturday night will see temperatures struggle to get below the low-70s, so "pre-summer" will be in full effect.
Mother's Day
The forecast gets conveniently complicated beginning on Sunday unfortunately. The setup for Sunday and much of next week is going to be contingent on the exact placement of a cold front that is destined to stall out somewhere between the Gulf Coast and Dallas. This will likely lead to at least a couple rounds of thunderstorms, with the first occurring Sunday afternoon. Models still have some disagreements on coverage, intensity, and the exact location of Sunday's storm chances, however.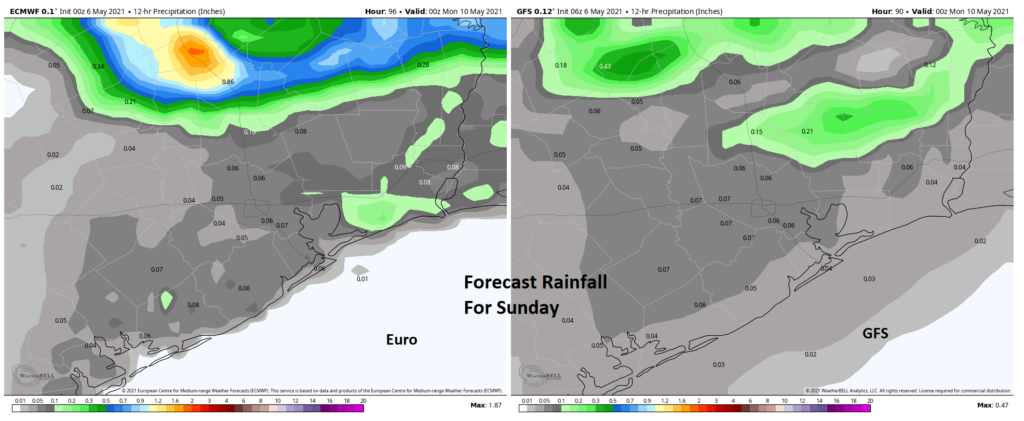 The odds of more widespread showers and storms on Mother's Day are still highest right now north of Houston. But there is little room for error in that current forecast, meaning any shift south will open the door to greater coverage of afternoon storms in and around Houston. The timing may allow for Mother's Day brunch plans to go off successfully (though there will likely be at least a few showers around late Sunday morning into early afternoon). But those of you with Mother's Day dinner plans, particularly outside, will want to keep tabs on the forecast.
Look for highs well into the 80s, though any thunderstorms will allow temperatures to briefly cool off.
Next week
As noted above, next week's forecast will be highly contingent on exactly where that cold front orients and the timing of any disturbances rippling along the front. Expect at least a chance of storms Monday through Wednesday, but trying to hone in on exact details on timing and intensity this far in advance is very difficult. We will know more as we get closer. Look for highs in the 80s to near 90 degrees at times, lows in the 70s.
Another front?
By later next week, the European ensemble, which runs slightly tweaked versions of the European model 51 different times is showing about a 60 to 70 percent chance that the front responsible for next week's unsettled start will slip through the region and offshore.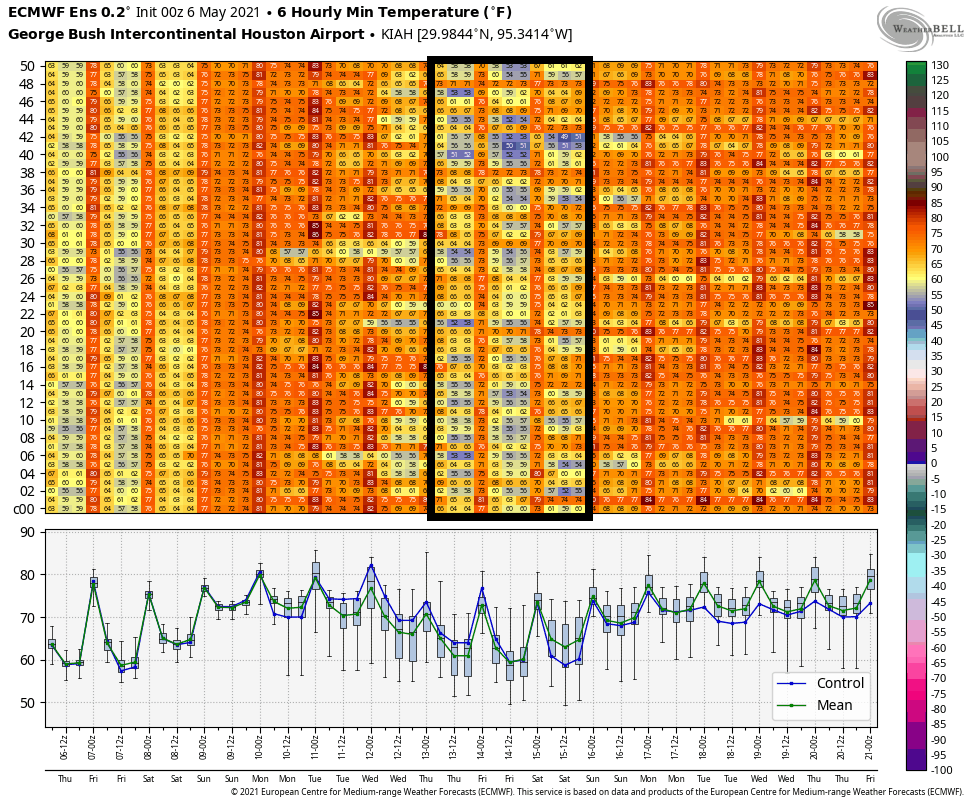 You can really only see this reflected in overnight lows, which noticeably drop back on the ensemble (boxed in above) beginning Thursday or Friday morning. It's worth noting that the GFS model is somewhat less enthusiastic about this possibility. So, there is still some uncertainty here, but if we do see the front clear us next week, look for highs to drop back a few degrees into the low to mid-80s and morning lows to go from the 70s early in the week to mid to upper-60s perhaps, with some risk for slightly cooler. We will see!