We've had some stellar May weather to close out this week, and today will be no exception. But look for changes this weekend, leading to some unsettled weather next week.
Drought update
So, some good news! The rains of last weekend did a number on drought across Texas. About 20 percent of the state exited drought completely, with about 45 percent remaining there today.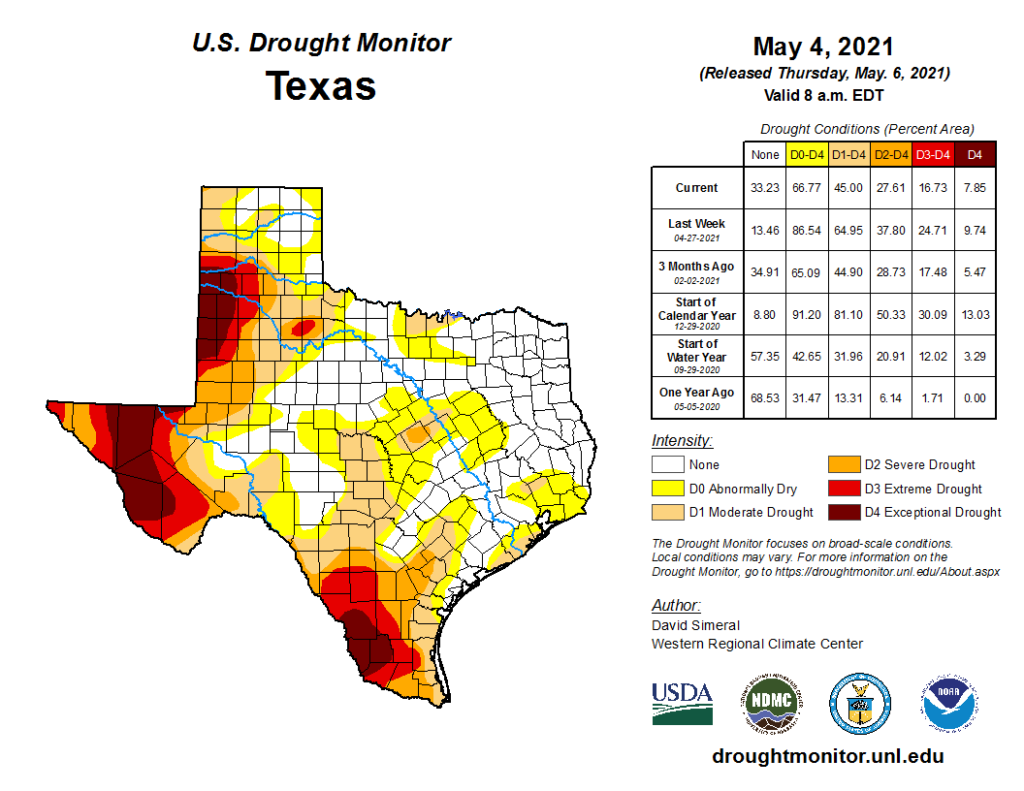 Locally, that change was even more stark. We went from about 45 percent of the region in drought last week to less than 10 percent now in drought.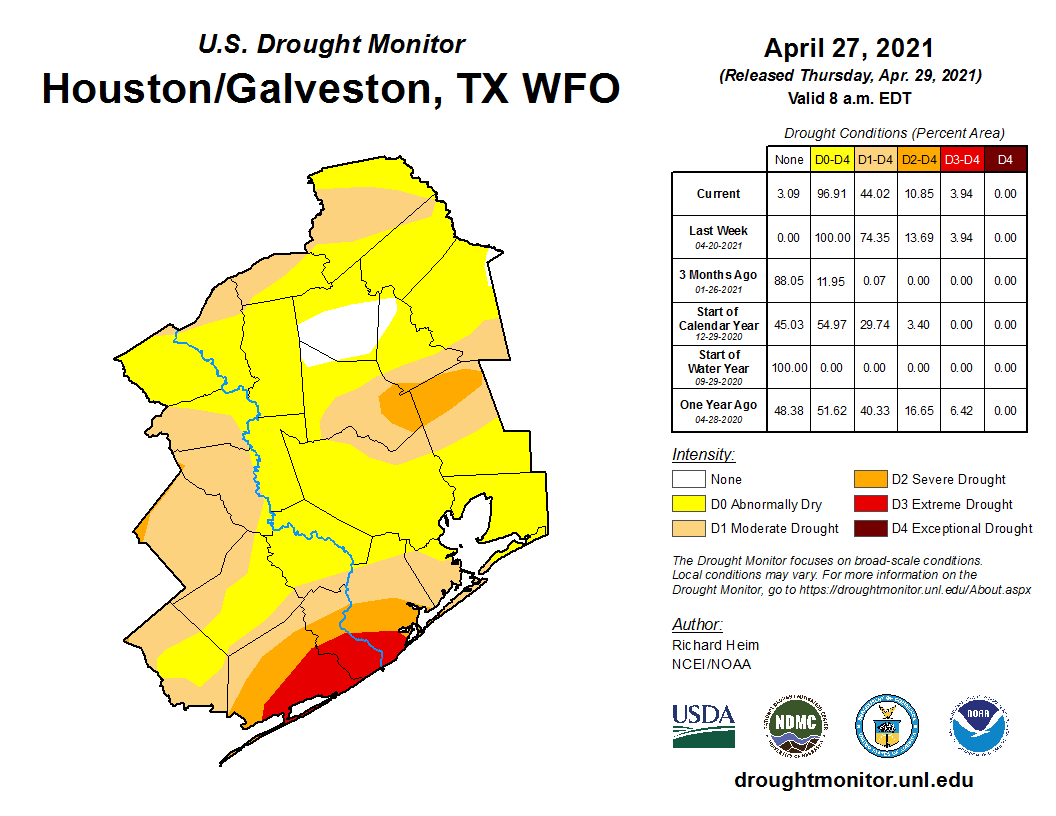 Overall, last weekend's rains did not completely end drought concerns, and there are still some localized pockets that didn't get quite a lot of rain last weekend. But it did put a dent in the drought. The hope is that next week's unsettled weather will do some more, although as of today it appears that the bulk of next week's rain may fall in areas that are not in serious need of rain. More on that below.
Today
Look for another winner today with sunshine and some passing high clouds. High temperatures will top off in the mid-80s, with perhaps a couple upper-80s peppered in there too. Humidity remains fairly low, though it will subtly increase later in the day.
Saturday
Tomorrow should still be a fairly decent day. Any outdoor plans should be fine, though I wouldn't exactly be shocked to see an isolated shower west of the city. We should have some fog in a few spots early, clearing to sun and clouds with morning lows in the 60s again warming into the mid-80s. Humidity will be noticeably higher tomorrow. A southerly breeze will also pick up a bit, so if you're out on the Gulf or Galveston Bay, be ready for some 20-25 mph wind gusts building as the day goes on.
Mother's Day
As noted in yesterday's post, the Sunday forecast is a trickier one. However, while we can't entirely rule out some more widespread, heavier showers, those seem more likely to stay comfortably north of the Houston area through late afternoon or evening, between Huntsville and Dallas. If you will be traveling to or from Dallas on Sunday, do keep that in mind, particularly in the afternoon or toward evening. But for the majority of our area: Clouds, some sun and just a slight shower chance. There may be some light rain, drizzle, or mist in the morning hours. It will end up warm to hot and humid, with morning lows in the 70s and highs in the mid to upper-80s, along with a steady southeast breeze. I think storm chances may increase a little bit on Sunday evening, but details are still a bit uncertain.
Monday through Wednesday
As we discussed yesterday as well, next week's forecast is dependent on the orientation of a stalled out cold front near or north of us, as well as the timing of any disturbances rippling by overhead. We know that there will probably be at least scattered thunderstorms next week. We know it may not rain each day and certainly not everywhere each day, but we know that the chances are probably better than 50 percent at times.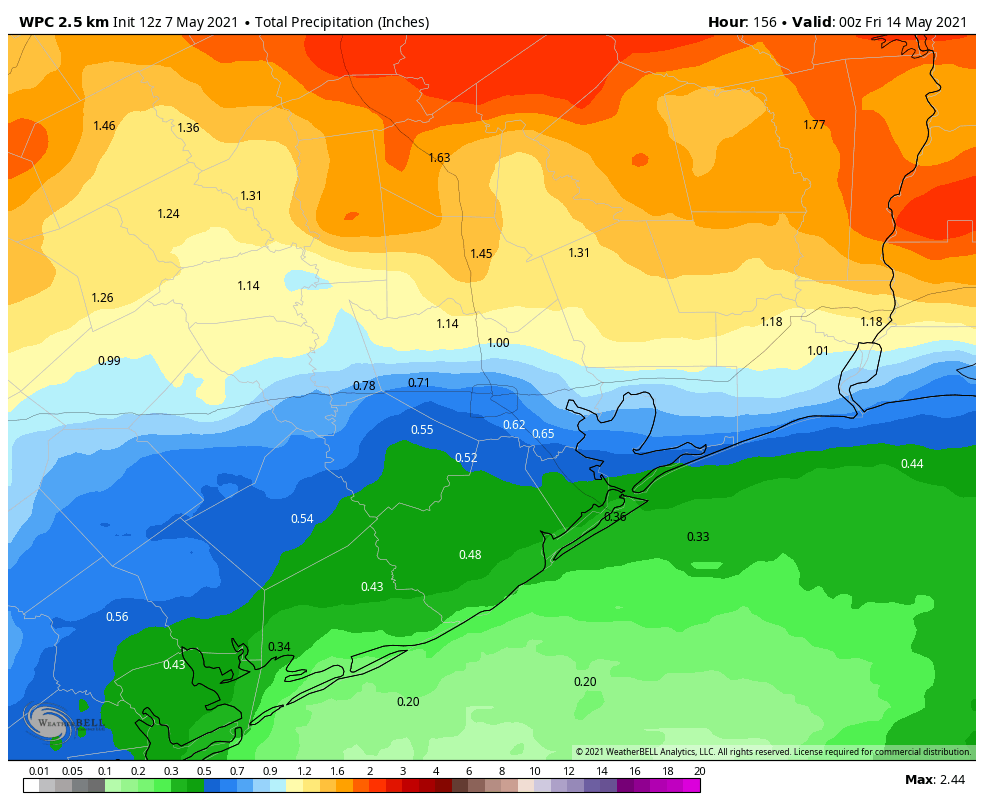 While we could see some locally heavy rain in this type of weather pattern, the most likely areas to see that will be north of I-10, because of course. On average, I would expect about a quarter to half-inch of rain south of I-10 Monday through Wednesday, a half-inch to inch or so in the city, and 1 to 3 inches north of the city. But amounts may vary considerably, with some places merely seeing a tenth of an inch or so and others perhaps seeing as much as 4 or 5 inches. Serious flooding is not expected to be a concern.
Late next week
That stalled out front is likely to push offshore late next week, ending rain chances and ushering in offshore winds to allow humidity to drop again for a couple days. Expect lows in the 60s and highs in the 80s, but those mornings will hopefully feel nice. "Hopefully" is carrying a lot of weight in that sentence, but most reliable model data does support lower humidity and slightly cooler temperatures late next week.
Unless it appears that the weather will change significantly this weekend, look for Eric to be back in the saddle for our next post on Monday morning!