Good morning! We're entering the last full week of our annual fundraiser, which is your one opportunity each year to support the work we do. Click here to buy merchandise or make a donation. Thank you for your help!
Temperatures have generally dropped into the upper 50s this morning in the wake of a cool front. A warmup will begin Wednesday, and we'll see a pair of warmer days in the middle of the week before another cooldown ahead of next weekend. Unfortunately the forecast for the Thanksgiving holiday still looks messy, with widespread showers likely due to an abundance of atmospheric moisture. Read on for full details.
Monday
Skies will be partly sunny today as winds blowing at about 10 mph continue to bring in drier northerly air. This will cap highs at about 70 degrees and set the stage for a chilly night. lows should drop into the 40s for most of the region except for the urban core of Houston and coastal areas.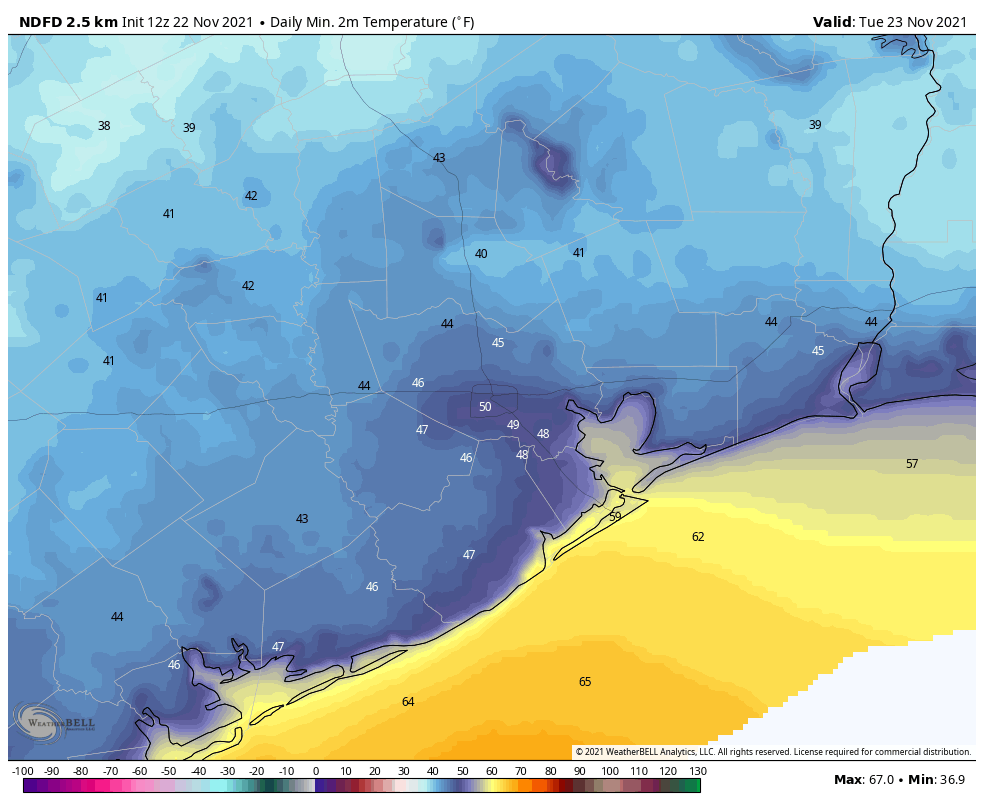 Tuesday
This will be a fine, fine day with highs of around 70 degrees, sunny skies, and light winds turning southerly. Temperatures on Tuesday night will be about 10 degrees warmer due to the onshore flow resuming, but there will still be a slight chill in the air.
Wednesday
Conditions will be warmer and somewhat muggier on Wednesday with an entrenched southerly flow. Even so, highs will likely only top out in the upper 70s. (If the high temperature does reach 80 degrees, I think it will be our region's last 80-degree day for awhile). Although we'll see more clouds on Wednesday, I think rains should hold off until at least late Wednesday night. Overnight lows will only drop into the upper 60s. If you're traveling in advance of the Thanksgiving holiday, it looks like there will be few problem spots across the country.
Thanksgiving Day
There's going to be a grand total of one messy day this week, weather-wise, and wouldn't you know it's going to be on the Thanksgiving holiday. Temperatures will start off warm, and will likely rise into the mid-70s. Right now there are still some questions about timing, but it appears likely that the majority of our region will see 1 to 2 inches of rainfall between sunrise and sunset on Thanksgiving, with showers and thunderstorms progressing from northwest to southeast across Houston. The majority of the rain should be offshore by Thursday evening, with colder and drier air moving in behind. Lows on Thursday night should drop to around 50 degrees, so bring a sweater if you're going Black Friday shopping.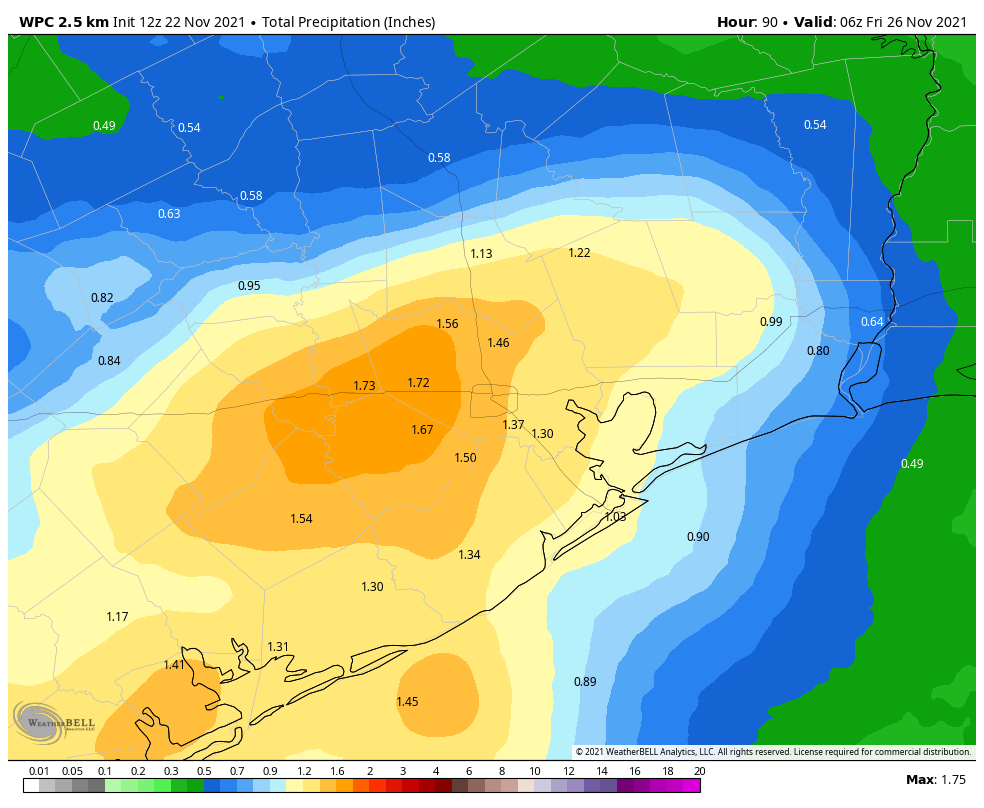 Friday, Saturday, and Sunday
Friday should be mostly sunny and cooler, with highs in the 60s, and Friday night should be chilly, in the 40s area-wide. Unfortunately we're not entirely sure what to expect this weekend. Highs probably will be in the 60s, but there is the potential for an atmospheric disturbance or two to rotate through. For now I'm rolling with a 30 percent chance of rain each day, but we'll have to fine-tune that as we go along.
If you're interested, Maria and I will be discussing the Thanksgiving weather in a little bit greater depth this morning at 9 am in a Facebook live.