Though this weekend will be a little more mixed than the previous three, it will likely go into the record books as a win when all is said and done. Our roller coaster of cold fronts will continue into next week, with Thanksgiving still a little uncertain. More on that below.
Today & Saturday
Chilly temperatures are back this morning as the drier, cooler air settles in overhead.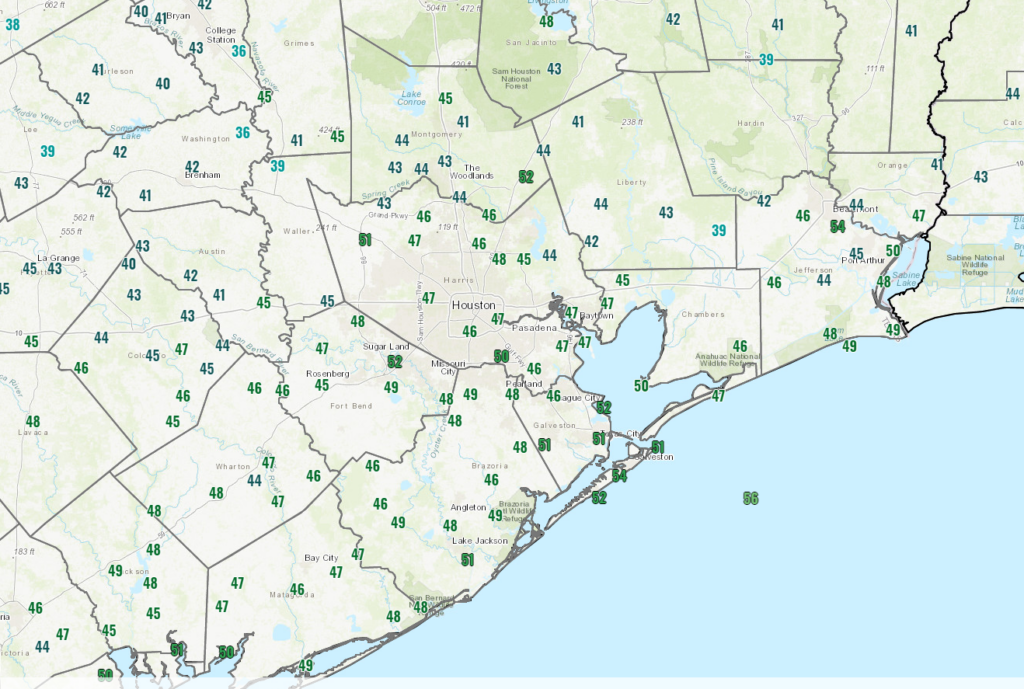 Look for a lovely day today with sunshine and highs in the 60s. Tomorrow will begin a couple degrees milder than today, but still cool with 40s and 50s for most folks. Sunshine will dominate the day, with temperatures bouncing back into the lower 70s across the area.
Sunday
Our winds shift back onshore Sunday out ahead of the next front. We'll see humidity increase a bit, along with clouds and temperatures. We should manage to see 50s and 60s in the morning warming well into the 70s in the afternoon. Some 80 degree weather is possible Sunday with enough sunshine. It won't be oppressively humid by any means, but you'll certainly notice the difference from Saturday.
The cold front itself will likely pass the region late in the afternoon or evening. Much like yesterday's front, it does look to lack a little punch, so any showers or storms would likely be isolated at worst. Still, if you have some late afternoon outdoor plans on Sunday just be aware that it could rain for a brief time.
Monday & Tuesday
Behind Sunday's front, we'll get to experience much of the same weather we've had behind other fronts this month: Look for sunshine on Monday and Tuesday. The air mass behind this front looks just a little colder than the current one, so I would expect more low to mid-40s in the area, with a few 30s peppered in for outlying, rural spots or the usual chilly spots like Conroe, particularly on Tuesday morning. Daytime highs will be stuck in the 60s.
Wednesday
For those traveling Wednesday, there should be no serious issues across Texas or Louisiana. For those flying out Wednesday, the only real issues might be in the Northeast, as gusty winds linger behind a coastal storm up that way. So Boston, NYC, and Philly might see some delays. But the weather will be clearing out up there on Wednesday. A weak system in the Rockies may produce some generally light higher elevation snow.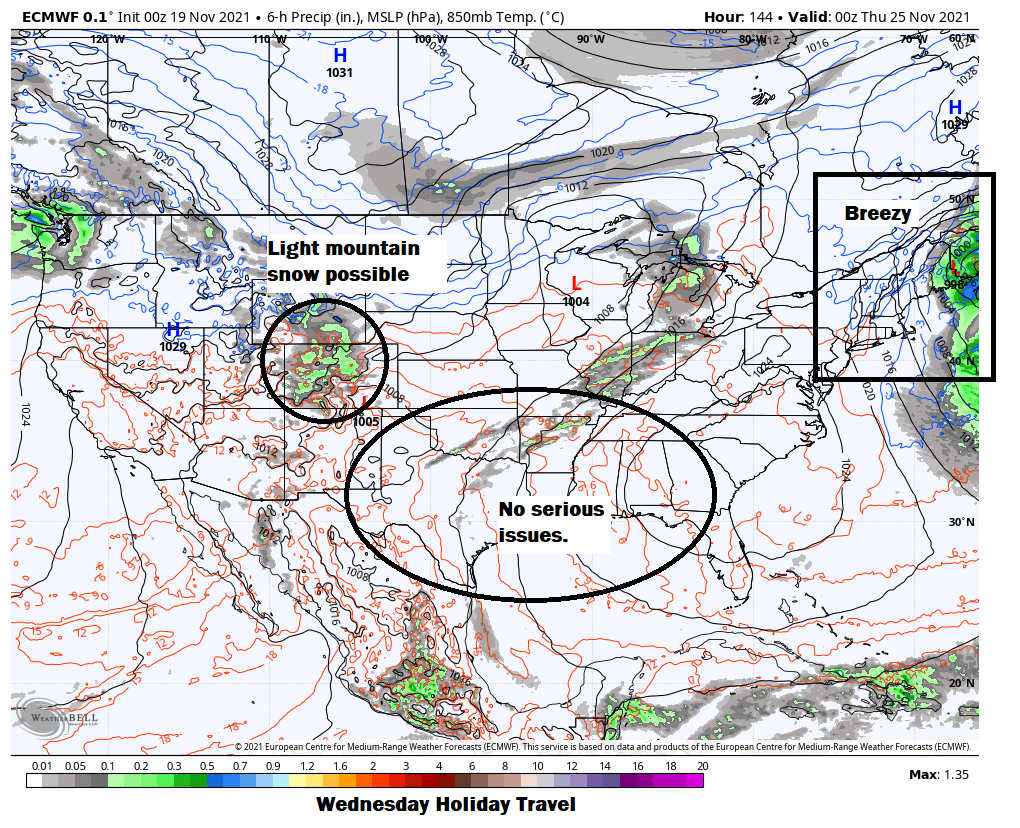 For Houston, it looks fine with more sun, a few more clouds and warmer weather. Highs will be in the 70s after morning lows in the 50s.
Thanksgiving Day & Friday
The weather picture gets more interesting on Thanksgiving and Friday. It's still early to have high confidence in any specifics, but as of right now I think the first half of Thanksgiving will be fine. So if you're gearing up for the Turkey Trot, the weather itself should be fine. For now. It will be a bit warm and muggy though with temperatures in the 60s and building humidity.
From there, the picture muddies. A relatively strong storm is expected to develop in Texas and push a cold front through either Thursday night or Friday morning. It's far too early to get too cute with details, but this does have the potential to produce some strong storms, locally heavy rain, gusty winds, followed by much cooler weather into next weekend. No freezes or anything like that, but noticeably colder. We should get more clarity on this by Monday. But for those of you traveling across Texas on Thursday, be aware that this may factor into your plans.
Fundraiser
I just want to echo Eric's sentiment in thanking you all for your support during our annual fundraiser. You have two weeks left to get your order in for shirts, hats, umbrellas, or tumblers, or just make a contribution to the site! We can't thank you enough.