Good morning. After a chilly start this morning, with temperatures in the upper 40s across much of the region, we'll see a warming trend over the next two days. Then a cold front on Thanksgiving will bring rain and sharply dropping temperatures Thursday night. This next front should then linger longer, with cooler nights sticking around for awhile.
Tuesday
Here's the most important thing to know about the weather today: The Harry Styles concert is a go. This concert was postponed once, during 2020, due to the pandemic. Then it was rescheduled for September 13, but had to be postponed again as that was the night Hurricane Nicholas made landfall. (It's difficult for me to believe, but Nicholas and its winds were only a little more than two month ago). Well, Harry is back, and the weather could not be nicer.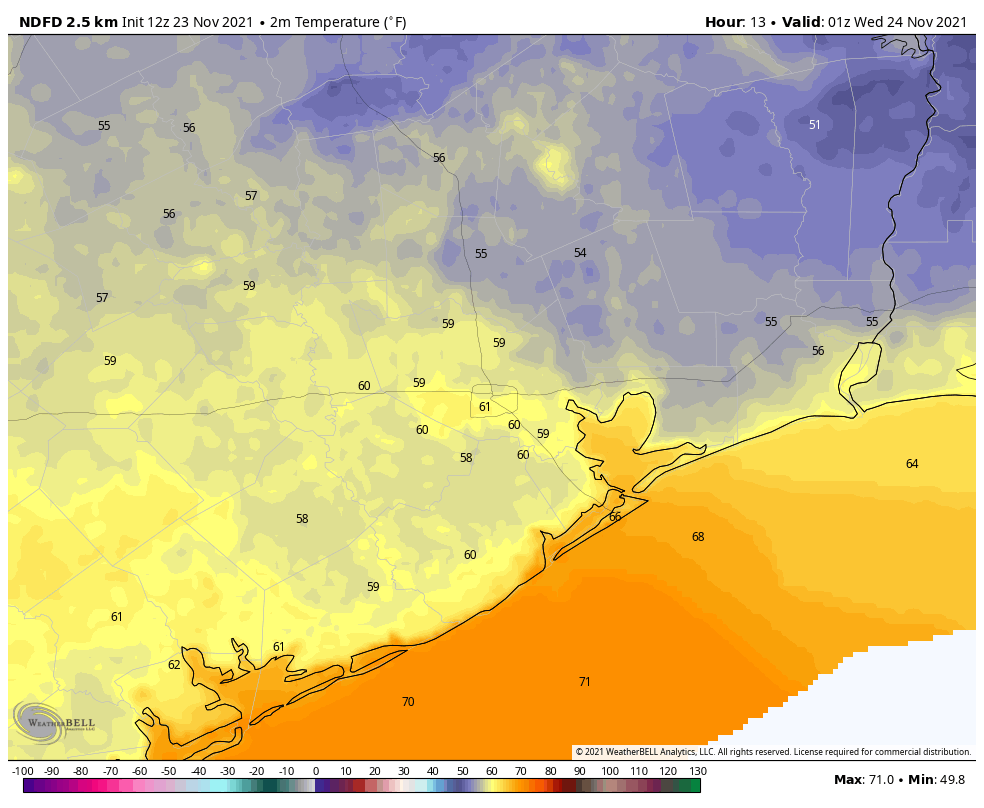 High temperatures will reach about 70 degrees today beneath sunny skies, with light winds out of the southeast. With the return of this onshore flow, temperatures will be more mild tonight, dropping into the upper 50s. There is no chance of rain.
Wednesday
Temperatures will continue to warm on Wednesday, with highs likely pushing into the upper 70s. As southeasterly winds persist, moisture levels will rise, and we'll see partly cloudy skies. Overnight lows on Wednesday will only drop into the mid- to upper-60s for most. Some light showers, generally north and west of Houston, will be possible after midnight.
Thanksgiving
The holiday will dawn warm and muggy, and it seems like some fog may be possible as dewpoints match temperatures in the morning. There are still questions about timing, but my best guess right now is that a fairly organized line of storms sweeps through the area from northwest to southeast, reaching College Station around sunrise, central Houston by or before noon, and pushing off the coast some time during the afternoon. These showers, thunderstorms, and winds could briefly be intense as these storms pass through, bringing accumulations of 1 to 2 inches. You'll want to have some cover as they pass.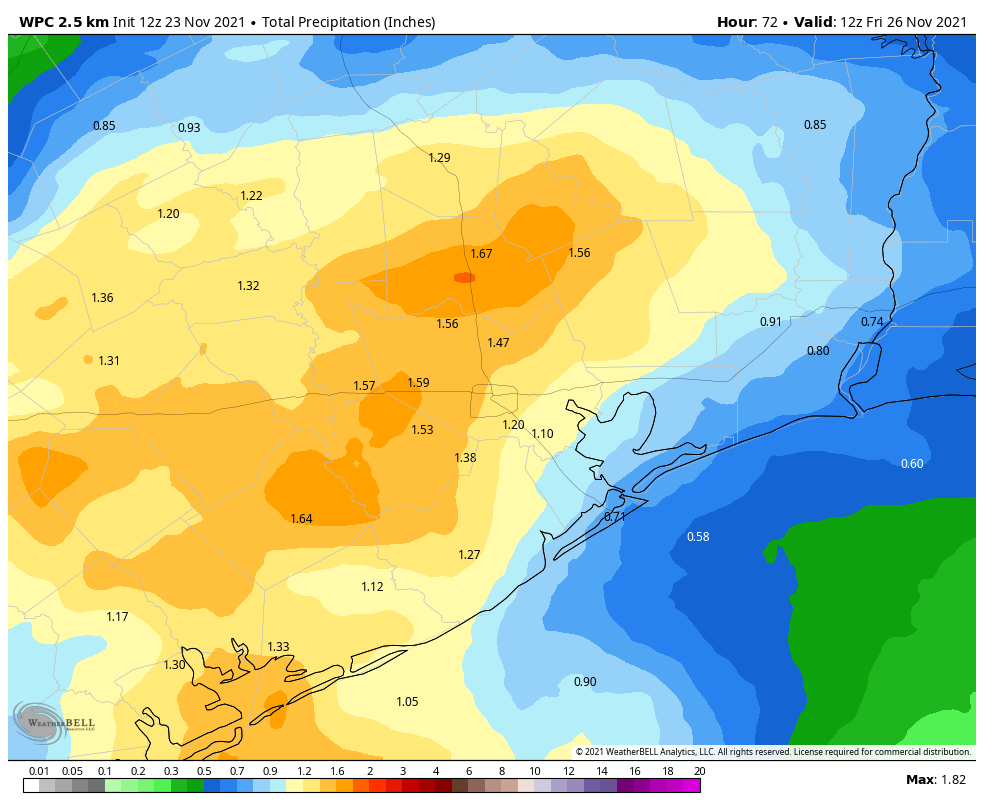 Drier air will blow in pretty quickly after the storms move through, with gusts out of the north likely reaching 20 mph or higher. Lows Thursday night will drop into the upper 40s for all but the urban core of Houston and coastal areas.
Friday
This will be a chilly day, with partly to mostly sunny skies, and highs of around 60 degrees. Temperatures Friday night should be the coldest of the week, dropping into the upper 30s for inland areas such as parts of Montgomery County, with 40s across much of the remainder of the area.
Saturday, Sunday, and beyond
The forecast for the weekend is now coming into better focus. Saturday should be cloudy, with highs of around 60 degrees. A passing disturbance may bring some rainfall later on Saturday or Saturday night—the only good thing about this is that it will give me a chance to write "cold November rain" as lows drop into the 40s. Rain chances probably will decrease on Sunday, with partly sunny skies and highs in the upper 60s.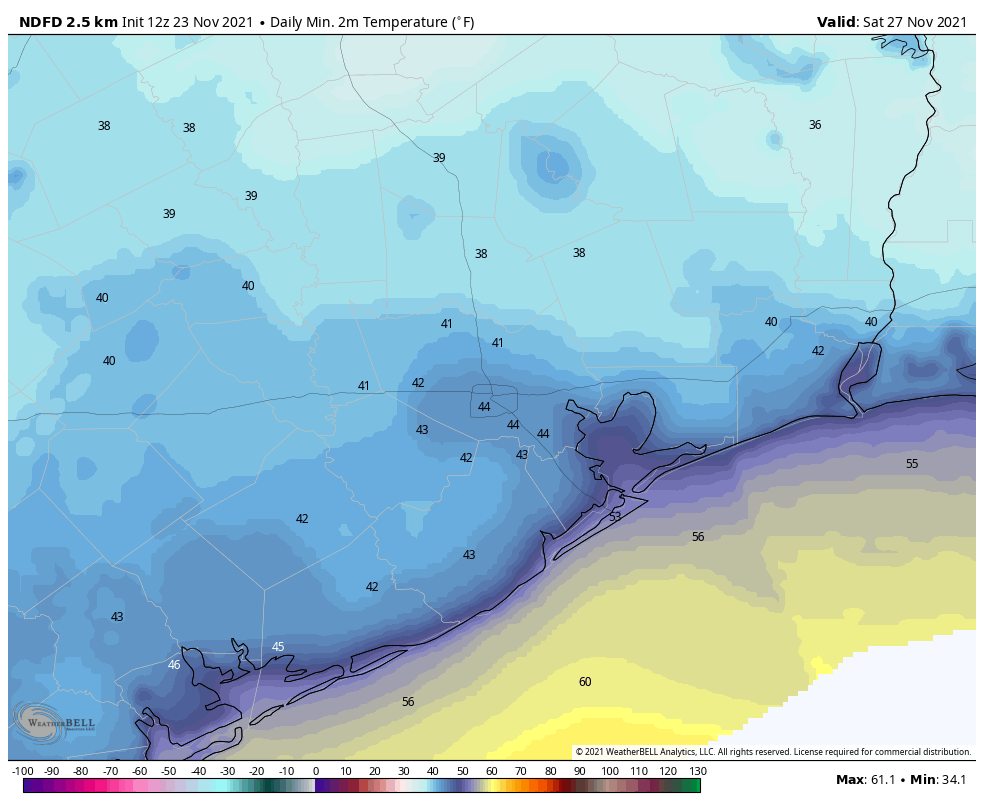 Most of next week should see highs around 70 degrees, with lows in the 50s. Rain chances remain low until the latter half of the week. Fall is going to stick around for awhile with this front.
Fundraiser
We're in the home stretch of our annual fundraiser, but there's still a few more days to stock up on merchandise or make a donation! Thank you so much.