Good morning. It's rather warm across the region, with much of the city experiencing lows only in the 70s. Our weather over the next several days will remain mostly warm and mostly humid, with a few decent chances for rain. In case you're wondering, the temperatures we've experienced this week are about 10 degrees above normal for early April, when we're typically in the upper 70s during the daytime, and 50s at night.
Wednesday
Partly to mostly cloudy skies today will limit high temperatures today to the low 80s. The "excitement" will come later in the day as a dying front sags into Houston, and peters out over the region. Instability associated with this front may provide the impetus for some showers, especially north and northeast of Houston. The extent of rainfall, however, will depend on the strength of a capping inversion. For now I think this cap will limit rising air, and showers fairly scattered this evening as a result. Lows Wednesday night should range from the low 60s for areas far inland the low 70s along the coast.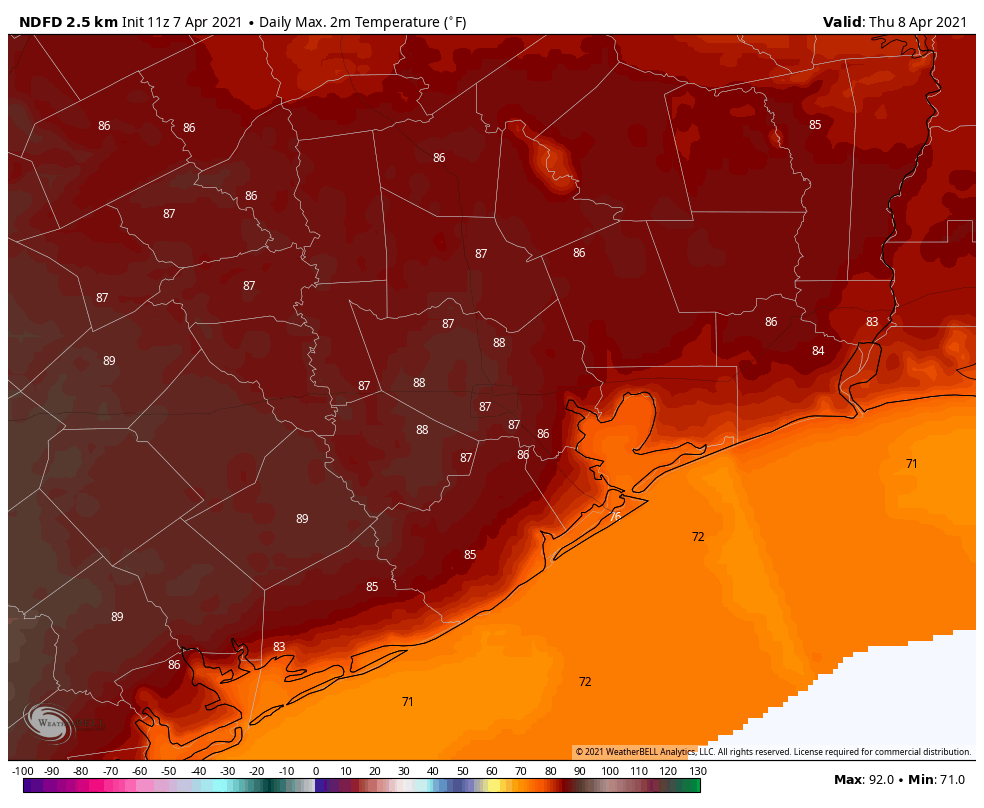 Thursday
Skies should be sunnier on Thursday, and with a more southwesterly flow we can expect an influx of warmer air that should allow high temperatures to rise into the upper-80s for much of the region away from the coast, with highs of around 90 degrees possible for Sugar Land, Katy, and other areas southwest and west of Houston. Lows Thursday night will drop to around 70 degrees.
Friday
Another warm day, with highs again approaching 90 degrees, despite the presence of more clouds. The region's next chance for rain showers or storms will come Friday afternoon into the overnight hours. This will again be a battle between instability and other factors favoring rain showers, and a capping inversion. Areas north of Interstate 10 have a decent chance of picking up 0.25 to 0.5 inch of rain, along with some thunderstorms, with lesser totals likely near the coast. A front will drag into the area Friday night, but the drier air will lag behind.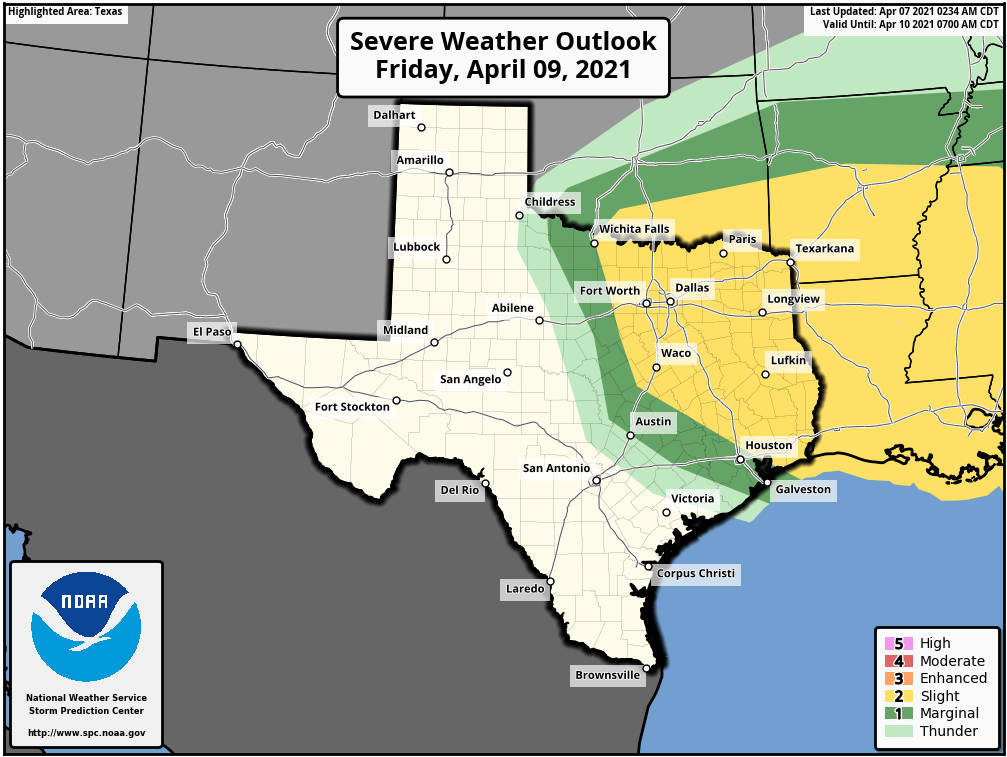 Saturday and Sunday
As drier air moves into the region on Saturday, I'm cautiously optimistic about the weekend forecast, with the most probable outcome partly sunny skies and highs in the low- to mid-80s. Overnight lows may drop into the 60s, but it's not going to be particularly chilly. Still, the lower dewpoints will be nice.
Next week
Another front, possibly a stronger one, will arrive by Monday or Tuesday, and this has a chance of bringing us a sustained stretch of slightly cooler days and nights.