Good morning. A weak front limped into Houston overnight, and has brought temperatures down a smidge. Paradoxically, this front will actually help make conditions warmer today, because of slightly drier air and clear skies. Some areas may approach or even reach 90 degrees. Looking further ahead, another front on Friday should set us up for a nice weekend.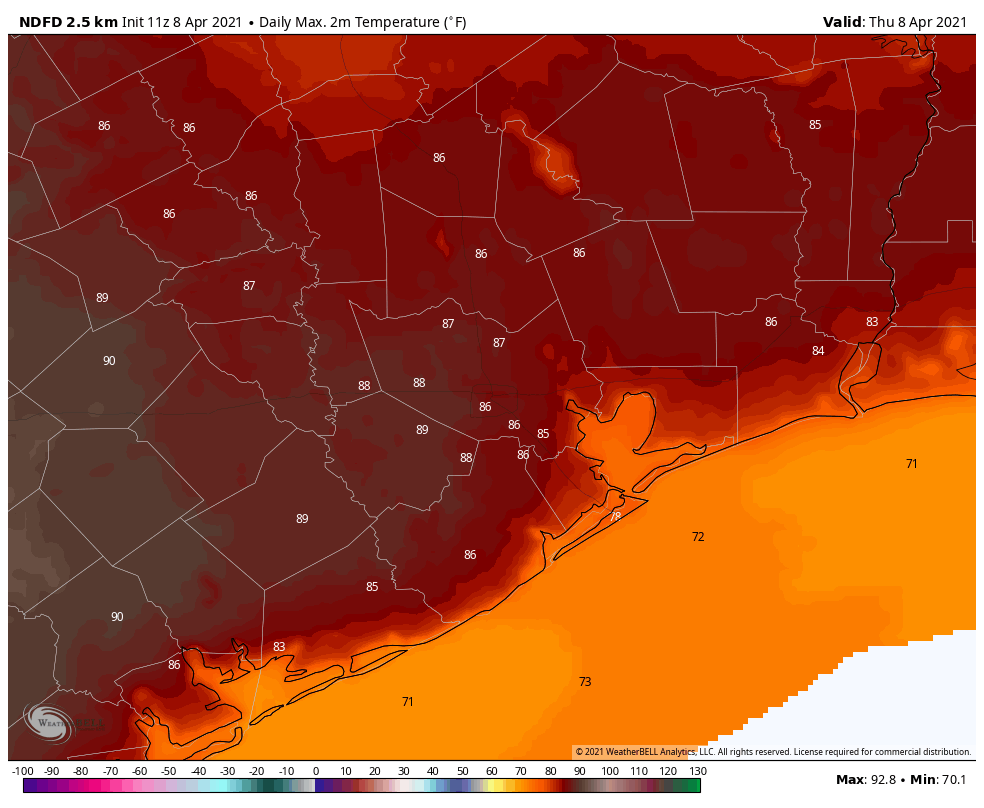 Thursday
Winds are generally calm this morning, but they will soon return from the south as the front washes out. Skies will be clear, and this will set us up for ideal warming conditions, with highs ranging from the lower 80s along the coast, upper 80s inland, and possibly some low 90s southwest of Houston. Because the onshore flow will return today, overnight lows will be warm, in the upper 60s, with increasing clouds.
Friday
This will be another warm day, with highs in the mid- to upper-80s, but with partly to mostly cloudy skies. Of concern to the eastern half of Texas and Louisiana will be dynamics in the upper atmosphere that will induce rising air, and therefore the possibility of showers and thunderstorms. The better chances for severe weather are north of Houston, as shown in NOAA's warning map below. But if a capping inversion over the Houston region breaks, we could see some thunderstorms break out over the city. For now, the best bet is scattered light showers, but confidence is low. Lows Friday night will be warm again.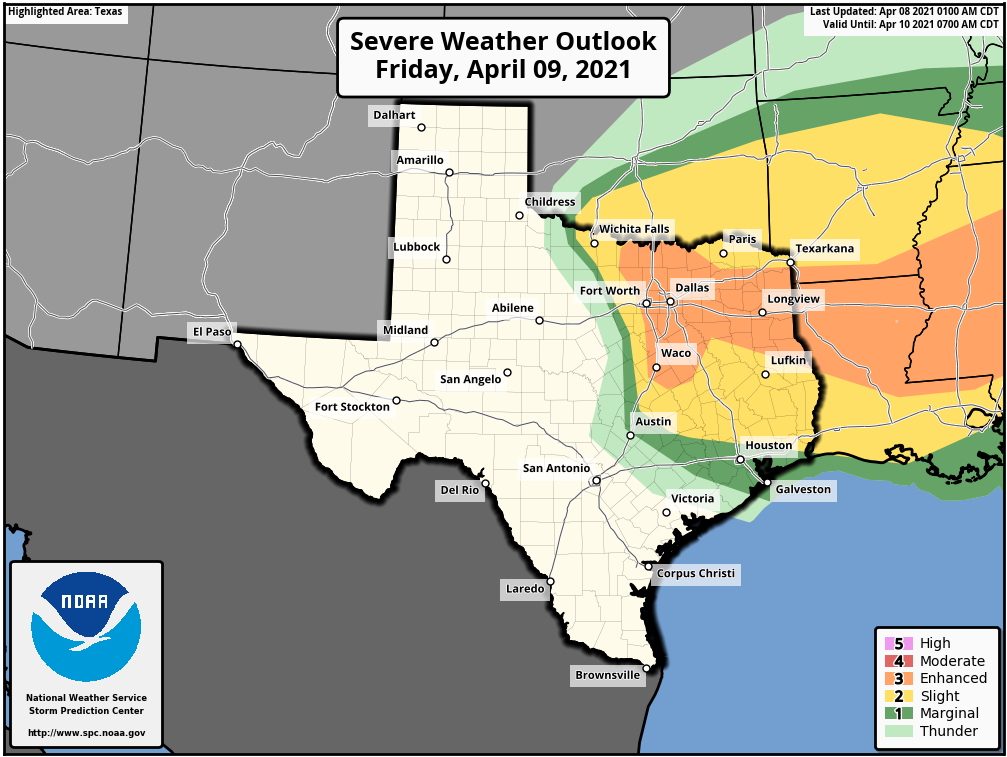 Saturday
A front should push into Houston between sunrise and noon on Saturday, with a final spurt of rain chances ending at that time. Afterward we should see clearing skies, somewhat drier air, and highs of around 80 degrees. Lows Saturday night should drop into the 50s for inland area, with lower 60s closer to the coast.
Sunday
The second half of the weekend should bring plenty of sunshine, with highs in the mid-80s. Humidity will be fairly low, by Houston standards, but the onshore flow should return in time to make for at least a slightly warmer Sunday night.
Next week
The outlook for next week is somewhat uncertain, but the most likely scenario is an ongoing series of weak to moderate fronts that keep temperatures in the 70s and 80s, with lows generally in the 60s. Hopefully one of these fronts bring us better rain chances—we'll discuss our emerging drought in tomorrow's post—as we sure could use a couple of inches of rainfall.