Good morning, Houston! We've got a couple of chances for showers and few storms this week, but mostly we're going to see warm days and moderate nights. The weekend forecast remains somewhat in flux.
Tuesday
Temperatures are fairly warm this morning, about 70 degrees for much of the area, as a southerly flow has established itself over the area. With a mix of sunshine and clouds today, highs will climb to around 80 degrees, and winds will become more pronounced out of the south, with gusts up to about 25 mph. With daytime heating we may see a few brief, very scattered showers during the afternoon hours. Conditions will remain breezy tonight, with lows only dropping to the upper 60s or 70 degrees again.
Wednesday
This day will start out a lot like Tuesday, but it now appears likely that a cool front will in fact make it most of the way through Houston, if not all the way to the coast. High temperatures on Wednesday should still make it into the low 80s, but rain chances will increase during the late afternoon and evening hours as the front approaches the area. Perhaps about 40 percent of the region will see anything from a sprinkle to a brief thunderstorm. Conditions for storms are slightly better for areas east of Interstate 45, as can be seen on NOAA's severe weather outlook for Wednesday and Wednesday night. A brief influx of drier air should drop lows on Wednesday night into the mid-60s.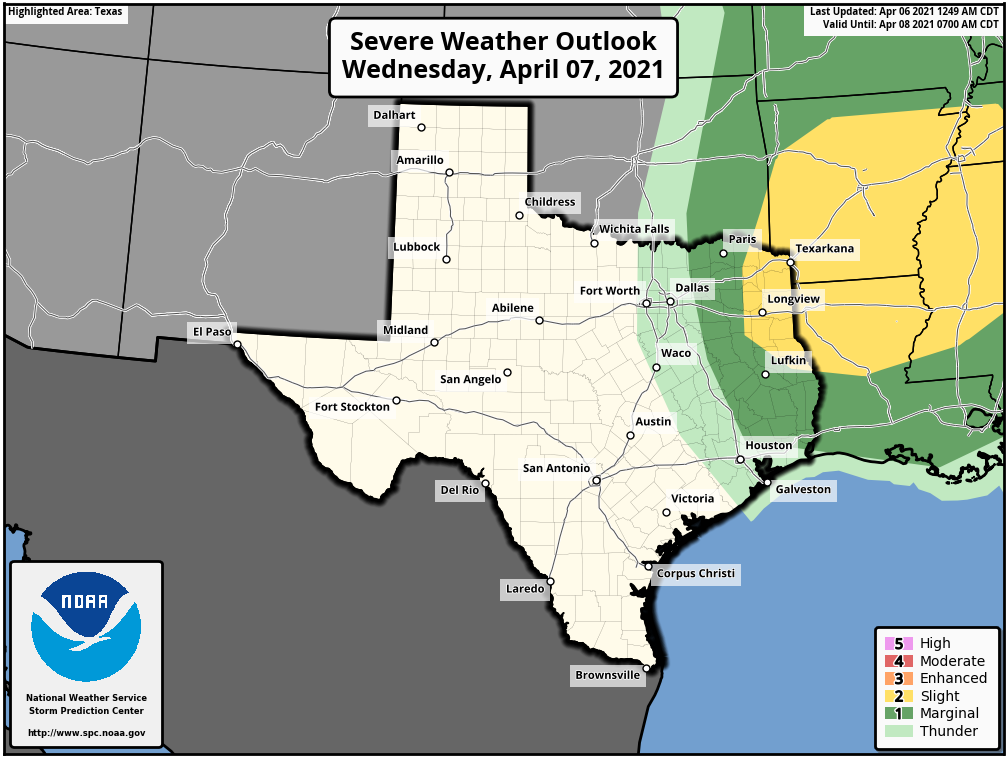 Thursday
The drier air will begin to recede on Thursday, but enough of it should remain to allow for warmer temperatures inland, with highs in the mid- to upper-80s possible for areas west of downtown Houston. Skies will be partly sunny and rain chances nil. Lows Thursday night will probably only fall to around 70 for most as dewpoints rise.
Friday
During the daytime, Friday will be a lot like Thursday. However, at some point during the afternoon or evening hours, a front will push into the area. There are hints within the models of more inclement weather with this front, including the possibility of stronger thunderstorms or hail. But it's not clear to me all of the ingredients necessary for this will come together, so we'll have to wait and see with this forecast.
Saturday and Sunday
We still have questions about the weekend, as well, with the potential for another front on Sunday. But for now the best guess is highs somewhere in the low 80s, with partly sunny skies, and nights somewhere in the 60s. Rain chances are low, but not zero. Details very, very much to come.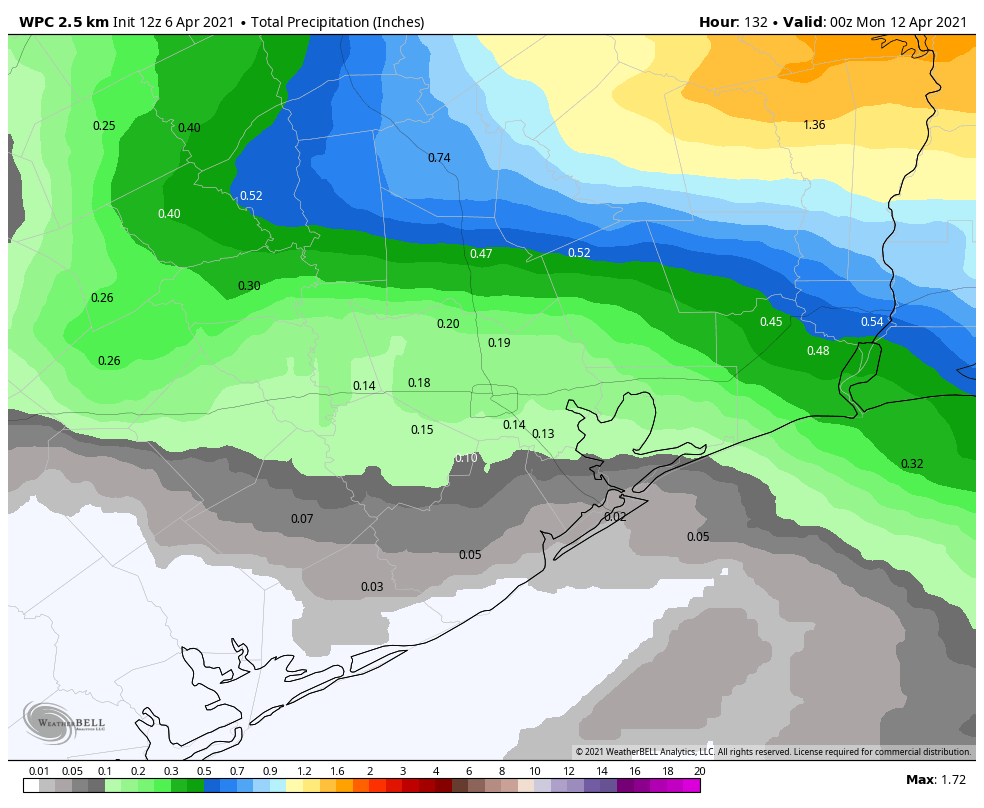 Next week
Our weather next week will depend upon whether a somewhat stronger front makes it through Houston by Monday or so. If this is the case much of next week may feel more spring-like, with highs in the 70s and 80s, and lows in the 50s and low 60s.