We'll have one more day of sunny, really nice weather before a bit of a hiccup heading into the weekend.
Thursday
Houston will have another great day today, with high temperatures climbing into the mid-60s after a cool start in the morning. With sunny skies and light winds, this afternoon and evening should be a real winner for any outdoor activities. Later today the winds will make a subtle shift from northeast to southeast, and this will start us on a warming trend—especially during the overnight hours—into the weekend. Lows Thursday night will probably be 10 to 15 degrees warmer than the night before.
Friday and Saturday
The forecast turns a bit messier as Houston heads toward the weekend. Moisture will stream inland on Friday, and later Friday night an atmospheric disturbance will move up the coast. At this time the best chances for rainfall will occur near the coast, where perhaps there is a 70 percent chance of rain on Friday night through Saturday, with a lesser chance for inland areas. As the onshore flow picks up there could be a brief spike in moisture levels on Saturday morning that will fuel some isolated, heavy rain showers, but I think most of the area will see rain measurements in the tenths of inches.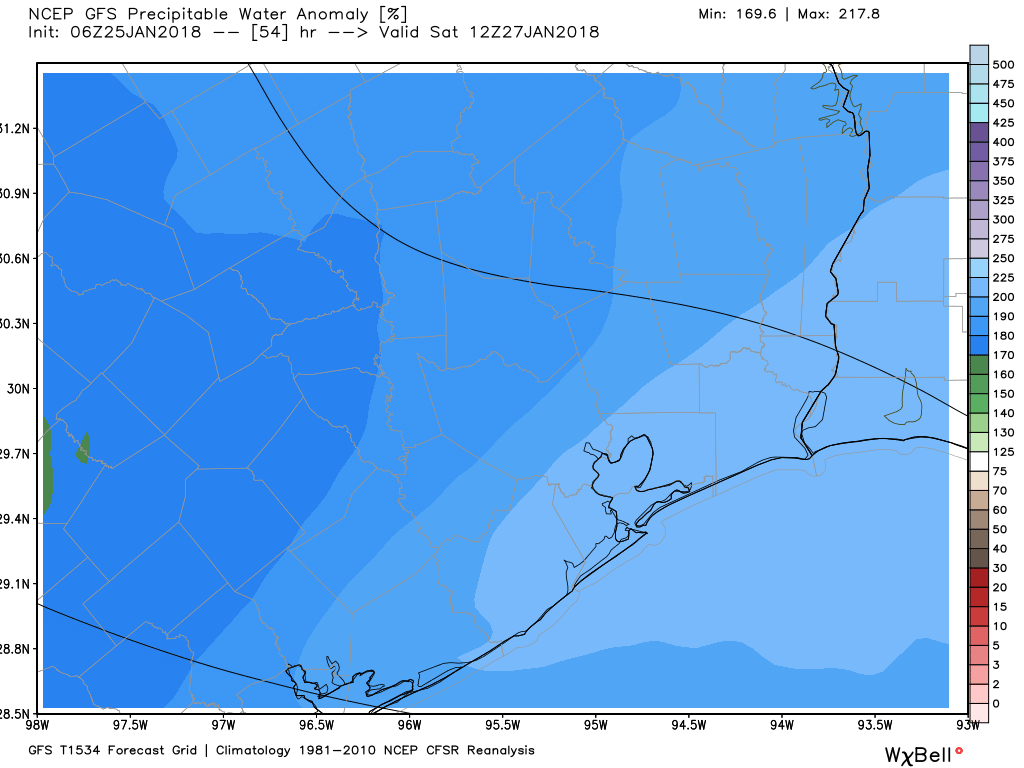 Highs will be in the upper 60s on both days under mostly cloudy skies. A cold front will push through later on Saturday, or during the overnight hours, which will bring an end to the rain chances.
Sunday and beyond
After the front, Houston will dry out and see some more pretty great winter-time weather. Generally, for the first half of next week, the region should see highs in the mid-60s, with nights in the upper 40s to low 50s. So it will be chilly—but not cold.
Some rain chances return by Thursday or Friday of next week, when the region's next front seems likely to move through. At this time I don't expect a freeze for most parts of Houston, but we'll be watching it for you.