A lot of stuff to get to today. We'll go through the forecast first, and then jump into the National Hurricane Center's final report on Hurricane Harvey, released yesterday.
Today & Saturday
We're thinking today will be a rather uneventful weather day. We should see a good deal of cloud cover around, with limited (if any) sunshine. Temperatures are starting the day much warmer (around 50° in most spots, roughly 15° milder than yesterday at this time), and they'll likely finish warmer than yesterday too. We should manage about mid-60s this afternoon.
In terms of rain, the bulk of today should be dry, but there could be some sprinkles or showers.
Things do change tonight as onshore flow continues, driving in ample moisture. A weak disturbance passes offshore, and this combination will lead to increasing rain chances as the night goes on. The best chance for the most shower activity will be south and east of US-59. The general rule of thumb will be that the closer to the coast you get, the better rain chances will be. Saturday will see shower chances continue in the region, but I think they'll be highest both in the early morning and later afternoon. And once again, they'll be highest south and east of Houston. Still, have an umbrella handy Saturday. It will be warm again, with highs near 70 degrees.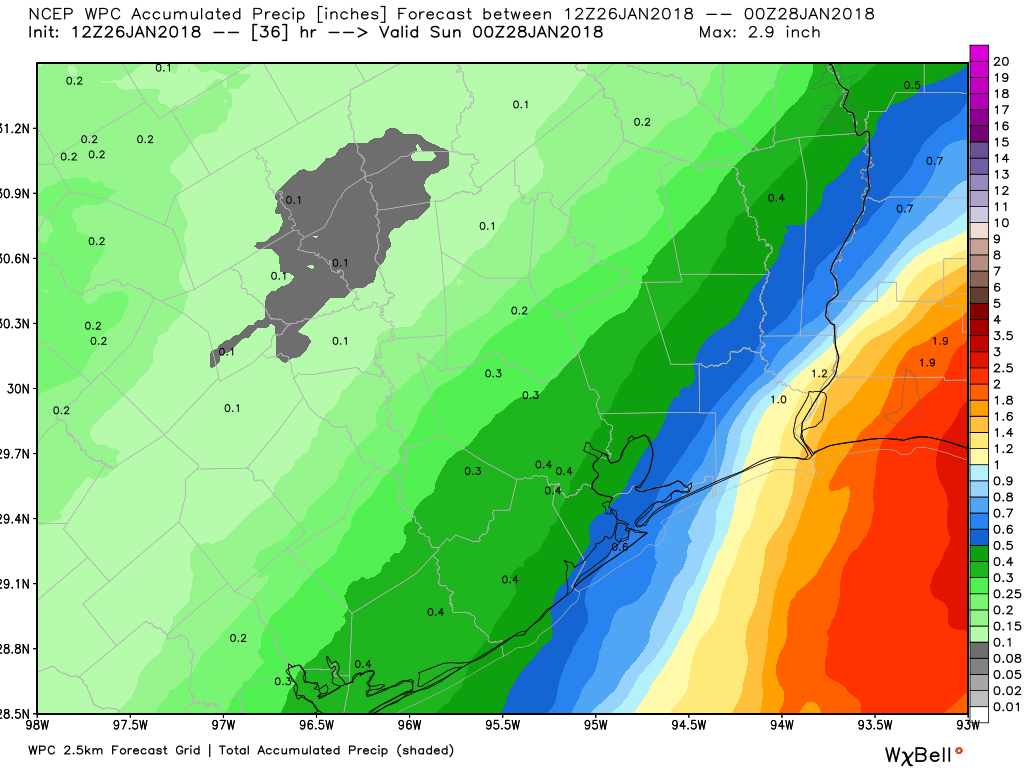 Generally, we're only expecting about a half inch or less in and around Houston. Some coastal locations could see upwards of three-quarters of an inch or so of rain. Higher amounts will be possible as you move toward Beaumont-Port Arthur and Lake Charles. Also, watch for some patchy dense fog along the coast (or even in some inland spots) later today through Saturday night.
Sunday into next week
A cold front will pass through the area Saturday night without much punch. You'll notice it more Sunday with lowering humidity and gradually decreasing clouds. Expect temperatures to top off near 65° or so on Sunday. Sunday night will be chilly, with lows back into the 40s in the area. Monday and Tuesday continue to look splendid, with highs in the low-60s and lows in the 40s. We'll see a warm up with increasing clouds and minor rain chances after Wednesday.

Hurricane Harvey report
"Harvey was the most significant tropical cyclone rainfall event in United States history, both in scope and peak rainfall amounts, since reliable rainfall records began around the 1880s." – Eric Blake & David Zelinsky, National Hurricane Center
The National Hurricane Center released their post-storm report on Hurricane Harvey yesterday. These things are always interesting to read from a meteorological perspective. This one obviously has added meaning for all of us. You can read the report here. Much of what's in the report you have already heard from us, but it is worth reading in full, as there are lots of statistics and images. Here are a few key points:
The highest storm total rainfall that can be confirmed is 60.58″, which occurred near Nederland, TX in the Beaumont-Port Arthur area. A 60.54″ report was confirmed in Groves, TX near Port Arthur as well. Both of these totals, along with five others (most in the Friendswood area), establish a new United States record for rainfall associated with a tropical cyclone, breaking the 1950 total of 52″ in Hawaii from Hurricane Hiki.
The previous Lower 48 record was 48″ from Tropical Storm Amelia in Medina, TX back in 1978. Harvey broke that record in at least 18 locations.
Radar estimates of 65-70″ were noted, but cannot be confirmed.
The spatial extent of the heaviest rains from Harvey was "overwhelming" and likely has never been matched in American history.
Harvey was the second costliest tropical cyclone in US history behind only Hurricane Katrina.
At least 68 deaths from Harvey in Texas (about half of which occurred in Harris County) were the most from a Texas tropical cyclone since 1919. However, zero deaths are attributable to storm surge, which is amazing for a storm of this magnitude.
Highest observed wind gust was 126 kt (145 mph) near Rockport.
57 confirmed tornadoes in the Southern US from Harvey.
Over 300,000 structures were flooded, along with over 500,000 vehicles.
30,000 water rescues were conducted and 40,000 people evacuated from flooding.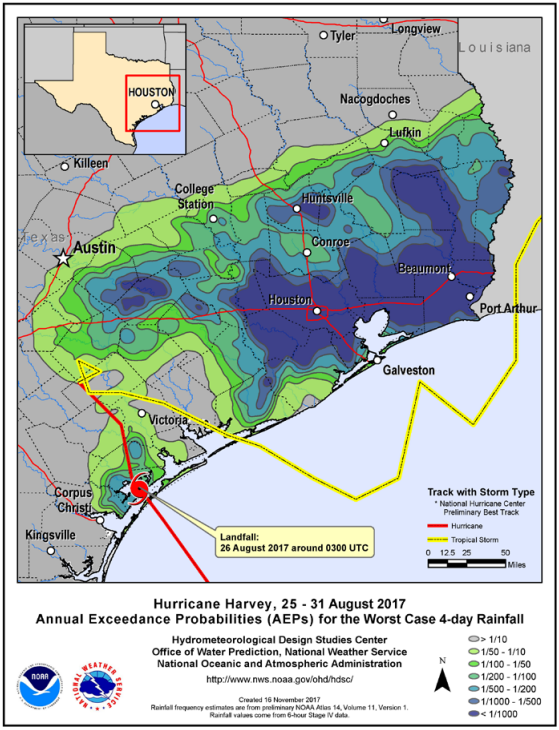 The map above shows the exceedance probabilities from Harvey's footprint. The dark blue indicates it was at least a 1,000 year flood event, or a flood event that has no greater than a 0.1% chance of occurring in a given year, assuming a stationary climate and accurate estimates. The map speaks for itself. Harvey was unprecedented. Obviously, this storm won't be forgotten anytime soon in this part of the world. Reading this report still gives this meteorologist chills.