Today was certainly a day. First off, we want to express our thoughts and best wishes to those impacted by today's tornadoes, and we hope that the recovery process presents the fewest amount of headaches that are possible.
Tornadoes of that scale and length are not common in Houston. Since 1993, we've had a number of "strong" (EF-2+) tornadoes in the Houston area, most of which have been on the eastern side of the city. Today's tornado was no exception. Here's a map of tornadoes since 1993 that are EF-2 or greater. Only one in the immediate area rated an EF-3, which was a short tracked twister near Shoreacres in 2002.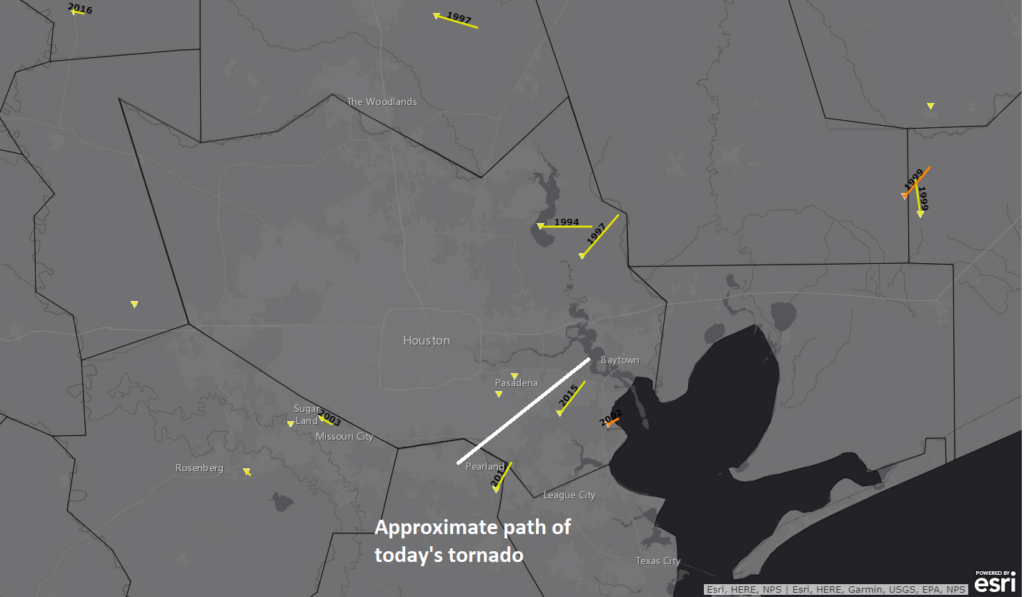 In the tornado records, an EF-2 tornado has never struck the Houston area in January. Why 1993 as a cutoff? Because November 1992 had the king of modern Houston tornado outbreaks, including an F4 in Channelview, which we wrote about a few years ago.
If you're curious, here's a map of all known "strong" tornadoes in the Houston region since 1950.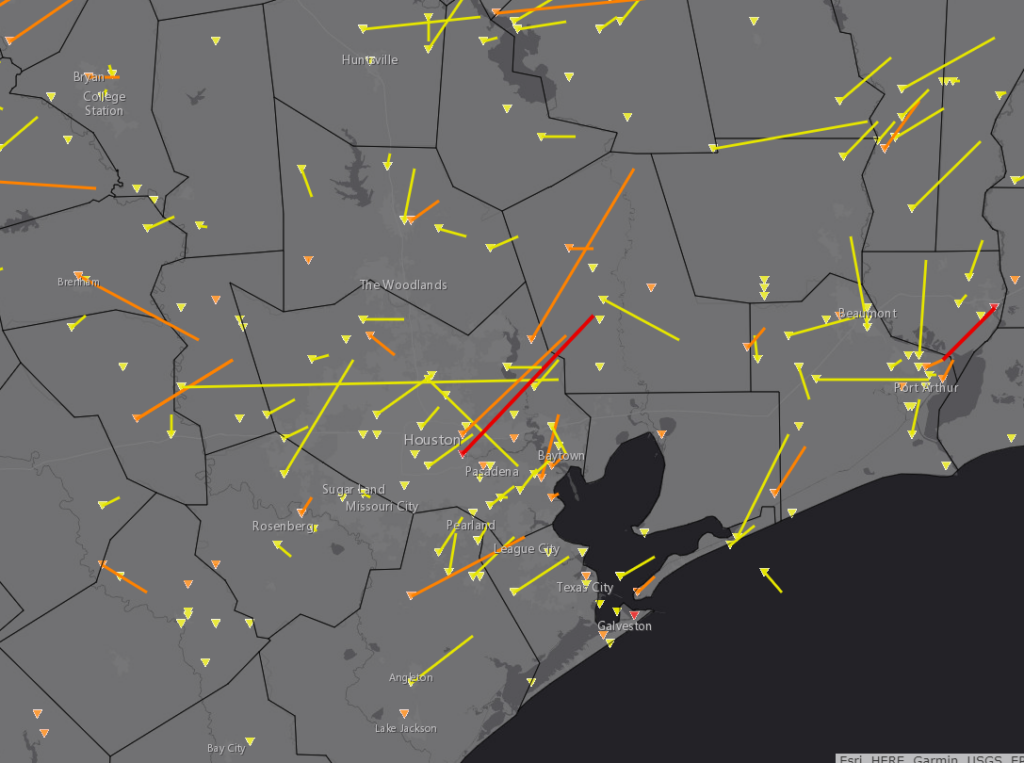 The National Weather Service will be sending out survey teams tomorrow morning to assess the damage and assign a rating to the tornadoes. So we will see if it was indeed a "strong" tornado or not. Remember, the rating is determined by a number of factors, not the least of which is building construction. Some poorly constructed, smaller buildings can be obliterated in a mere EF-1 tornado. Based on the initial photos of damage, I am guessing it will be at least an EF-2. But the NWS folks are the experts on this, and they'll make that call.
Today also marked the first time a Tornado Emergency has been issued in Houston. We all know about Flash Flood Emergencies from recent years. But Tornado Emergencies certainly represent a new kind of horror for our area. They are rare and only issued when there is a confirmed, likely strong to catastrophic tornado ongoing in a populated area. If ever there were a day to issue one in Houston, today was the day. Hopefully we don't see that again for many years.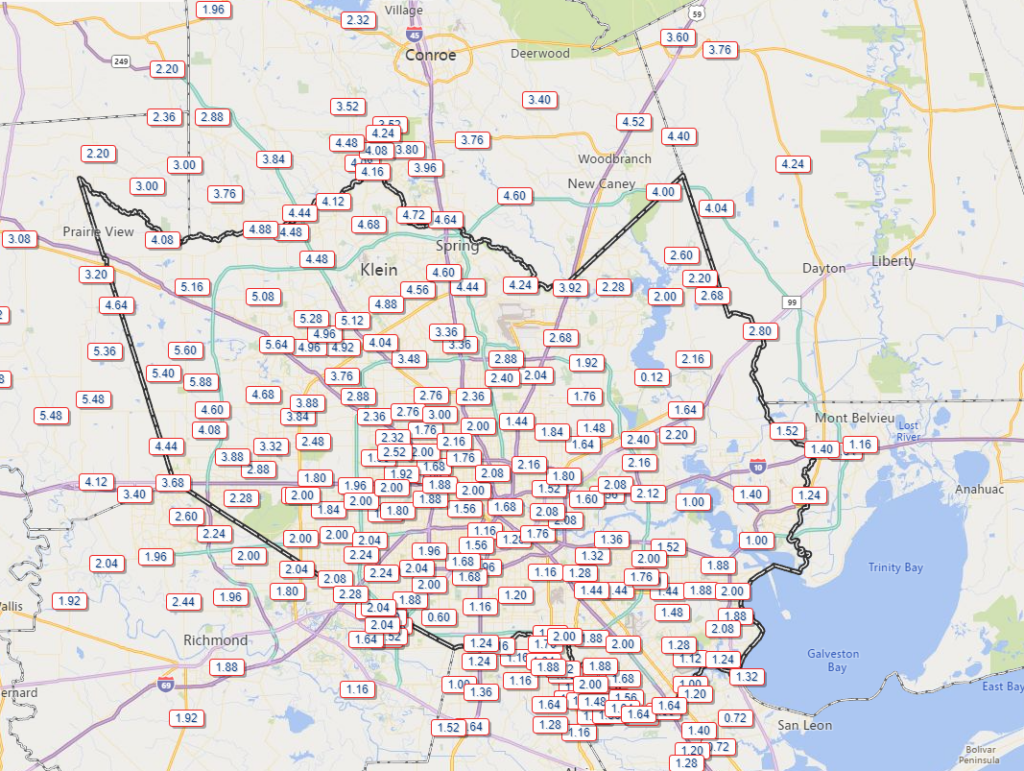 Not to be outdone, the rainfall today was tremendous for January. We still have flooding ongoing out by Mound Creek and Little Cypress Creek in western Harris County. Several bayous ended up at bankfull or even out of their banks today. We mentioned flooding. We mentioned heavy rain. But we probably could have been a little more aggressive on the rainfall aspect of things. Today certainly qualified as a Stage 1 flooding event on our flood scale.
At any rate, we'll know more about today's events tomorrow. On a personal note, I want to thank the folks at the National Weather Service, as well as our other colleagues across media here in Houston for a very strong, effective messaging campaign today. Collectively, our messaging and the issuance of a Tornado Emergency by NWS no doubt helped protect lives and property in the Houston area today. For us here at SCW, this is truly why we exist. I saw several comments say that "we saw Eric and Matt really ramp up their messaging today, so it was concerning." That's exactly why we operate how we do. We want to be the jovial, informative but not in your face meteorologists 90-95 percent of the time. But on days like today, we get serious and down to business. Houston gets a lot of severe weather "days," but most of them are low-end potential. They get a lot of chatter and sometimes some hype, and yes maybe on a couple of those days something happens. But we knew this had a unique high end potential for this area, and at least in a couple parts of the area, this potential was likely realized. We are grateful it was not worse. As we always say, we are here to help serve the community, and tomorrow we will be back to our normal, mostly boring selves. But when it's really, truly time to stand up, act, and pay attention, we will make sure that message gets across. Thanks for your continued loyalty and readership. -Matt