Good afternoon. As of about 12:45 pm CT, the main line of severe weather associated with a cold front is draped across the region from El Campo to Sealy to The Woodlands, and it is steadily progressing eastward. As expected, this system is bringing wind gusts above 40 mph, heavy rainfall, and at least one confirmed tornado and multiple other warnings. We are starting to see some street flooding in areas west of Houston, and I expect this to persist for the next few hours as rainfall rates reach 1 to 2 inches per hour. This heavy rainfall will spread into central and southeastern Houston over the next couple of hours.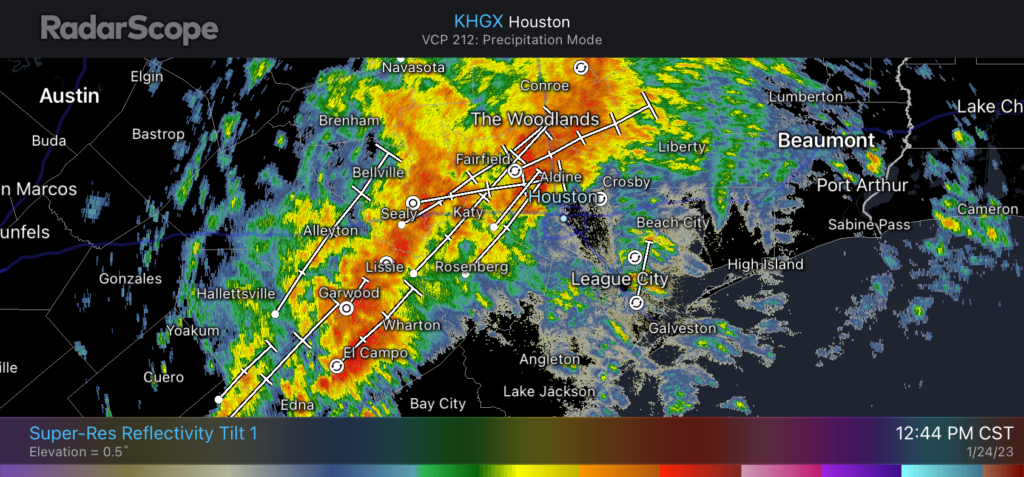 The main line of storms should reach areas such as Sugar Land, downtown Houston, and Bush Intercontinental Airport by around 1 to 1:30 pm, and push down closer to the coast, through areas such as Pearland, Clear Lake and Baytown by around 3 pm. The system should be fully offshore, with clearing skies area-wide, by 4:30 to 5 pm. Some low-lying street flooding may persist through the evening rush hour due to the heavy rainfall, however.
I realize that the timing of these storms is extremely inconvenient for schools and day cares and other institutions that let out during afternoon hours. I cannot say much to that effect, but if your school is located inland of Interstate 69/Highway 59, conditions should be clearing out by around 3 pm, and if you live on the coastal side of this highway, this probably will be about the time you see the worst conditions.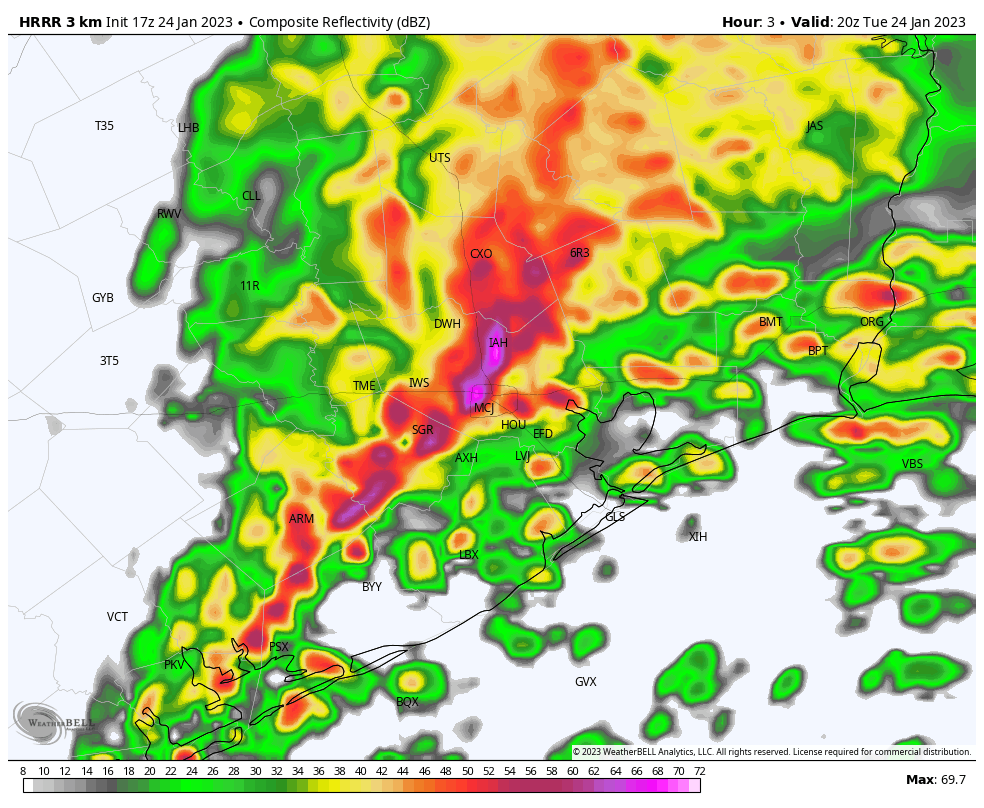 So far this event is proceeding just about as we expected, with nasty winds, rains, and the threat of tornadoes. I expect the latter threat to peak from about 1 to 3 pm and then gradually diminish, with the rains following suit. Heavy winds will be with us throughout the night, shifting from the west to northwest overnight. If you can stay off the roads this afternoon, you should. If you have to venture out, have a radar map handy, and a way to receive emergency alerts.