Compared to earlier this week, it certainly feels a little more comfortable, with temperatures ranging from the mid or upper 60s well inland to around 80 degrees at the coast.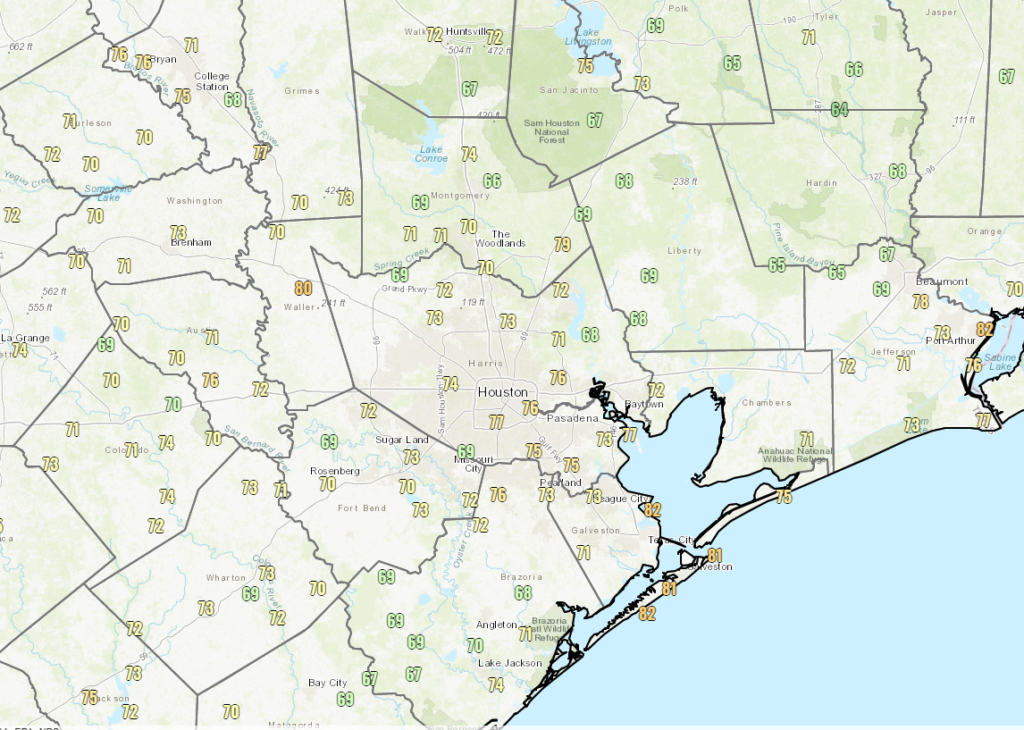 We will see another day or so of drier air, helping to keep us relatively comfortable, thanks in part to Potential Tropical Cyclone #3 in the Gulf, which will pass to our east into Louisiana. This farther east track leads to a handful of minor forecast changes this weekend.
Today & Saturday
Both today and tomorrow look fairly uneventful in our area, with a mix of sun and clouds. Yes, there could be a stray shower or two that makes into the Houston region, and there could be a portion of an outer band from PTC3 that grazes eastern fringes of our area. But aside from that, it will just be hot and a bit humid. Look for highs in the low to mid-90s (some isolated upper-90s can't be ruled out) and lows in the 70s. Humidity will likely increase a bit tomorrow, and the morning will feel less comfortable than yesterday or today has felt.
The big weekend change is that rain chances look higher on Sunday than they do Saturday now.
Sunday
We begin a little more onshore flow on Sunday, which means more humidity. Morning lows in the upper-70s seem more likely here. It also means a better chance at isolated to scattered thunderstorms, as a weak disturbance in the upper atmosphere finds a route into Texas and taps into some of that onshore flow. Not everyone will see rain, but there will likely be at least a few showers or storms around Sunday afternoon. High temperatures will be in the mid-90s.
Monday
Right now, Monday looks like a classic June day in Houston with sun, clouds, high humidity, morning lows in the 70s, daytime highs in the low-90s, and a chance of afternoon thunderstorms.
Tuesday & beyond
By Monday night, an actual cold front will be moving across Texas from north to south. We are unlikely to enjoy the cooler, less humid benefits of said front, but we will likely see scattered to perhaps even numerous showers and thunderstorms on Tuesday. Locally heavy rain is possible here, and a healthy chunk of the area should see at least some rain. Expect a less hot day Tuesday, with some chance highs don't get above 90 degrees.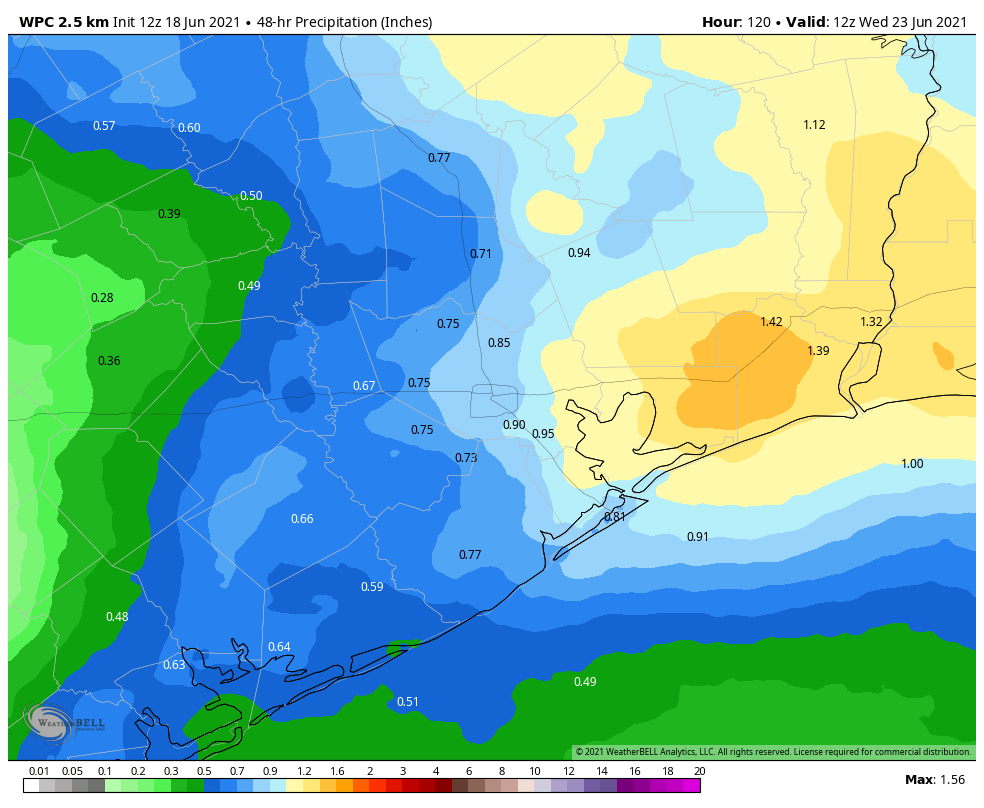 By Wednesday and Thursday, rain chances won't drop to zero, but they will diminish a bit as the front fizzles and high pressure begins to nose into the area. Look for highs back in the 90s and lows in the mid to upper-70s.
PTC 3 update
Potential Tropical Cyclone #3 continues across the Gulf this morning. To be honest, this is about as healthy as it has looked in its life cycle since it became an area to watch.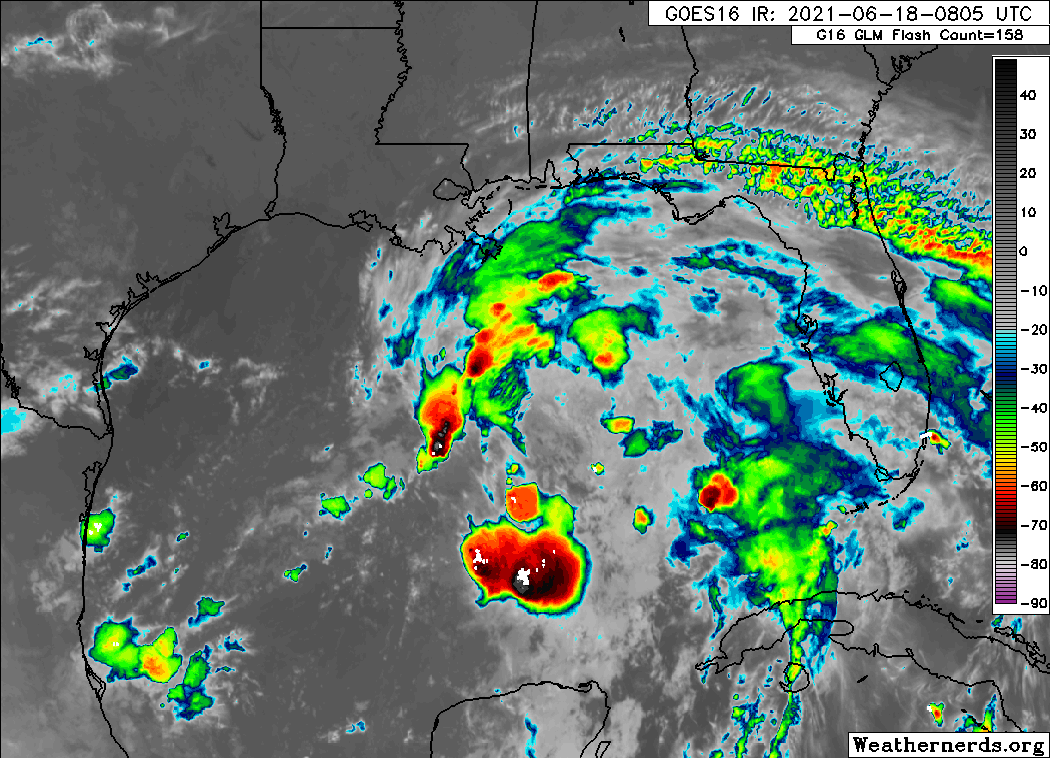 There's a significant blowup of thunderstorms near and north/east of the center. This is why forecasters have been banging the drum regarding heavy rain being the main concern. Whatever the case, we assume we will see Tropical Storm Claudette come of this mess and approach the Louisiana coast tonight between Vermilion Bay and New Orleans.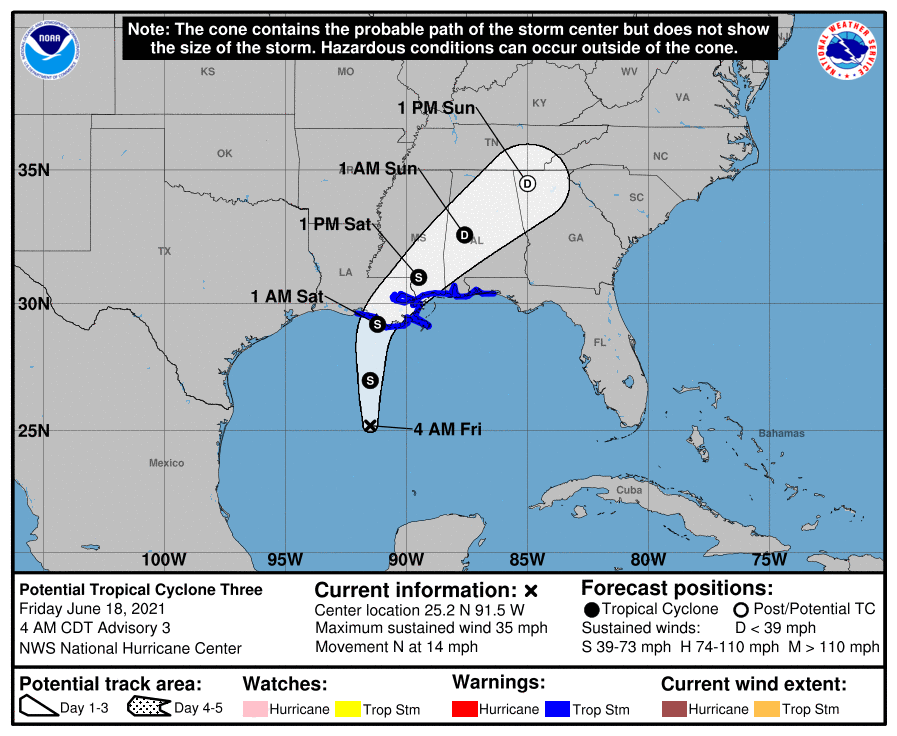 Locally, no impacts are expected, aside from perhaps slightly rougher surf and stronger than normal rip currents. Please use caution if swimming in the Gulf this weekend.
The main impacts in Louisiana and the Southeast will be from heavy rainfall. About 4 to 8 inches of rain should fall in southeast Louisiana, southern Mississippi, southern Alabama, and portions of the Florida Panhandle.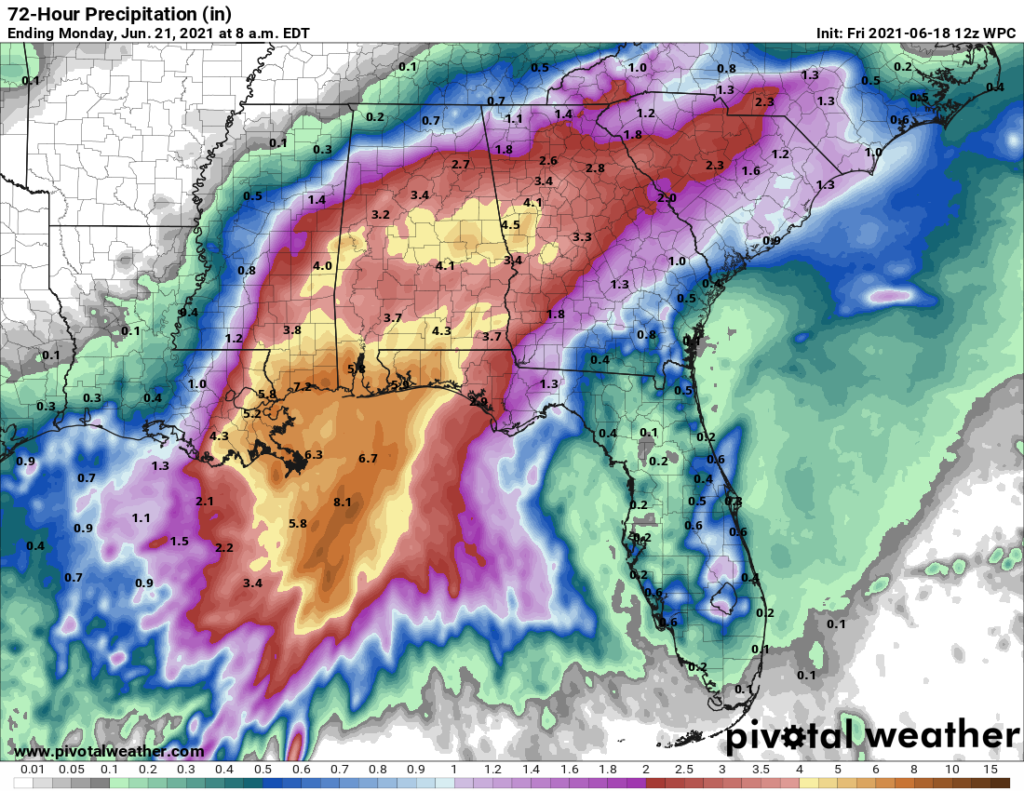 Higher amounts will be possible there, but the system may actually move along fast enough now to prevent major problems. But if your travels take you east of Louisiana this weekend, plan accordingly.
We aren't expecting significant forecast changes this weekend, so look for our next update, as per usual, on Monday morning.